This content was published: January 27, 2020. Phone numbers, email addresses, and other information may have changed.
Choirs Perform Brahms' Requiem Mass
Pam Beaty
PORTLAND, Ore. – One of classical music's most popular and personal works, the German Requiem Mass op. 45, by Johannes Brahms, will be performed two times in February. The Portland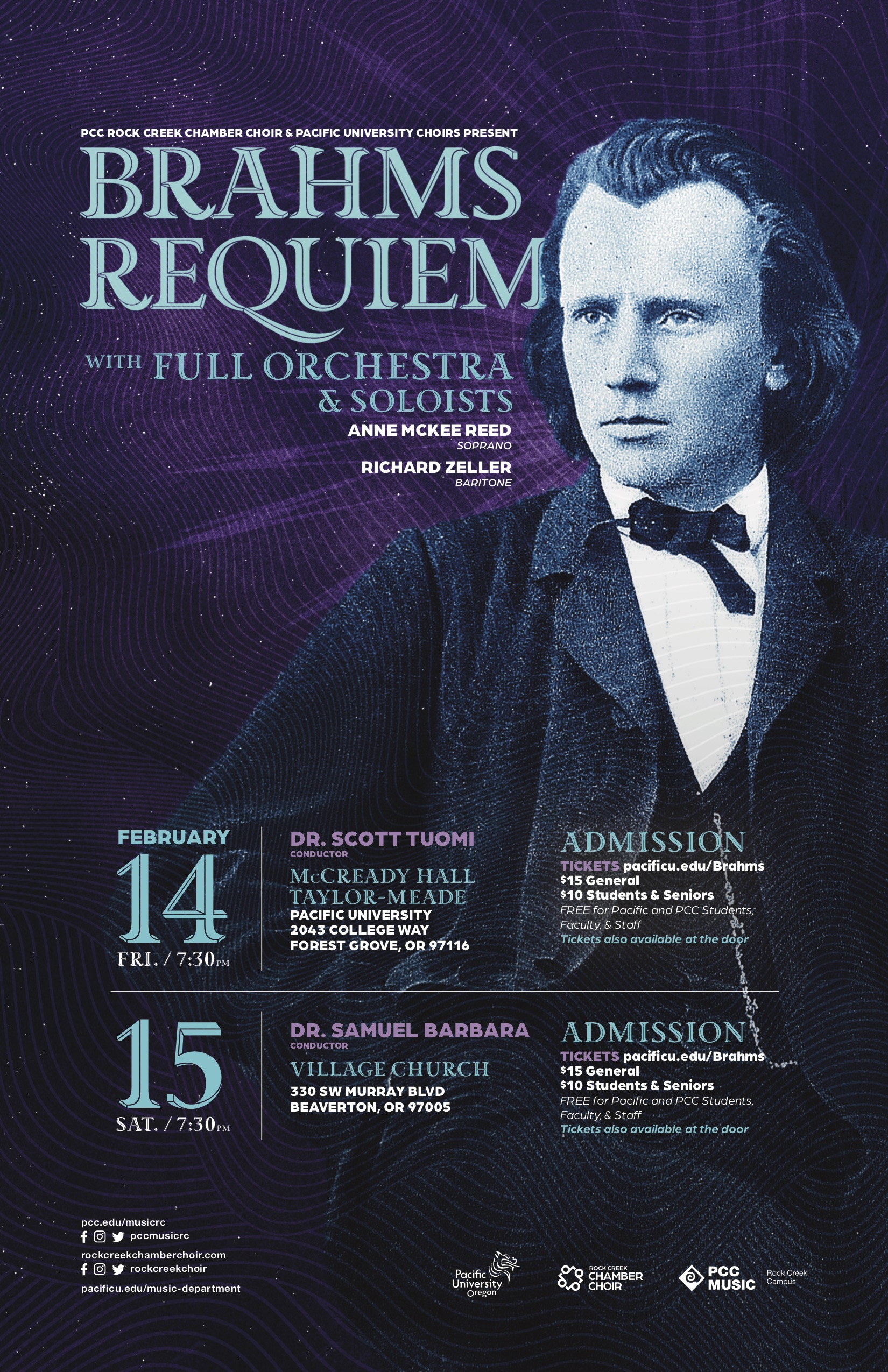 Community College Rock Creek campus's Chamber Choir and the Pacific University Choirs will perform the piece, accompanied by full orchestra with guest soloists baritone Richard Zeller and soprano Anne McKee Reed.
Dr. Scott Tuomi from Pacific University will conduct the February 14 performance and Dr. Samuel Barbara, director of choral and vocal studies at PCC Rock Creek, will conduct the February 15 performance.  Tickets are $15 ($10 for students and seniors 62 and over) and available online and at the door. The concert is free for PCC and Pacific students, faculty and staff.
Choirs Perform Requiem Mass
Johannes Brahms' "German Requiem Mass"
With the PCC Rock Creek Chamber Choir, Pacific University Choirs and full orchestra
Guest soloists Richard Zeller, baritone, and Anne McKee Reed, soprano
Friday, February 14 – 7:30 pm – Taylor-Meade Performing Arts Center, Pacific University, 2043 College Way, Forest Grove, OR and
February 15 – 7:30 pm – Village Church, 330 SW Murray Blvd, Beaverton, OR
$15.00 general admission, $10.00 students and seniors, free for Pacific and PCC students, faculty and staff. For advanced tickets, go to: pacificu.edu/Brahms. Tickets will also be available at the door.
"As far as the text is concerned, I will confess that I would very gladly omit the 'German' as well, and simply put 'of Mankind"
At the time Brahms wrote his Requiem, the traditional text for the Roman Catholic requiem mass, or mass for the dead, contained text filled with images of the horrors of the last judgement. Brahms preferred text from Martin Luther's vernacular version of the Bible, which sought to comfort those still living. The young Brahms had already experienced a great personal loss when his close friend and mentor, Robert Schumann, died in 1856. He finally completed the Mass in 1868, three years after the death of his mother.
The mass was controversial at the time because the text does not mention Christ or references to the Last Judgement. Regardless, his Requiem Mass became one of the most important works of Brahms' career and established him as a major composer of his time. The piece is one of the most beloved in the entire classical repertoire.
For more information about the concerts, please contact Samuel Barbara at Samuel.barbara@pcc.edu or 971-722-7867 or go to pcc.edu/musicrc.