This content was published: April 3, 2018. Phone numbers, email addresses, and other information may have changed.
Living with the Humanities: Josephine Pino
Patrick Walters
Living with the Humanities is a series inspired by the Proust Questionnaire, which began as a game popularized by the French essayist and novelist, Marcel Proust in the 19th century. In this series, PCC faculty, students, staff, board members and administrators share their personal experiences with the arts and humanities and the role that they play in their work at PCC and the broader world.
"There are so many ways that the arts and humanities are critical to our lives as individuals and as a society. I believe they help us make sense of the world around us, often in ways that are hard to define." – Josephine Pino, Biology faculty and EAC chair.
Josephine Pino grew up embraced within the rich cultural and natural beauty of Albuquerque, NM . She received her degree in Biochemistry at the University of NM before leaving to study Marine Biology at Scripps Institution of Oceanography in San Diego. Her career as a community college life science instructor has been geographically diverse and fulfilling. She is now happily at PCC's Rock Creek campus where she teaches Biology and is currently chairperson of the PCC Educational Advisory Council. She recently enjoyed her first summer term as a Poetry student.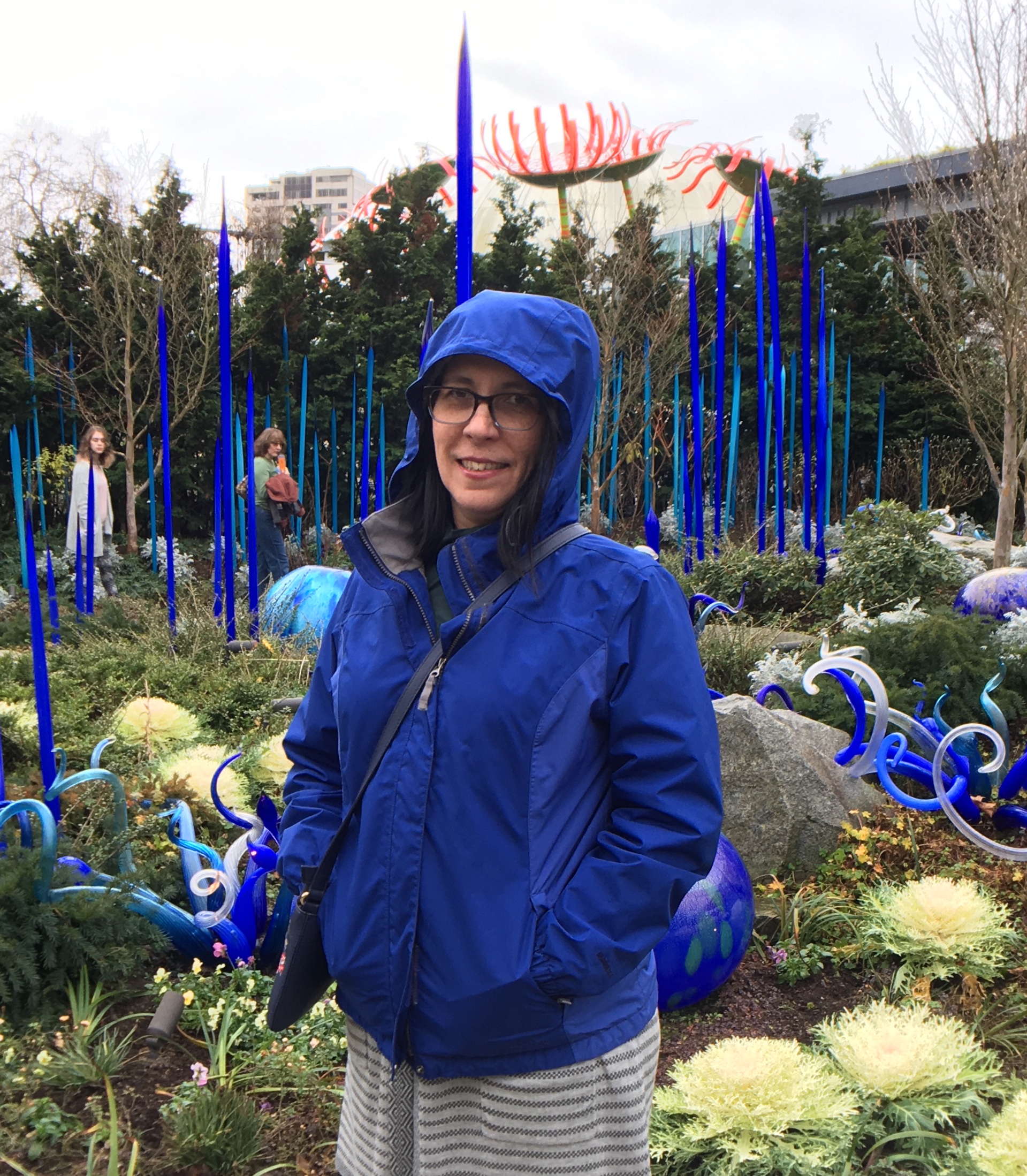 Which book have you read the most times?
Not counting Dr. Seuss or Golden Books, the book I've read the most times is A Room with a View by E.M. Forster. I love the humor, the clever use of language and turns of phrase, and most of all, I love the main character, Lucy, a young woman who is discovering her own inner strength. It is also a swoon-worthy love story.
Which book have you given as a gift the most?
Love you Forever by Robert Munsch makes a great baby shower gift!
When do you listen to music?
While grading and commuting.
Which literary character do you admire the most?
Jane Eyre – strong, intelligent and stubborn. I "met" Jane when I was a grumpy teenager and have loved her and visited her often ever since.
What is the last film you saw in a theater?
The Mountain Between Us.
Which work of art that you saw in a museum moved you or stopped you in your tracks?
Georgia O'Keefe's vibrant flower paintings, especially the dark hollyhocks and the red poppy.
When you think of your high school years, what music comes to mind?
Led Zeppelin, Stairway to Heaven and anything by Journey.
What is the role of art in your life?
I love visual art, reading fiction, and have recently discovered a love of reading and writing poetry. I find that my poetry writing themes connect to my love of nature, and in particular, I love writing about those places and times where humans interact with nature.
What is the social function of the arts and humanities?
Wow. This is a big one. There are so many ways that the arts and humanities are critical to our lives as individuals and as a society. I believe they help us make sense of the world around us, often in ways that are hard to define. When we see a painting or read a book or a sentence such as the beautiful prose of Toni Morrison, we are connected in that moment to the artist and to every other person who has appreciated that art. This connection, I believe, helps us to find humanity in each other regardless of all our differences. It leads us to ask questions and to find answers. Asking questions and finding answers is something we do as children and, hopefully, continue to do as adults as a daily source of fulfillment.
What is the role of the arts and humanities in your classroom?
I teach Biology, and think about this question a lot! The graphic art that supports my students' learning might be the most important resource we have. Artists have created drawings, paintings, and videos that help us "see" what we can't see with our eyes. They model what we know is happening in nature, from the very tiny molecules in our cells to the entire biosphere.
Also, I have begun, in the past year, to be deliberate in bringing poetry and literature into my classroom. I start new thematic units with a poem that is somehow connected to a new life science theme. For example, I just read a poem about an old elm tree by Jimmy Santiago Baca (he writes about the neighborhood where I grew up in NM) to my Biology students on the day we discussed photosynthesis, and when we talked about the chemistry of water and its role in sustaining life, I showed a painting by an indigenous artist, depicting the same theme. I feel that these connections between our disciplines are intellectually calming and valuable. I believe they promote creative and critical thinking. Most importantly, they are fun.
What are your guilty pleasures in books, films, music?
Books: Diana Gabaldon's Outlander series (fun fact: She and I are both alumni of Scripps Institution of Oceanography! Also, she is from Arizona and I'm from New Mexico. I find it interesting that we both left the desert to study marine biology)
Films: The English Patient (I've watched it countless times); I am also a big fan of H. Miyazaki films. My Neighbor Totoro is my favorite of his films.
Music: I love many genres. I might listen to Metallica one minute and Andrea Bocelli the next. It depends on my mood. If I need to perk up, I listen to Latin pop. My fall back is anything acoustic.
Which emotions are evoked by the art you admire?
All of them.
I admire art that can evoke multiple emotions: wonder, love, surprise, melancholy, longing. When I like a piece of art, I might feel something different every time I look at it. I look at Emily Carr's trees, for example, and they evoke very different feelings in the Summer compared to the Spring or Fall, even if it is the same painting.
Are the arts and humanities today threatened or in decline? If so, why?
I just recently realized, in speaking with a colleague, that a student today can actually finish college without ever being required to read literature. To me, this is heartbreaking, so yes: the arts and humanities are threatened.
SaveSave