aesthetics project by Hannah Krafcik and Emily Jones
Paragon Arts Gallery, Cascade Campus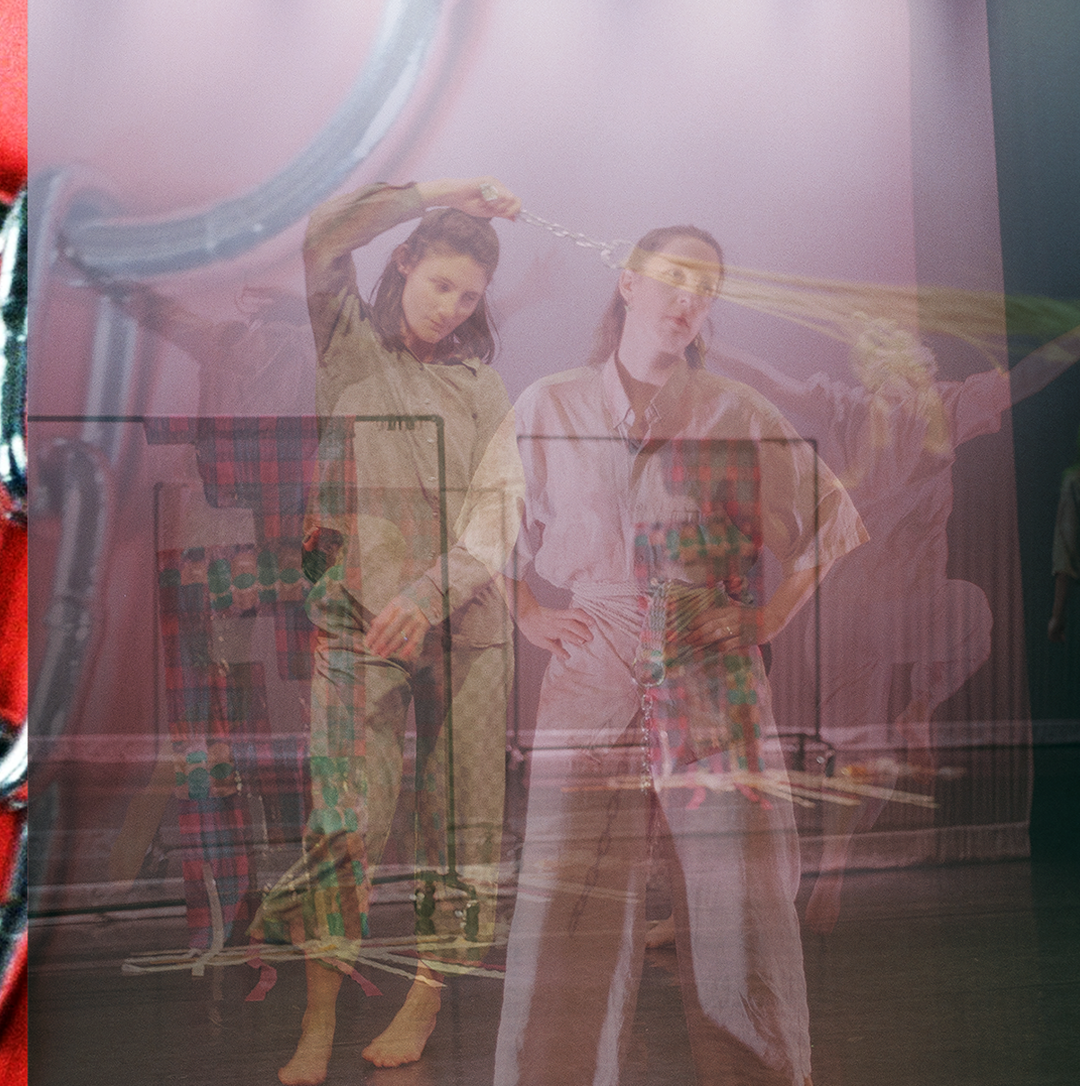 (above) Emily Jones and Hannah Krafcik, performance lecture @ Counterpulse, February 2023 photos by Miguel Zavala and Hannah Krafcik; collage by Hannah Krafcik.
Exhibition Dates:

November 17, 2023 – January 6, 2024

Performative Installation opening event:

Friday, November 17, 6-8pm

Gallery Hours:

Wednesdays – Fridays, 12-7pm, Saturdays, 12-5pm

Holiday closures: 11/23-11/24 and 12/22-1/1

24/7 view at 815 N. Killingsworth, Portland, OR 97217

All events are free and open to the public.
aesthetics project, created by Emily Jones and Hannah Krafcik, interweaves sculptures with spoken text and choreography into a performance lecture that explores the mysterious connection between aesthetics and intuition. We began this project with a focus on sensory processing, asking: How do aesthetics support or derail our processes of self-regulation and self-determination? What causes us to seek out certain forms of stimulation, e.g. hues of color or sensations of texture? How do these inclinations help us draw near to and develop affinity with one another? We know these questions will not lead us to concrete answers but, rather, more fractals of thought undergirding this project. Ultimately, this project gives credence to the ineffable significance of aesthetics in both art and day-to-day existence. 
Please join us for the opening event, a Performative Installation, on Friday, November 17, 2023. Gallery will open at 6pm with a 45-minute ASL-interpreted performance/lecture at 7pm, during which the artists will activate the space with sculptural materials and movement. All events are free and open to the public.
Notice of filming and photography: Photographs and/or videos will be taken at this opening event. In being present at this or any future event related to aesthetics project, audiences grant Emily Jones, Hannah Krafcik, and Paragon Cascade Gallery full rights to use the images, videos, or recordings of their resemblance for publicity, fundraising, and other purposes.
aesthetics project has been curated by Performance Primers and presented at Counterpulse as part of KH Fresh Festival (San Francisco, CA). It has also been shown at SE Cooper Contemporary (Portland, OR) and Performance Works NW (Portland, OR). The project will be deepened at and iterated on during a residency at the Chocolate Factory Theater (New York, NY) in December 2023. 
This project has been supported and sustained by Ellis-Beauregard Foundation, Portland Institute for Contemporary Art's Creative Exchange Lab Residency, Performance Works NW and Water in the Desert. 
Further context for aesthetics project can be found in a podcast, "Aesthetics Project Episode #1," by Jones and Krafcik on Soundcloud: https://soundcloud.com/user-68689531-746637360/aesthetics-project-episode-1
About the artists:
We are Emily Jones (they/she) and Hannah Krafcik (they/them), and we are a collaborative based in Portland, OR. Our inquiries are seeded by personal experiences of disability and neurodivergence, and our artistic offerings explore the tensions between social power dynamics and unnamed personal needs. We maintain that sensory autonomy—the ability to honor and explore sensory needs and desires—is an essential step in naming, refusing, and even subverting coercive power dynamics that touch every aspect of life. We show work in performance and exhibition contexts. Our performance work is based in dance with interdisciplinary leanings, and we build choreography that highlights the uniqueness of our own bodies and their capacities. Our visual art practice involves creating video, sound scores, writings, and sculptural pieces. Our works often disclose our process, ideating outward in an attempt to locate points of affinity with audiences. We feel excited about opportunities that honor our expansive practice rather than trying to fit us into a single medium. 
www.hannahkrafcik.com / instagram: @hannahkeliza 
www.emilyannejones.com / instagram: @emulyjones
About Paragon Arts Gallery:
Paragon Arts Gallery is an educational showcase committed to exhibiting work of high artistic quality. Our versatile gallery is located at 815 North Killingsworth, at PCC's Cascade Campus. Mindful of our role as a member of the Humboldt community, we are especially committed to engaging community members in our space.