Stars of Jefferson: Black Shines Brighter
Paragon Arts Gallery, Cascade Campus
Pop-Up Exhibition for one week only!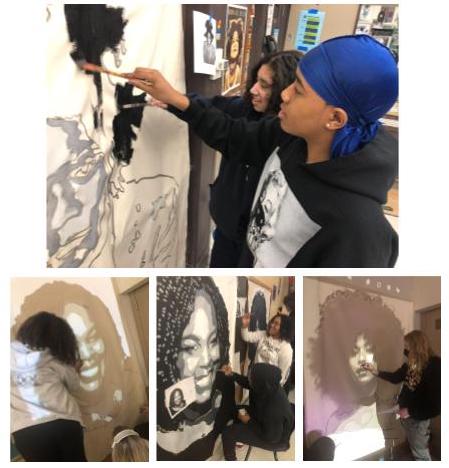 Images above: Jefferson art students work on large scale portrait murals of Jefferson Stars for the pop-up exhibition in conjunction with the Portland Winter Lights Festival (images courtesy of Amy Hargrave and Mack Carlisle)
Stars of Jefferson: Black Shines Brighter
Exhibition Dates:

February 3 – 11, 2023

Opening Reception:

Friday, February 3, 2023, 5 – 7 pm

Gallery Hours:

Wednesdays – Fridays, 12 – 7 pm, Saturdays, 12 – 5 pm

24/7 view at 815 N. Killingsworth, Portland, OR 97217

All events are free and open to the public.
In this week-long pop-up exhibition, members of the Jefferson High School Black Student Union (BSU) celebrate the many individuals who blessed the halls of Jefferson High School with their shining presence and impact on the community. Through painting, video, music, and dance at Jefferson, students honor their legacies and examples that Jefferson alums set for them as they walk those same halls today.
This exhibition is a manifestation of the Black excellence that is cultivated in our school. Jefferson High School acts as a safe haven of our community; the Stars of Jefferson are individuals who exhibit the best characteristics of what Jefferson has to offer and are proof that Black Shines Brighter.
The vision is executed by the BSU, students from various art classes, students from music classes, and the Jefferson Dancers in conjunction with the 8th annual Portland Winter Light Festival 2023.

About Paragon Arts Gallery:
Paragon Arts Gallery is an educational showcase committed to exhibiting work of high artistic quality. Our versatile gallery is located at 815 North Killingsworth, at PCC's Cascade Campus. Mindful of our role as a member of the Humboldt community, we are especially committed to engaging community members in our space.