Sumi Ink Club Collaborative Drawing, window exhibition
Paragon Arts Gallery, Cascade Campus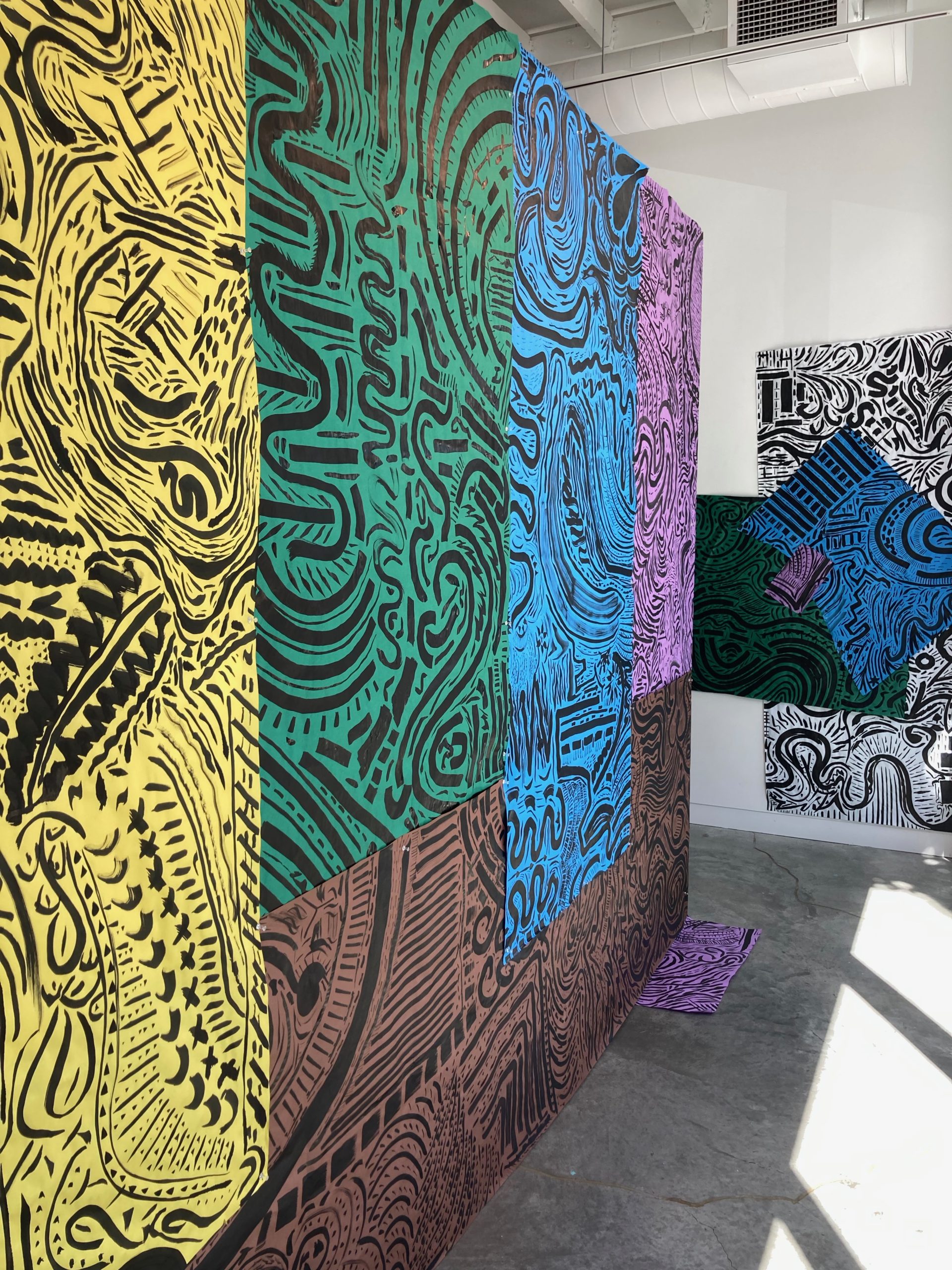 Sumi Ink Club Collaborative Drawing — by ART131/231 Introduction to Drawing students — hangs in the Paragon Arts Gallery windows, Summer 2022.
A window exclusive exhibition of large scale drawings about line qualities, drawing processes, and collaboration
July 21 – August 14, 2022
Paragon Arts Gallery (815 N. Killingsworth St. Portland, Oregon 97217). View the window exhibition from the sidewalk and on our website.

The exhibition can be viewed in front of the gallery from the sidewalk and on our website. The gallery is closed for the summer for inside viewing and will open again in late September.
The Paragon Arts Gallery at Portland Community College, Cascade Campus presents a Summer 2022 window exhibition Sumi Ink Club Collaborative Drawing. This work is a collaboration by art students in Instructor Michelle Liccardo's Introduction to Drawing class (ART131/231) over at Rock Creek Campus this Summer. Students worked together, drawing with Sumi ink and the same size brush, focusing on drawing lines while moving around the paper.
The drawing focuses on line placements and qualities. Line is a primary art element and can be drawn horizontally, vertically, diagonally or in a curvilinear fashion. Lines can be drawn with different qualities — thin, thick, dark, light, fuzzy, broken. The qualities and placements of the lines create different types of expression.
This class project had the following rules:
Everyone draws with the same size brush.
Everyone draws with the same ink. Don't dilute it; the blackest black is best!
You may only draw LINES. No shapes, text or images allowed.
You may add to other students' drawings, but you may not draw over anyone else's drawing.
Move around the paper while drawing and rotate at frequent intervals.
Everyone agrees when the drawing is finished.
This project was inspired by sumiinkclub.com, a participatory project established in 2005 by artists Sarah Rara and Luke Fischbeck who say:
Sumi ink club is non-hierarchical: all ages, all humans, all styles. . . . We think of drawing together as a means to open and fortify social interactions that bleed into everyday life. . . . Beginning with a core set of guidelines for collaboration, we create complex, composite images that represent our fantasies and express our histories. We hold conversations through drawing. (from sumiinkclub.com)
Learn more about the PCC Art Department, and sign up for Fall art classes!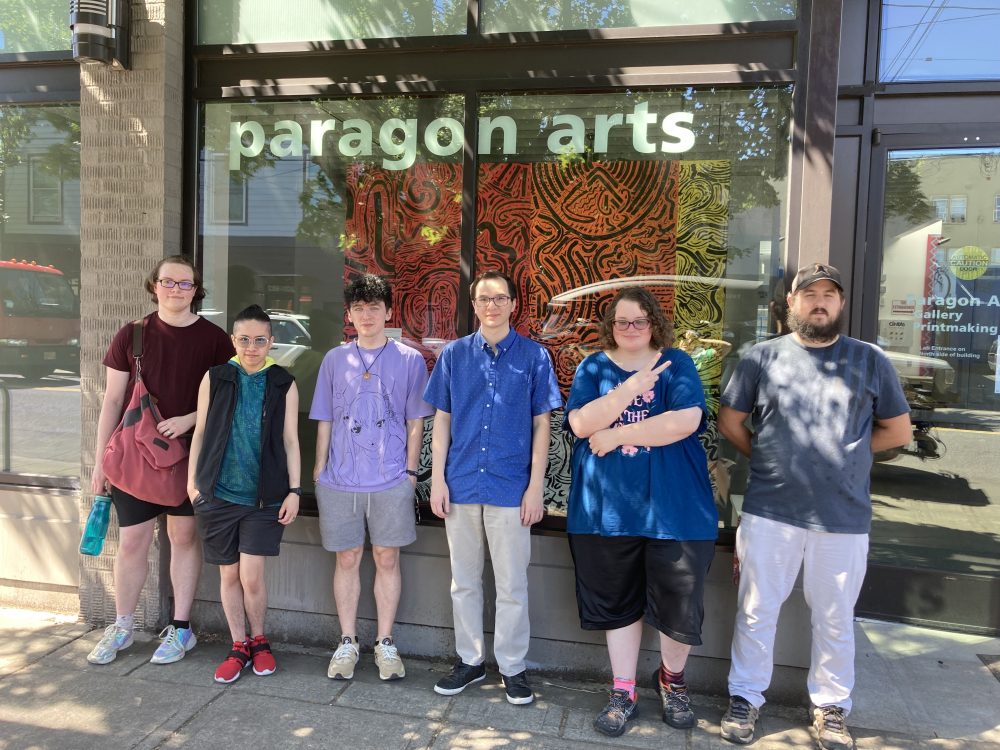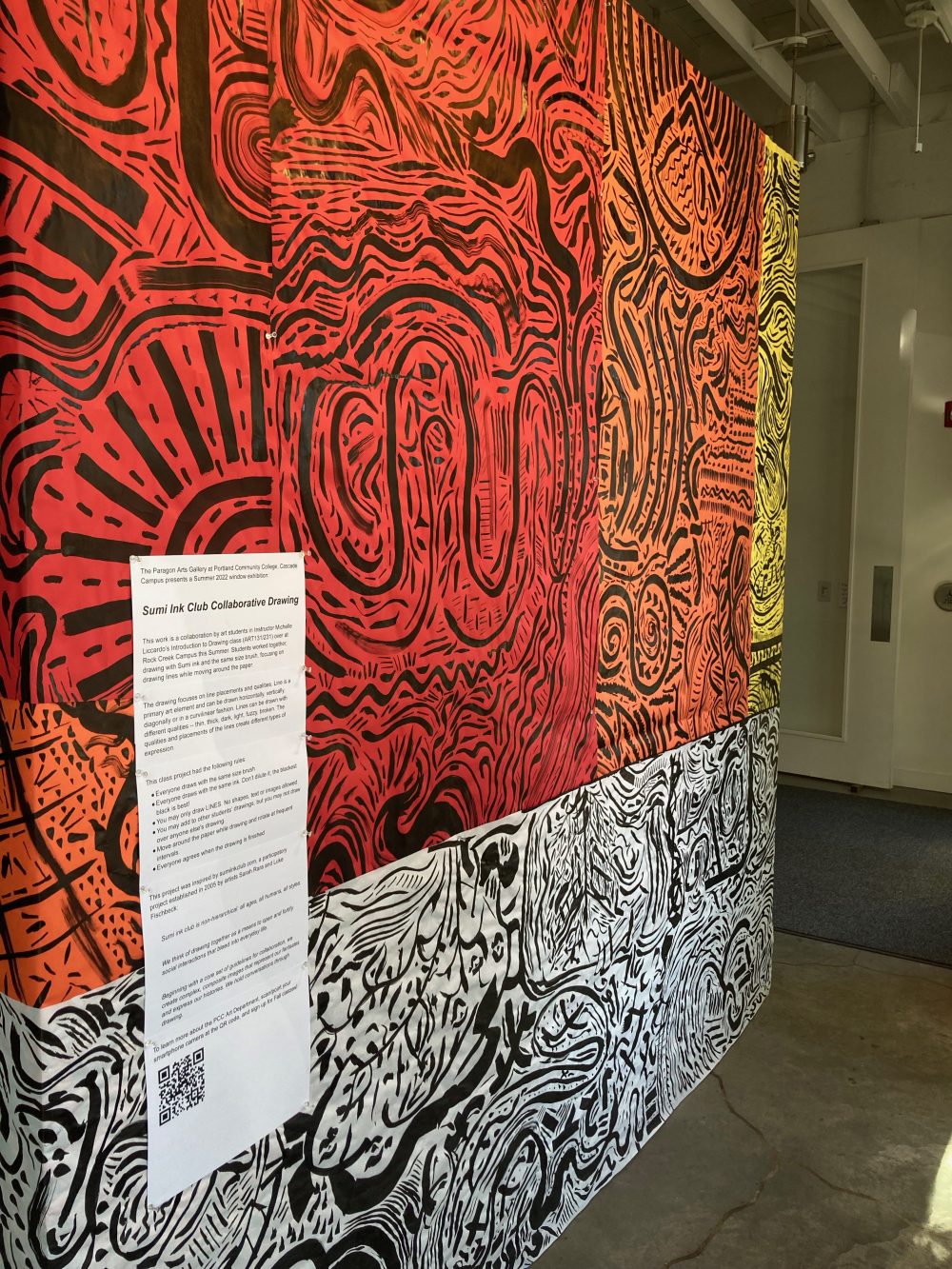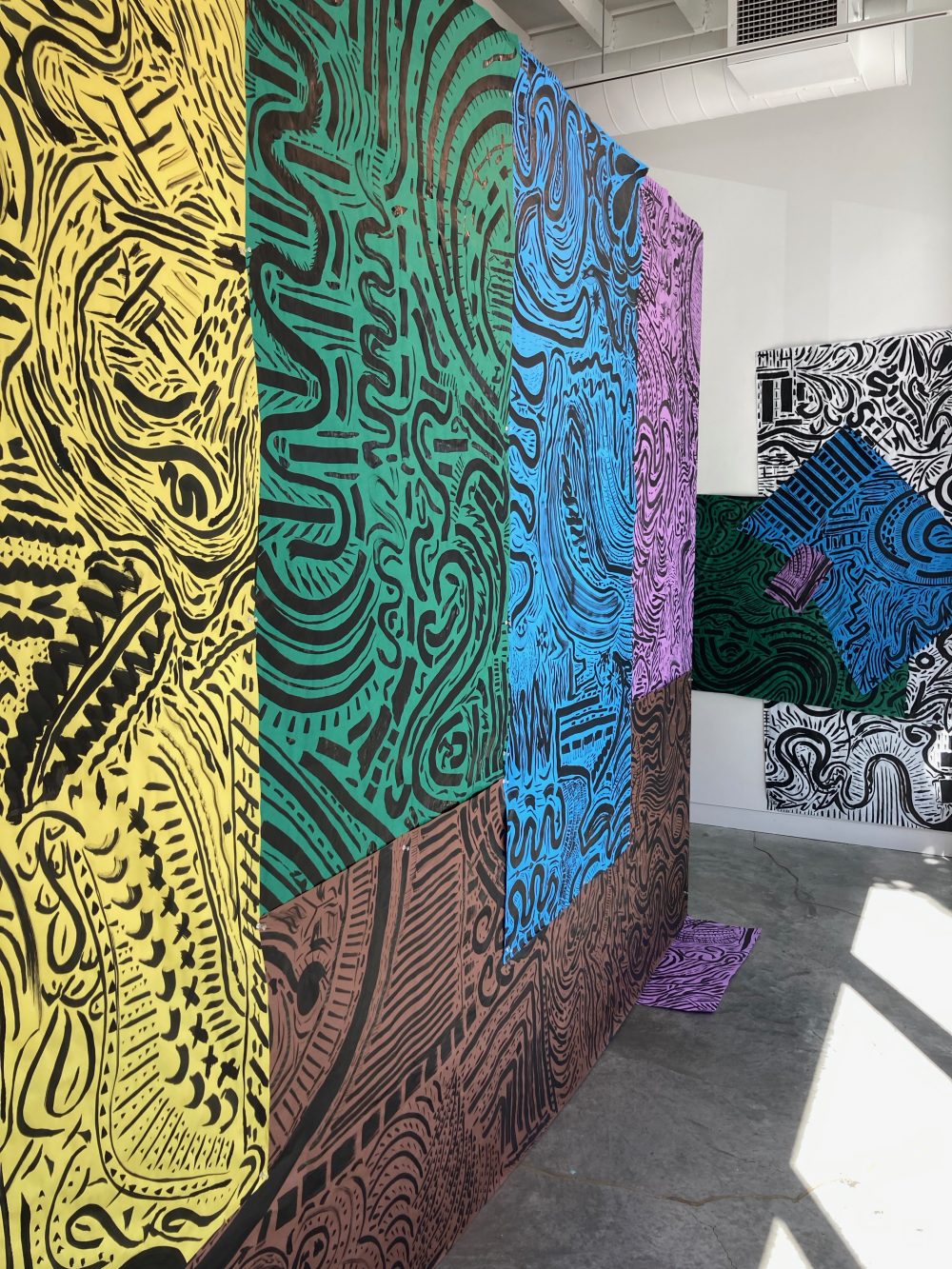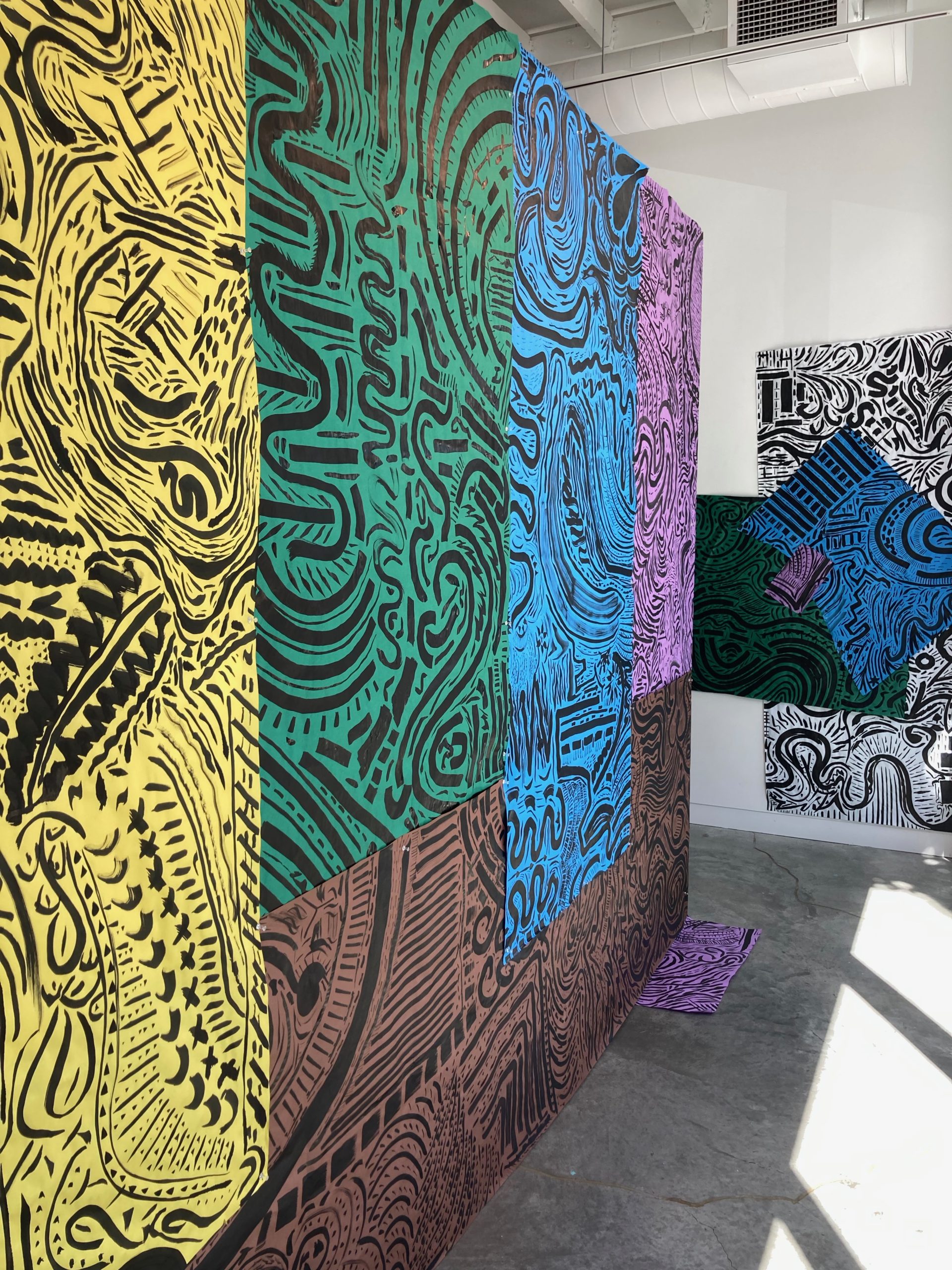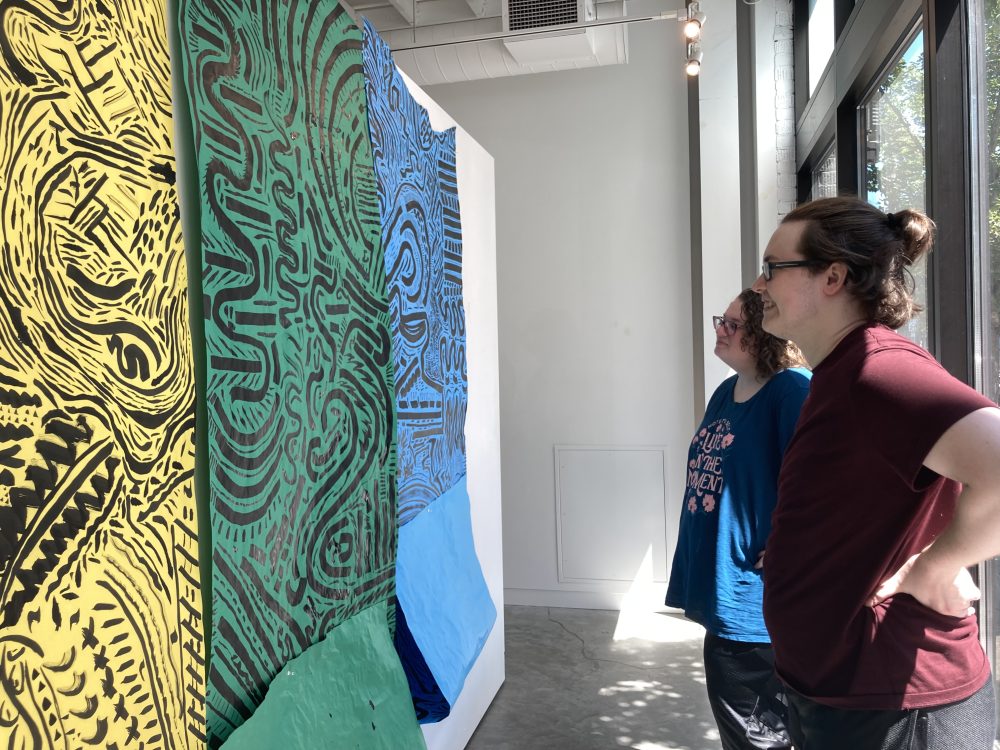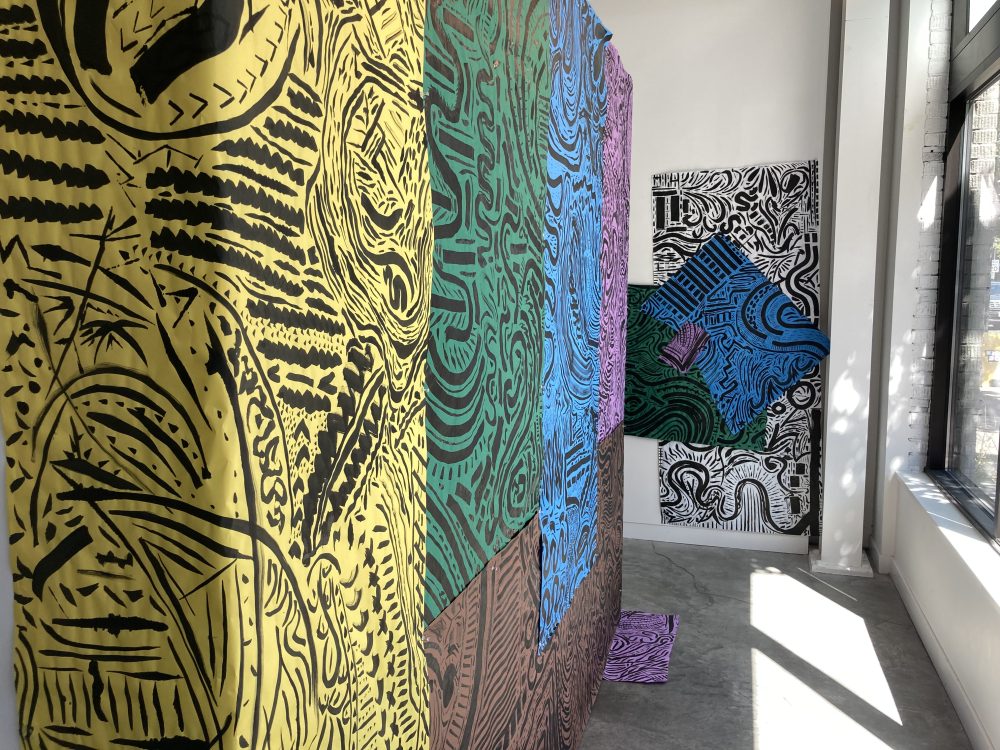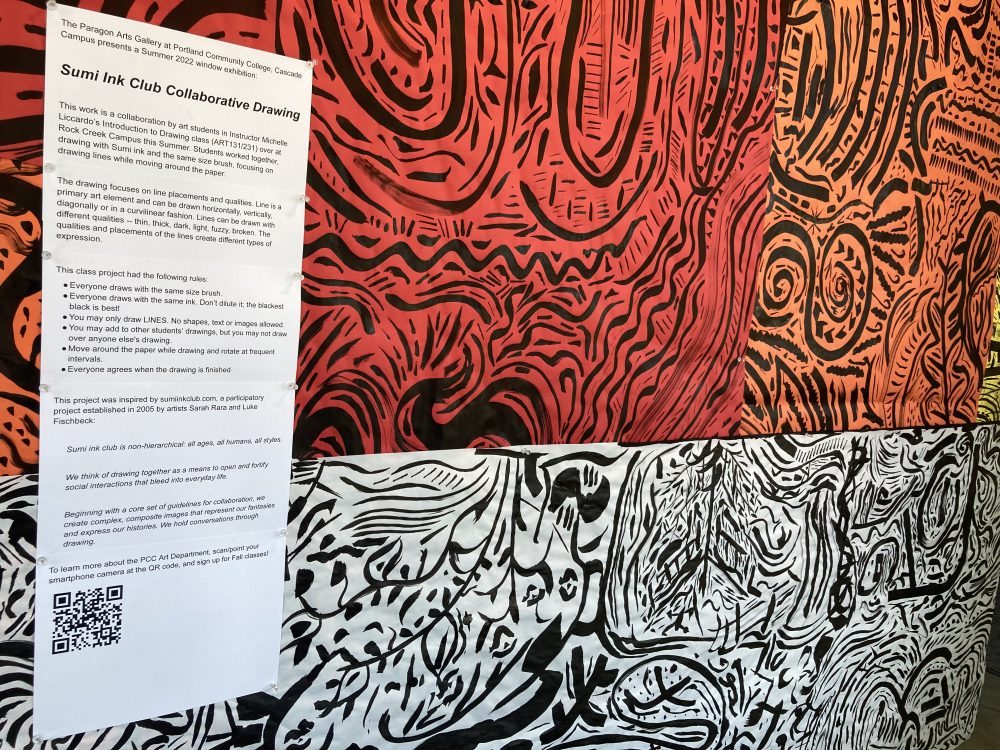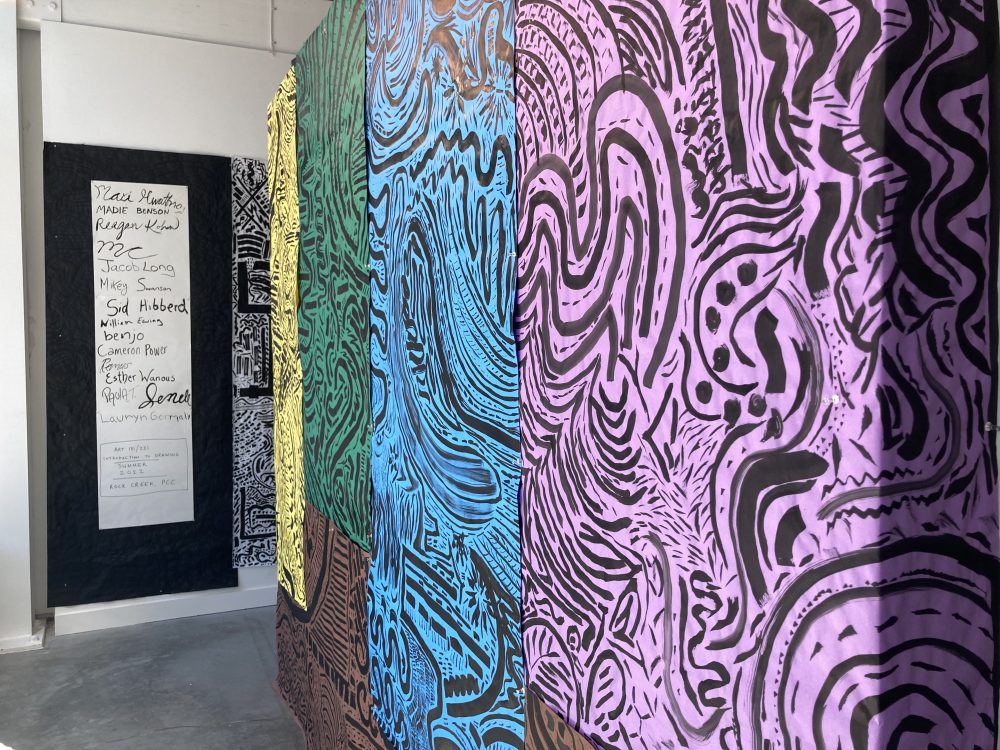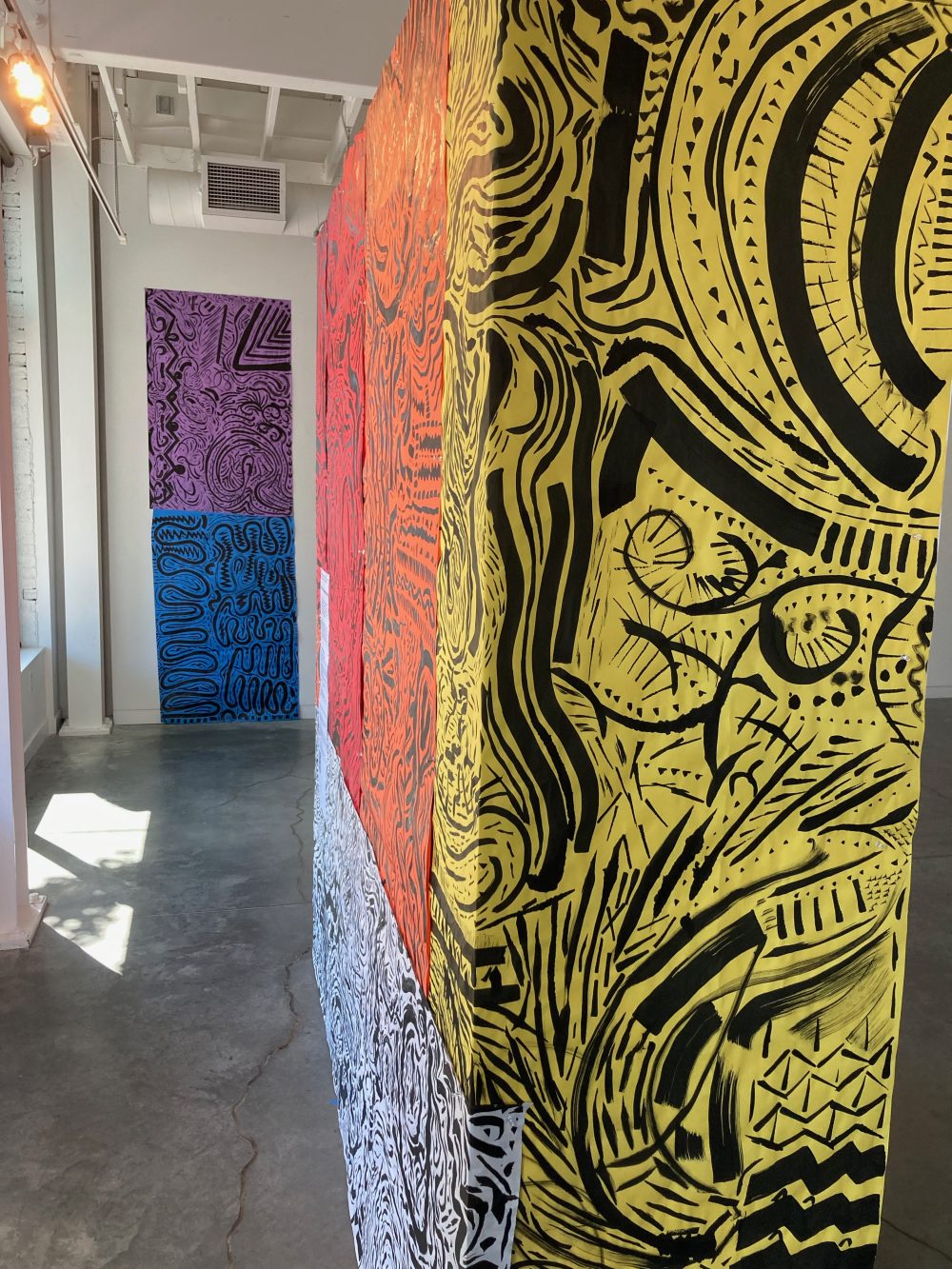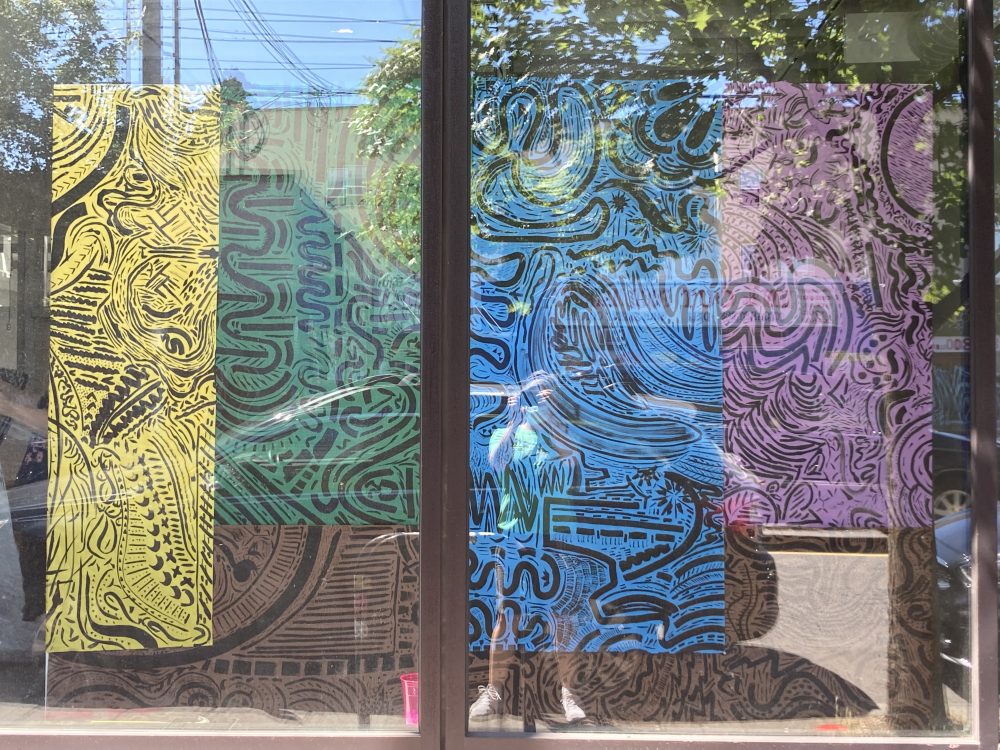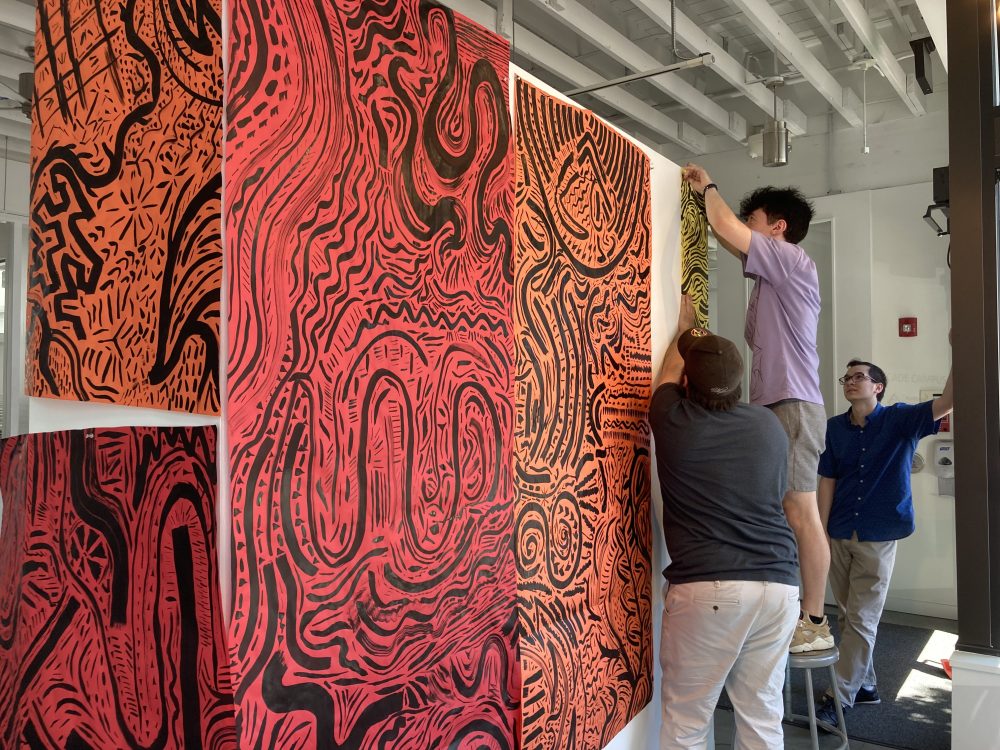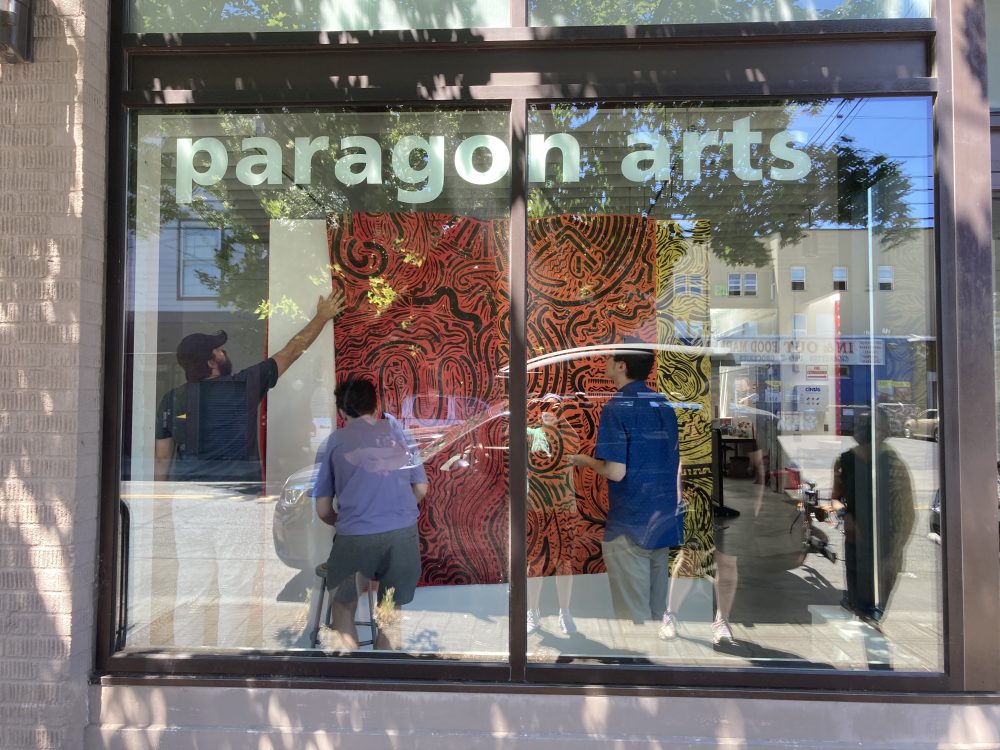 Thanks to PCC Art Students and Instructor Michelle Liccardo for drawing and installing!