Kirk Charlton: My Personal Experience
Cascade Paragon Arts Gallery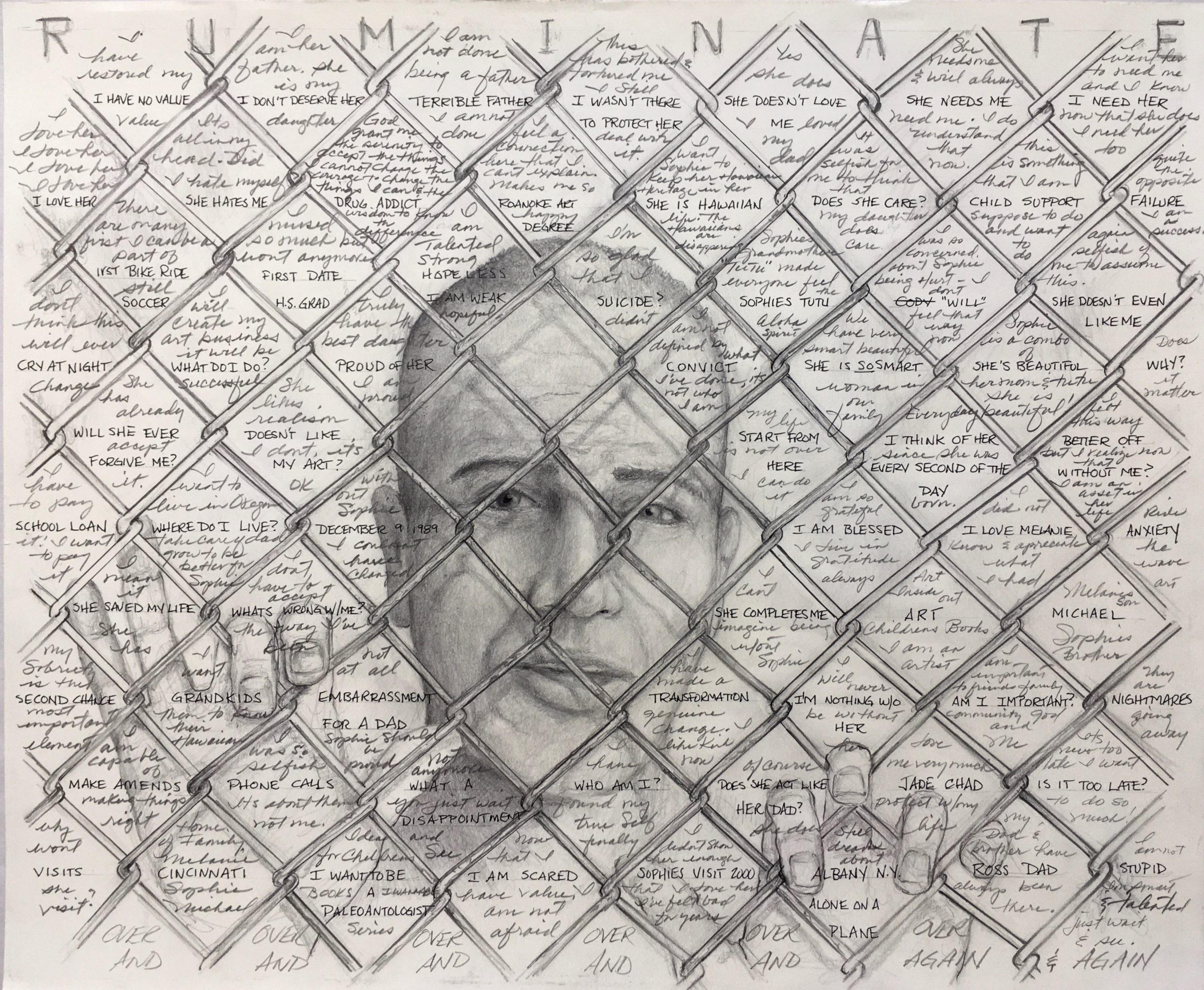 Kirk Charlton, Ruminating, 2017-19, pencil and ink on paper, 14" x 20".
Exhibition Dates: May 4 – June 4, 2022
Artist Talk and Reception:

Friday, May 20, 5 – 8 pm. Artist talk at 6 pm.

Drop-In & Draw: informal conversation with the artist

Saturday, May 14, 2022, 1 – 3 pm

Saturday, June 4, 2022, 1 – 3 pm

Gallery Hours:

Wednesdays – Fridays, 12 – 7 pm
Saturdays, 12 – 5 pm
Paragon Arts Gallery presents My Personal Experience, a drawing exhibition by Kirk Charlton opening May 4, 2022. Please join us for an artist talk and reception on Friday, May 20, 2022 from 5 – 8pm, with the artist talk at 6 pm. Public programming continues with two events "Drop-In & Draw: informal conversation with the artist" Saturday, May 14 and June 4, both from 1 – 3 pm. All events are free and open to the public. Masks are required at this time on PCC campuses.
Kirk Charlton, a dear friend and phenomenal artist, was released after 8 years in prison. We met while incarcerated at Eastern Oregon Correctional Institution (EOCI) and had great talks about the therapeutic aspects of art, and about the value that incarcerated persons continue to have as human beings. Kirk has done almost 20 years behind bars, and only in this last stretch did he finally figure out who he is and what he has to offer the world.
It was in this last 8 years that he developed one of the most attended programs currently offered in the Department of Corrections (DOC), a program called "Art Inside Out" (AIO). He had been creating murals and doing custom work for staff and peers when he decided to develop the first of three full courses. Kirk even worked with a current officer to bring his program into the disciplinary segregation unit, a place previously characterized by almost no programming, only darkness and negativity and the occasional book. The "Art Inside Out" program focuses on learning art as a practice and includes a discussion at the end of each class on a topic like love or compassion.
Kirk has completed over 40 drawings that illustrate experiences he has had behind bars. His media for these drawings was mostly pencil and pen in black and white, and he has an unmistakable style. Some salient works are a depiction of him in a yoga class while a fight breaks out in the hall outside a window; and a tryptic showing his mother coughing at his sentencing, then visiting after being diagnosed with cancer, and finally the chaplain informing him, while still behind bars, that his mother has passed.
The drawings are powerful – poignant and funny – and carry even more gravity when added to Kirk's story and his genuine desire to educate on many different levels. This body of work, combined with the philosophies of the "Art Inside Out" curriculum, and discussions with Kirk about making art and about incarceration in Oregon create a space for dialogue about a broken system and ways to heal. — Blue, November 2019
Blue @brushfireart_ is the community manager at ADX (Art Design Xchange) and founder of JaJa PDX.
About the artist:
None of the drawings are contrived. Some are kinda funny and some are not, but all of the art is 100% truth. I did them for me, to release memories and find better things to ruminate about. — Kirk Charlton
Kirk Charlton works in a variety of art media and processes creating murals, portraits, character drawings, and book illustrations in pencil, pen, and paint, drawing, painting, and airbrushing. His drawing, sketching, and doodling are a great outlet for self expression.. Kirk spent his formative years in New York and Hawaii. He self-identifies as Hawaiian and loves to share his cultural background with others. His life and experiences inform his work.
My daughter Sophie is my motivation. — Kirk Charlton
insta: @kirk.charlton
Press
"Interview with Kirk Charlton," by emma lugo on Prison Pipeline, KBOO Community Radio, May 16, 2022, 6:30 – 7:00 pm.
About Paragon Arts Gallery:
Paragon Arts Gallery is an educational showcase committed to exhibiting work of high artistic quality. Our versatile gallery is located at 815 North Killingsworth, at PCC's Cascade Campus. Mindful of our role as a member of the Humboldt community, we are especially committed to engaging community members in our space.