Jeremy Rotsztain: Walking a Turtle, window exhibition
Paragon Arts Gallery, Cascade Campus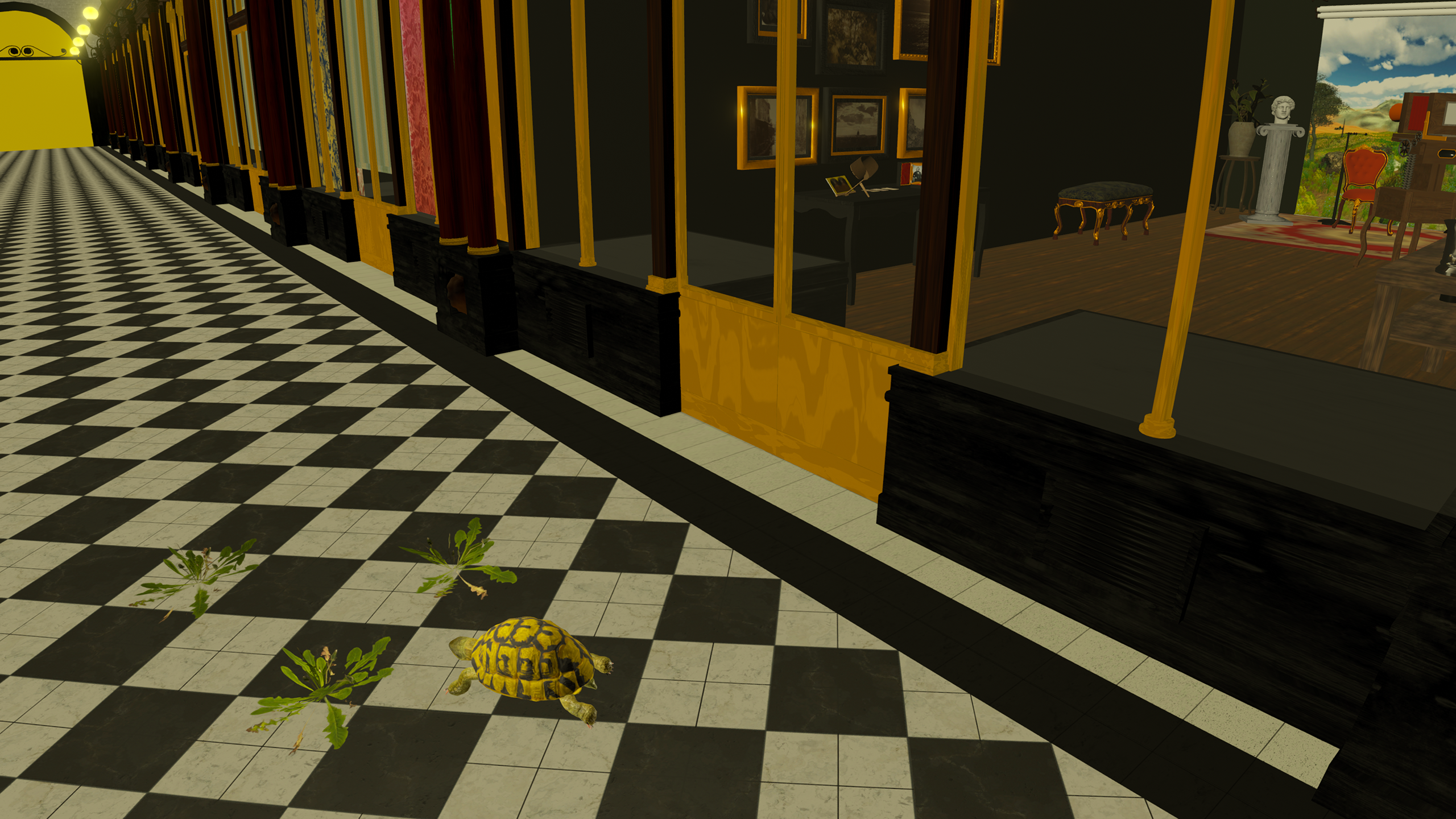 Jeremy Rotsztain, Walking a Turtle, 2022, still image from screen recording of virtual reality experience
A window exclusive exhibition of an animated VR experience about attention and intentionality
January 19 – February 28, 2022 (extended through April 3, 2022!!)
Paragon Arts Gallery (815 N. Killingsworth St. Portland, Oregon 97217). View the window exhibition from the sidewalk and on our website 

Due to COVID-19 and Portland Community College remote operations, the exhibition can be viewed in front of the gallery from the sidewalk and on our website. The gallery is not open for inside viewing.
The Paragon Arts Gallery at Portland Community College, Cascade Campus is honored to present a video installation by Jeremy Rotsztain capturing VR experiences Walking a Turtle. This animated virtual reality (VR) artwork installation is about attention and intentionality. Viewers are transported to 19th century Paris, France, where they go on a walk with a turtle. In doing so, they are recreating a trend practiced by the flȃneurs—top-hat wearing wanderers—who were critics of industrialization and the speed of life that was transforming Paris. Walter Benjamin famously wrote that taking a turtle for a walk was the flȃneur's act of protest against such speed.
Today, with the ubiquity of technology, we experience speed in our lives at an entirely different magnitude; so much so that the thought of walking at a turtle's pace today is completely absurd. Walking a Turtle invites viewers to move at a slow pace and to ignore the constant beckoning of social media. The goal of Walking is to focus one's attention on the turtle while walking with a turtle through the Véro-Dodat arcade and avoid being distracted—by a vibrating wooden cell phone and notifications from a precursor to Instagram. Each round, viewers need to focus for increasingly longer durations of time, amidst increasingly intense distractions.
Social media has been so pervasive, so widely embraced, because it plays off of our unconscious human behavior. It feeds off of our desires for attention, belonging and pleasure, as well as our discomfort with boredom. Walking introduces that feeling of boredom to highlight the "dark UX patterns" of addictive/habit-forming technologies like Instagram and Twitter. Like a slot machine or lottery, these platforms give their users randomly timed rewards—jolts of dopamine/excitement—so that they remain hooked and loyal to their product.
In its design, Walking also mimics the wellness apps that have become part of our digital landscape, providing viewers with an opportunity to learn or practice restraint. Restraint ("riding the wave" of temptation, as behavior researcher Cal Newport writes) is a first step in developing positive relationships with personal technologies. Walking is a poetic tool for practicing restraint.
These animations presented in the windows of the Paragon Arts Gallery are screen recordings taken from the Walking a Turtle VR experience. The work will be available on commercial VR platforms in the Spring of 2022.
Credits
Alice Rotsztain, Art director
Patricia Wolf, Music and sound design
Ian Anderson, 3D design
Walking a Turtle was made with the support of Canada Council for the Arts.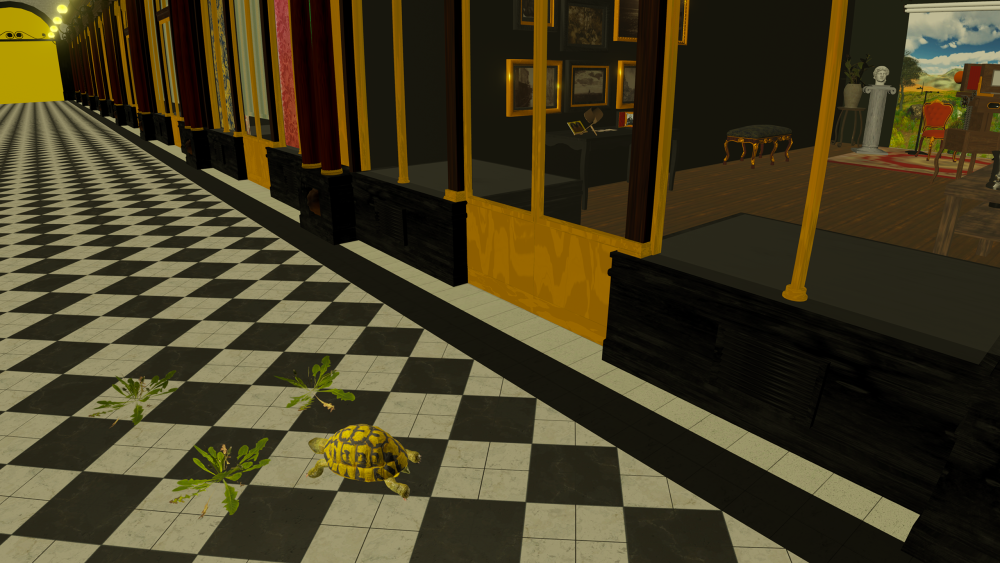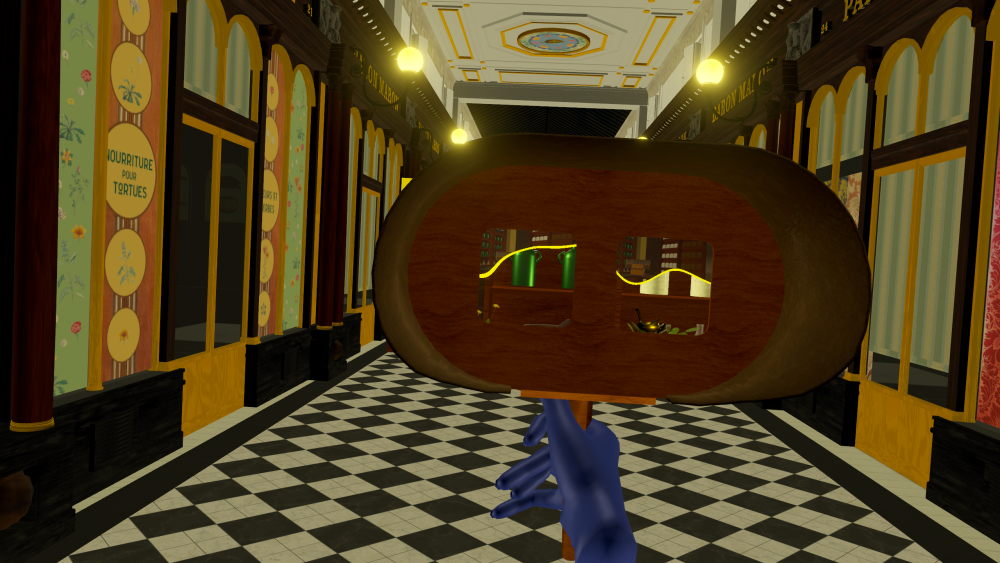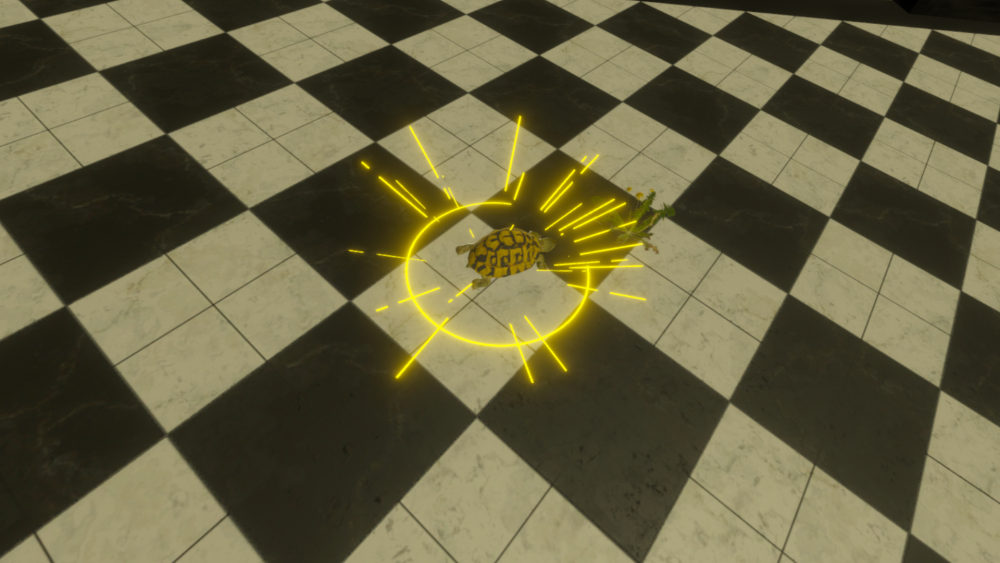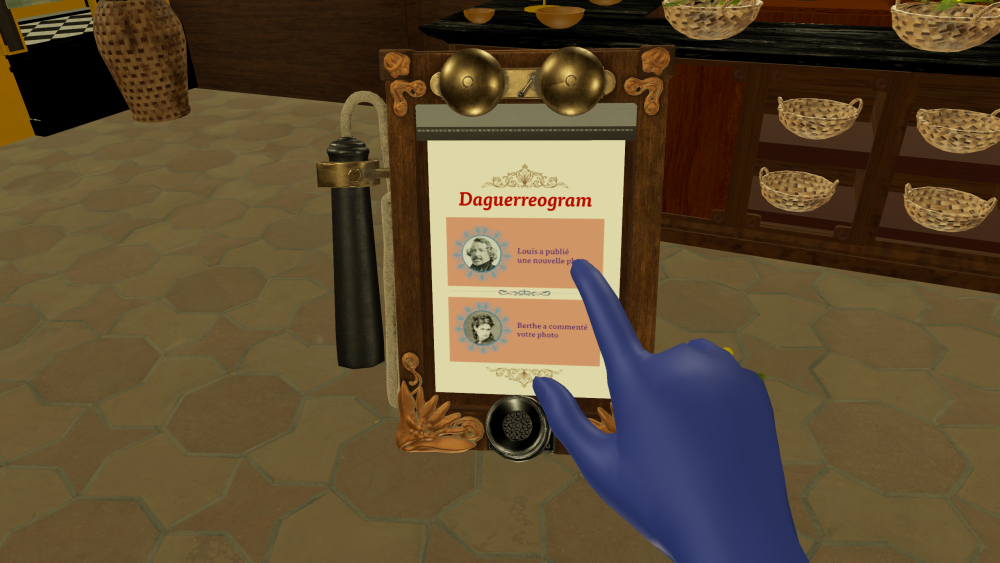 About the artist
Jeremy Rotsztain (b. 1977 in Toronto, Canada) is an artist and software programmer working with computer graphics to explore aspects of human attention, speed, and media consumption in the age of information. He creates experimental animations, virtual reality worlds, mobile phone apps, and digital prints. Jeremy holds a Master's degree from the Interactive Telecommunications Program at New York University. His work has been exhibited throughout the United States and internationally, including Zentrum für Kunst und Medien (ZKM), Yerba Buena Center for the Arts, San Jose Institute of Contemporary Art, Cooper-Hewitt Smithsonian Design Museum, New York Hall of Science, Boston Cyber Arts Festival, Festival Nouveau Cinéma de Montréal, and MUTEK Festival. Jeremy lives and works in Portland, Oregon.