Erinn Kathryn: Lands of Enchantment, window exhibition
Paragon Arts Gallery, Cascade Campus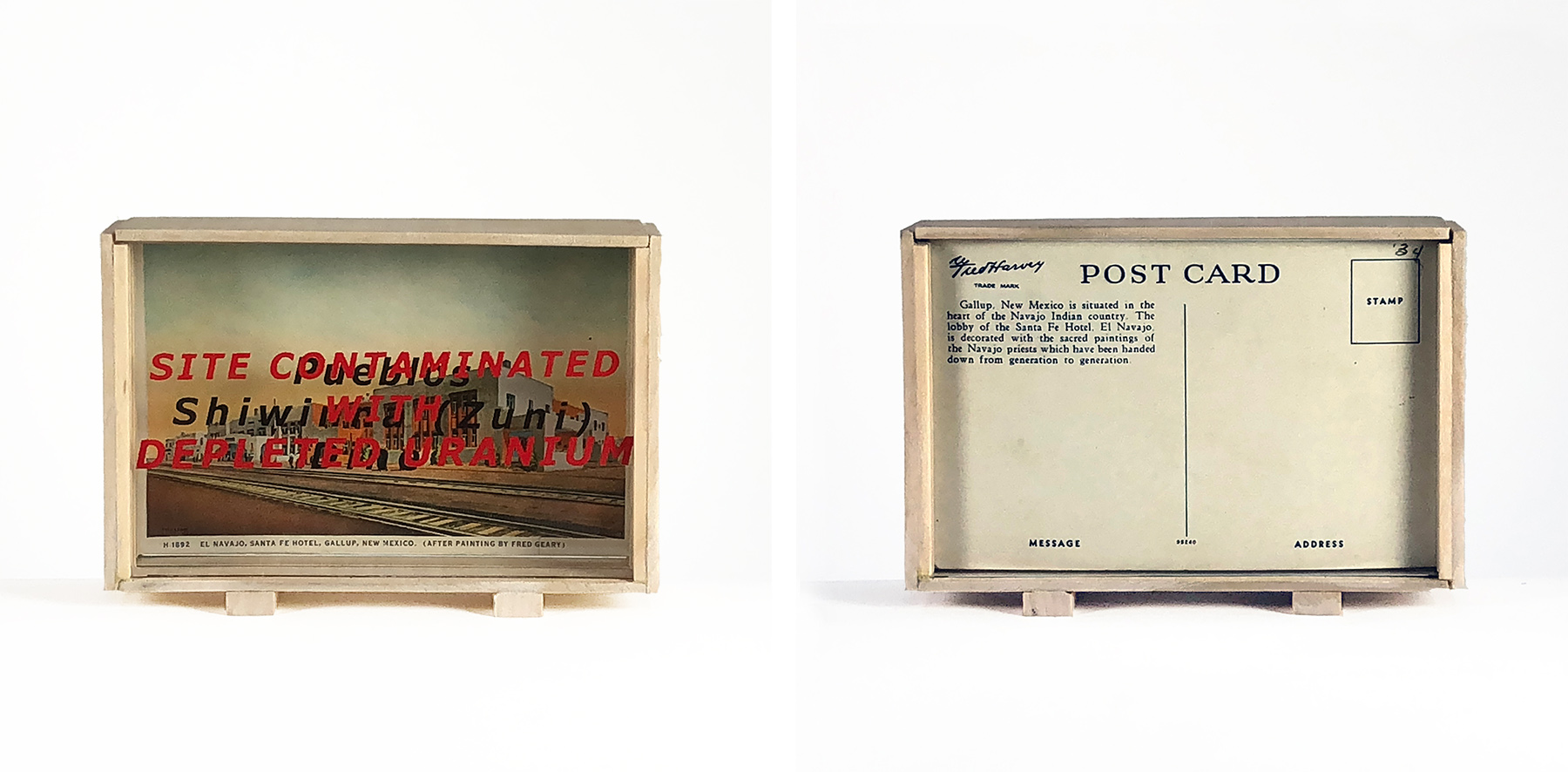 Erinn Kathryn, Heart of the Navajo Indian Country (Gallup, NM), 2019, handmade wooden box, 3 panes of glass, unique screen print, vintage postcard, 3.5" x 5.5" x 1.5"
A window exclusive exhibition of large dioramas challenging the glossy, picturesque Kodachrome mirages of white settler America
October 15 – November 30, 2021
Paragon Arts Gallery (815 N. Killingsworth St. Portland, Oregon 97217). View the window exhibition from the sidewalk and on our website 

Due to COVID-19 and Portland Community College remote operations, the exhibition can be viewed in front of the gallery from the sidewalk and on our website. The gallery is not open for inside viewing.
The Paragon Arts Gallery at Portland Community College, Cascade Campus is proud to present Erinn Kathryn: Lands of Enchantment, a window exclusive exhibition of four large dioramas challenging the glossy, picturesque, Kodachrome mirages of white settler America. Erinn Kathryn was initially inspired by a vintage postcard diorama she found in a local shop, captivated that someone took the time to create such an homage to a place they had traveled. Postcards are the talismans of tourism. They memorialize one's experience in a place, idealize the place itself. Beginning in 2019, Erinn Kathryn created a series of her own postcard-sized dioramas revealing truths obscured by the idyllic imagery. Over the postcard, displayed in a small box, she layered text: black text naming the indigenous tribes who have stewardship over the land and red text revealing an unspoken truth about the current condition of that land. For this window exhibition, Erinn Kathryn has enlarged the dioramas and the vintage postcards for a powerful punch.
Erinn Kathryn draws from her 2018 experience on a month-long research trip to the U.S. Southwest in Wide Open Studios, an outdoor residency program run by Portland-based Signal Fire. This inquiry-based, immersive experience connected participants with tribal leaders, activists, ecologists, and writers committed to exposing the hardships and histories of these lands: decades of exploitation and blatant destruction of sacred sites and ecosystems; longstanding oppression of indigenous communities; and ongoing secrecy regarding environmental and human impacts of buried nuclear waste and mining practices. The residency revealed that "as a public school student in Central Pennsylvania, I had been force-fed the settler ideals of Westward Expansion, Manifest Destiny, and wealth and ownership in regard to 'the West.' These ideals were complemented by glorifying tales of nuclearism, patriotism and tourism of America's great 'public' lands handed down by extended family."
The large-scale dioramas Titan of Chasms (Grand Canyon), Looking Upstream (Glen Canyon Dam), Undefined (Bears Ears), and Our Vested Heritage (Mt. Rushmore) were created in 2021 with support from a MAKE grant from Regional Arts and Culture Council.
Indigenous nation names from Native Land Digital. View the maps at https://native-land.ca/
Window views with four dioramas by Erinn Kathryn, Titan of Chasms (Grand Canyon), Looking Upstream (Glen Canyon Dam), Undefined (Bears Ears), and Our Vested Heritage (Mt. Rushmore), 2021, photographic prints, screenprints on plexiglass, wood, each box approximately 29 1/2″ x 43 1/2″ x 9 1/2″. Photographs by Mario Gallucci.
About the artist
I make work that confronts the greater needs of our time, focusing on environmental degradation and resuscitation, social injustice, urban growth and gentrification. My projects portray changing landscapes – urban, social/political and natural. They are spawned from extensive study of maps, topographic, bathymetric and demographic data, texts, videos, and interviews. They employ and alter found objects and reclaimed materials to reframe long-held perspectives, and to examine the intersections between the "natural" and "constructed" within which we exist. My work straddles the line between truculence and repose. — Erinn Kathryn
Erinn Kathryn is an interdisciplinary artist who works in sculpture, mixed media, painting, and installation. Notable solo and featured exhibitions include Pacific Northwest College of Art (Portland, OR in 2012), Alaska House Art Gallery (Fairbanks, AK in 2013), Multnomah Arts Center (Portland, OR in 2014), Bison Gallery at Oregon College of Art and Craft (Portland, OR in 2016). Since 2011, Erinn Kathryn has participated in various nationally recognized artist residencies in Alaska, Vermont, Oregon, and the American Southwest. She has been awarded grants from the Regional Arts and Culture Council (RACC, Portland, OR) for her sculpture/installation projects, including an honorarium for a site-specific installation in 2015.
Erinn Kathryn's work is included in the permanent collections of Zymoglyphic Museum, J. Michael Carroll Cancer Center at Fairbanks Memorial Hospital, and Museum of the North, University of Alaska Fairbanks. She is published in Portland Monthly Magazine (2014) and Propeller Magazine (2013, 2014). Erinn Kathryn studied printmaking, dance, and psychology at Pennsylvania State University and received her M.A.T. from the University of the Arts in Philadelphia.
Instagram @erinnkathryn
Support for this project from the Regional Arts and Culture Council