This content was published: February 1, 2021. Phone numbers, email addresses, and other information may have changed.
Sabina Haque: (UN) Belonging
Paragon Arts Gallery
virtual exhibition (video of performance, photo documentation, and video essay), beginning February 1, 2021
* * Due to Covid-19, the Paragon Arts Gallery is temporarily closed to visitors. Please join us in welcoming artist Sabina Haque to the gallery in this alternative format here on our website — a virtual exhibition of her multimedia installation presenting drawings, video, and performance exploring the cycle of welcoming and excluding, and what it means to belong to a community. * *
I live between two worlds. I was raised in Pakistan by my Muslim father and my white, American mother. My mother's family immigrated to the USA in 1904 from Norway. The idea for my latest solo show started when I was confronted by the words: "If you don't like it here go back to your own country!" Those words were spoken by a close family member.
"Go back to your own country," are words we hear often in today's political climate. Many anti-immigration regulations and laws continue to be enacted pushing the newcomer out! — Sabina Haque
2018 performance
(UN) Belonging, a performance in 2018, explores the cycle of welcoming and excluding, and what it means to belong to a community. What is the urge that makes one push the next newcomer out of the country? Gestures of welcoming and excluding are performed by an animated shadow figure, and a live dancer interacts with the silhouette and the mapped borderlines. I collaborated with three performers of color to choreograph movement in response to the projected shadow figure and borderlines. — Sabina Haque
Watch the interactive performance at Shaking Tree Theater in Portland, Oregon –
2021 drawing installation
The January-February 2021 studio installation (UN)Belonging at the NW Dance Project includes fifteen suspended life-size ink drawings of silhouetted bodies and maps of contested borderlands on layered sheets of DuraLar. The installation invites viewers to move between drawings depicting the mountains of Kashmir disrupted by lines of control at the Pakistan/India border. Other silhouetted figures navigate the liminal space of the Sonoran Desert; the US/Mexico border cuts through the landscape drawing on the reverse.
I picked these two borders — the Sonoran Desert in Arizona/Mexico and Kashmir on the border between India and Pakistan — because I live between these worlds. My ten-year-old father crossed the newly made border between India and Pakistan in 1947, along with 15 million people in the world's largest migration of the century. — Sabina Haque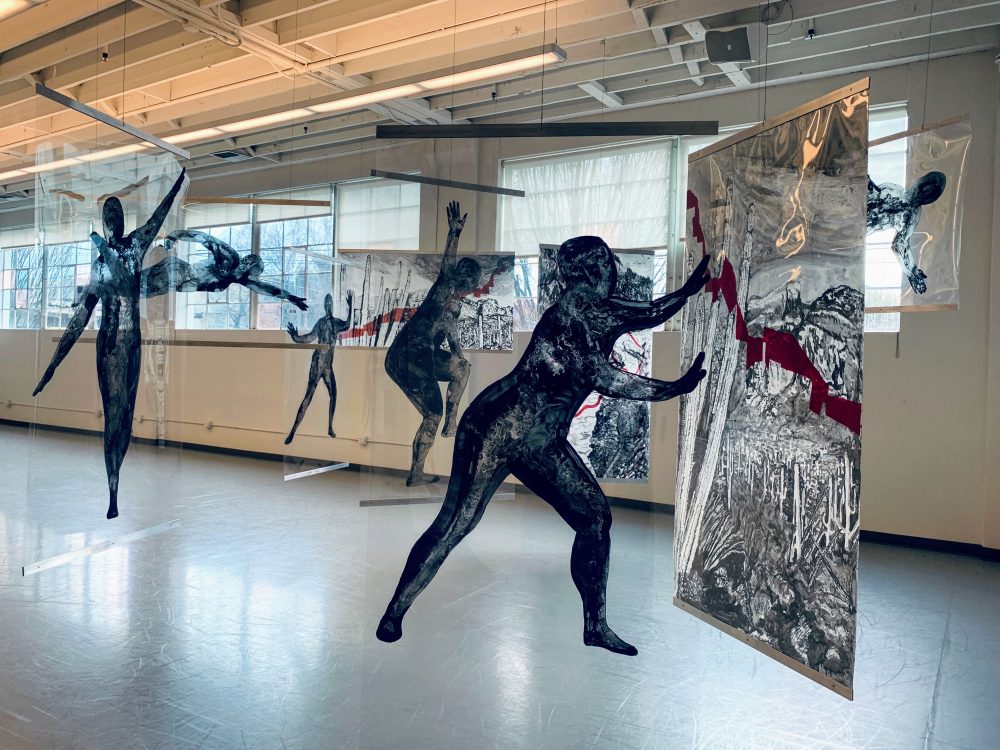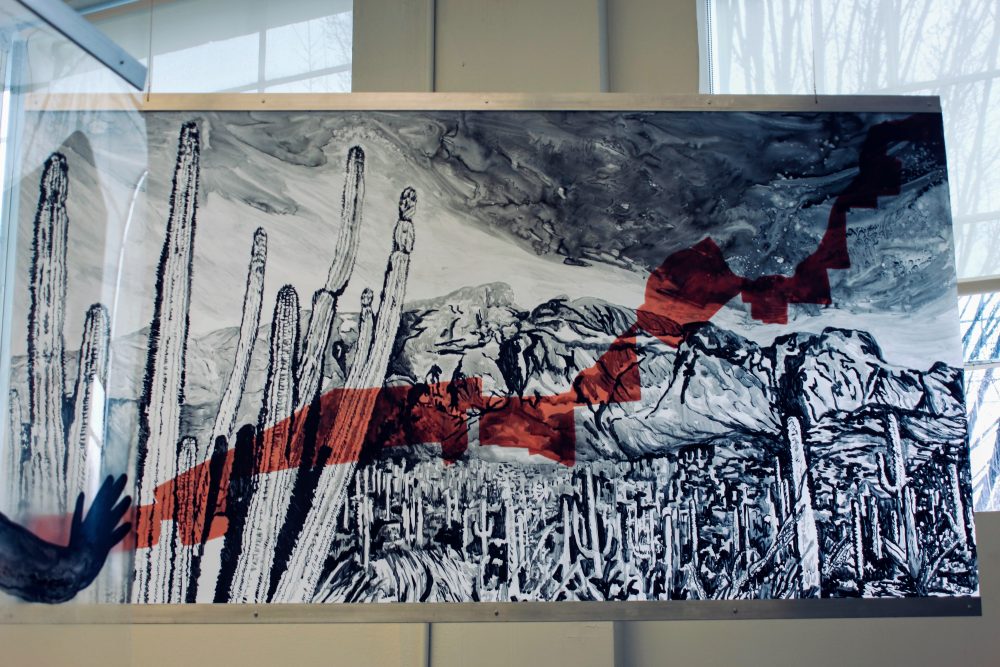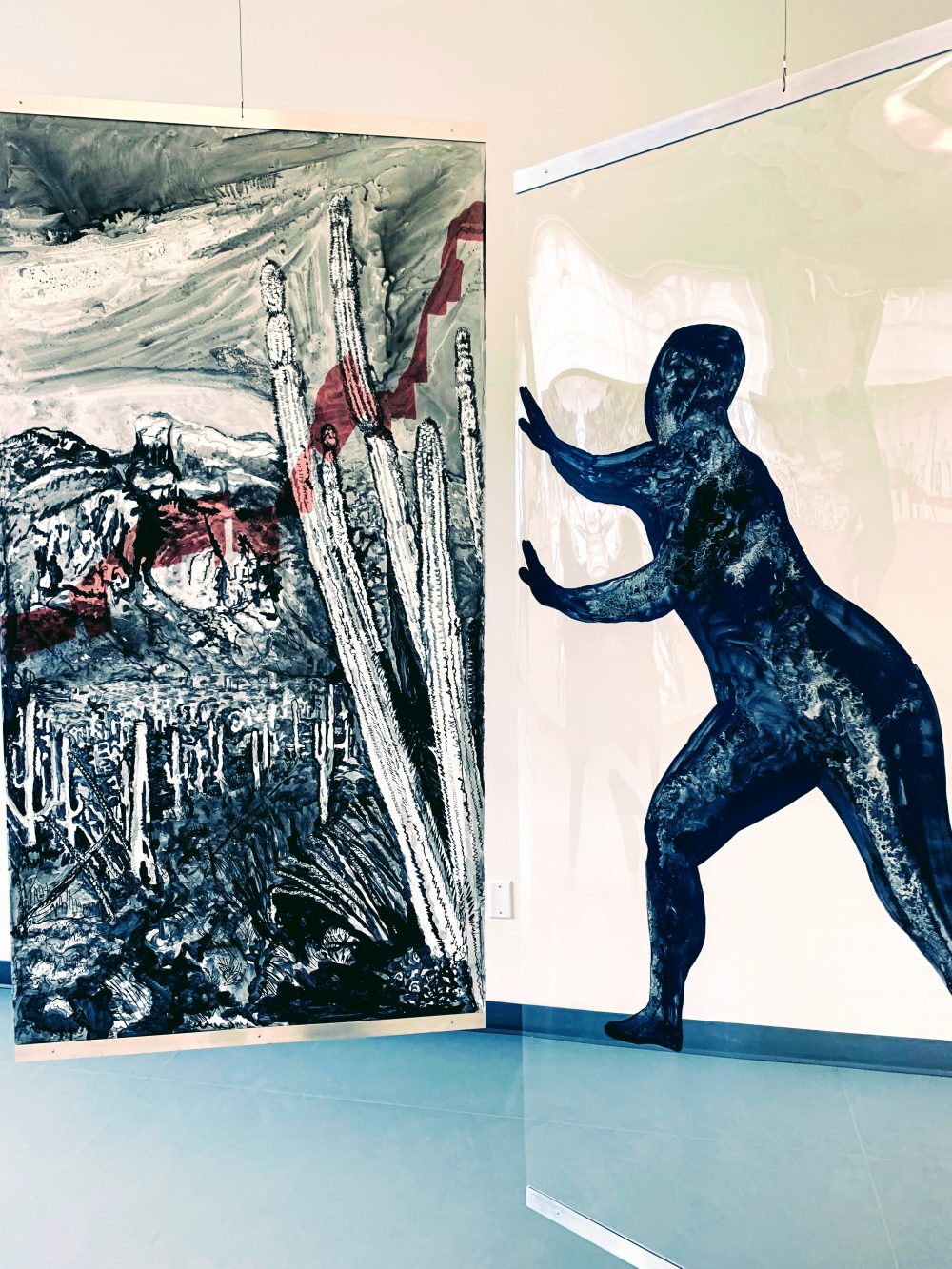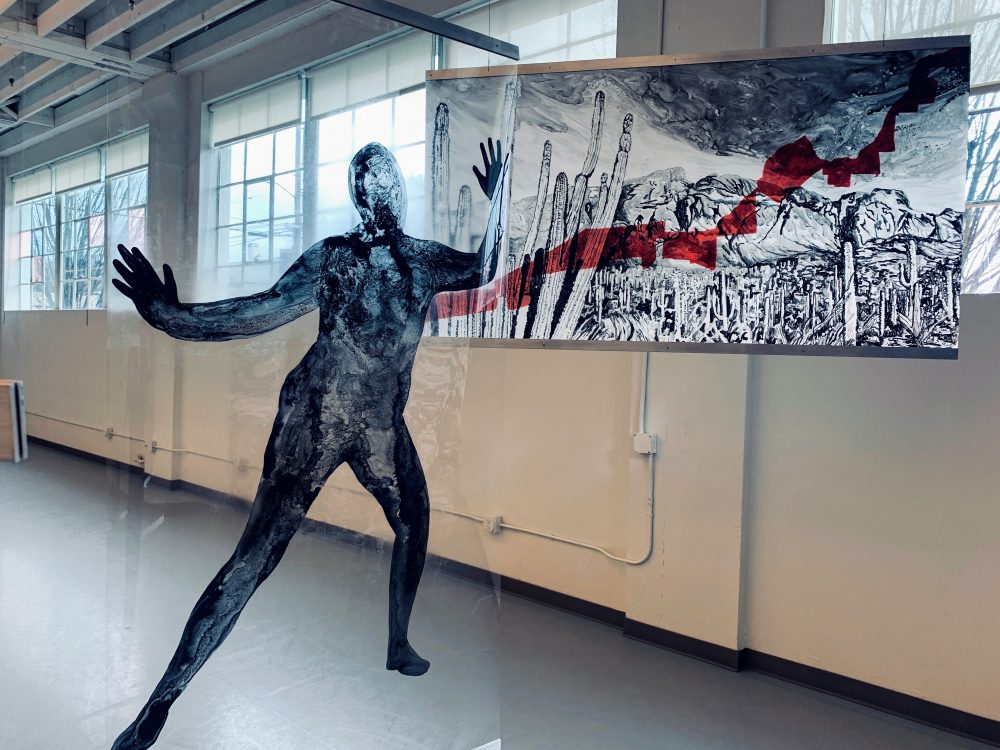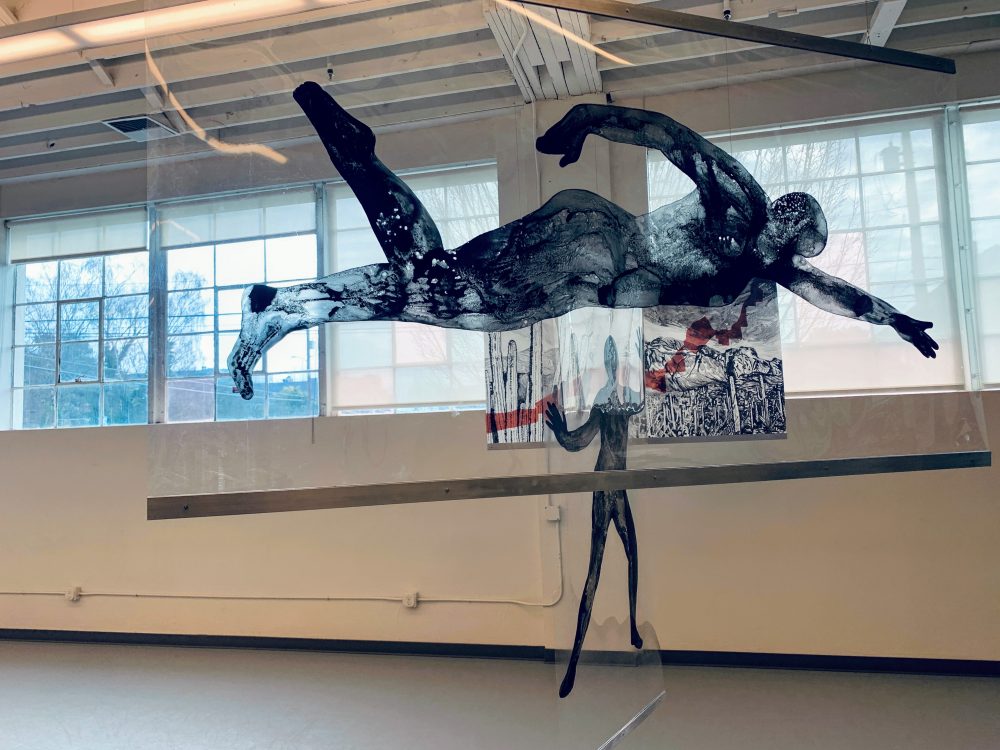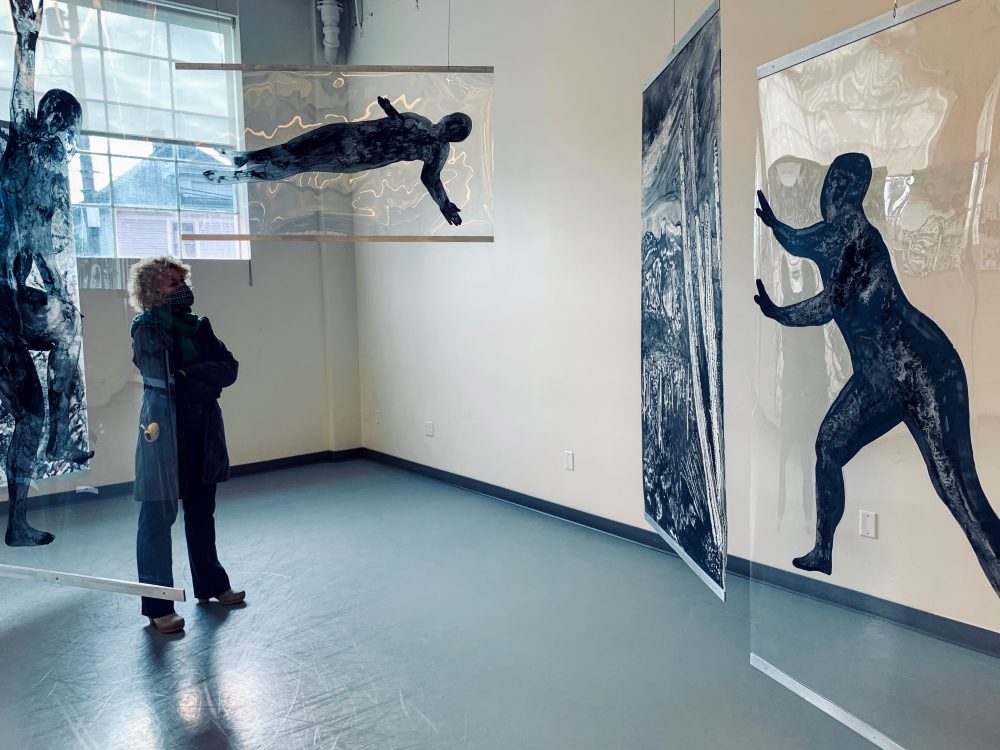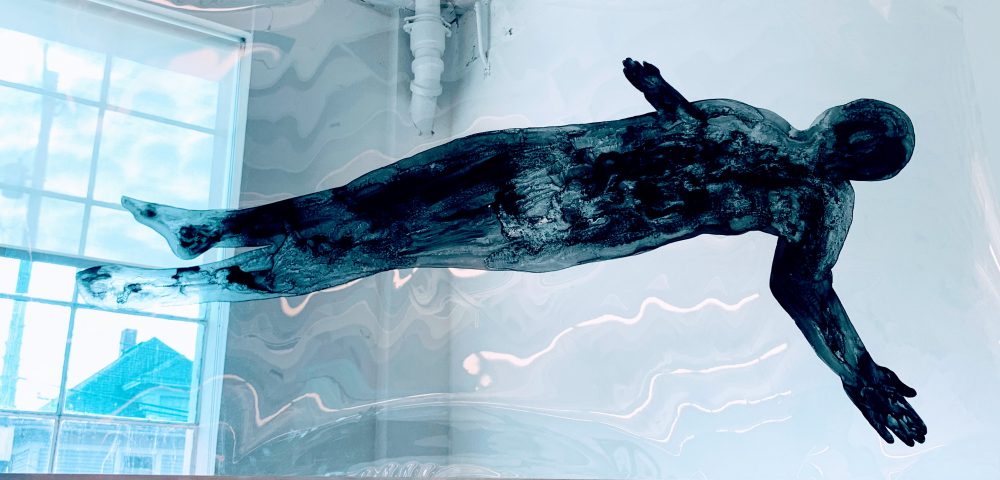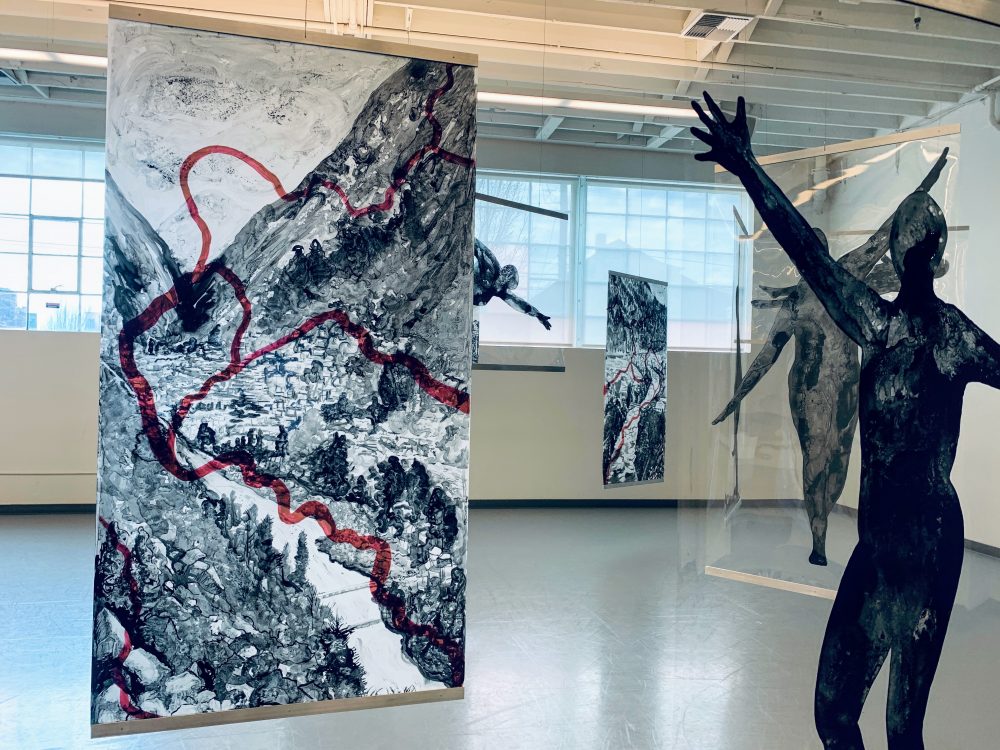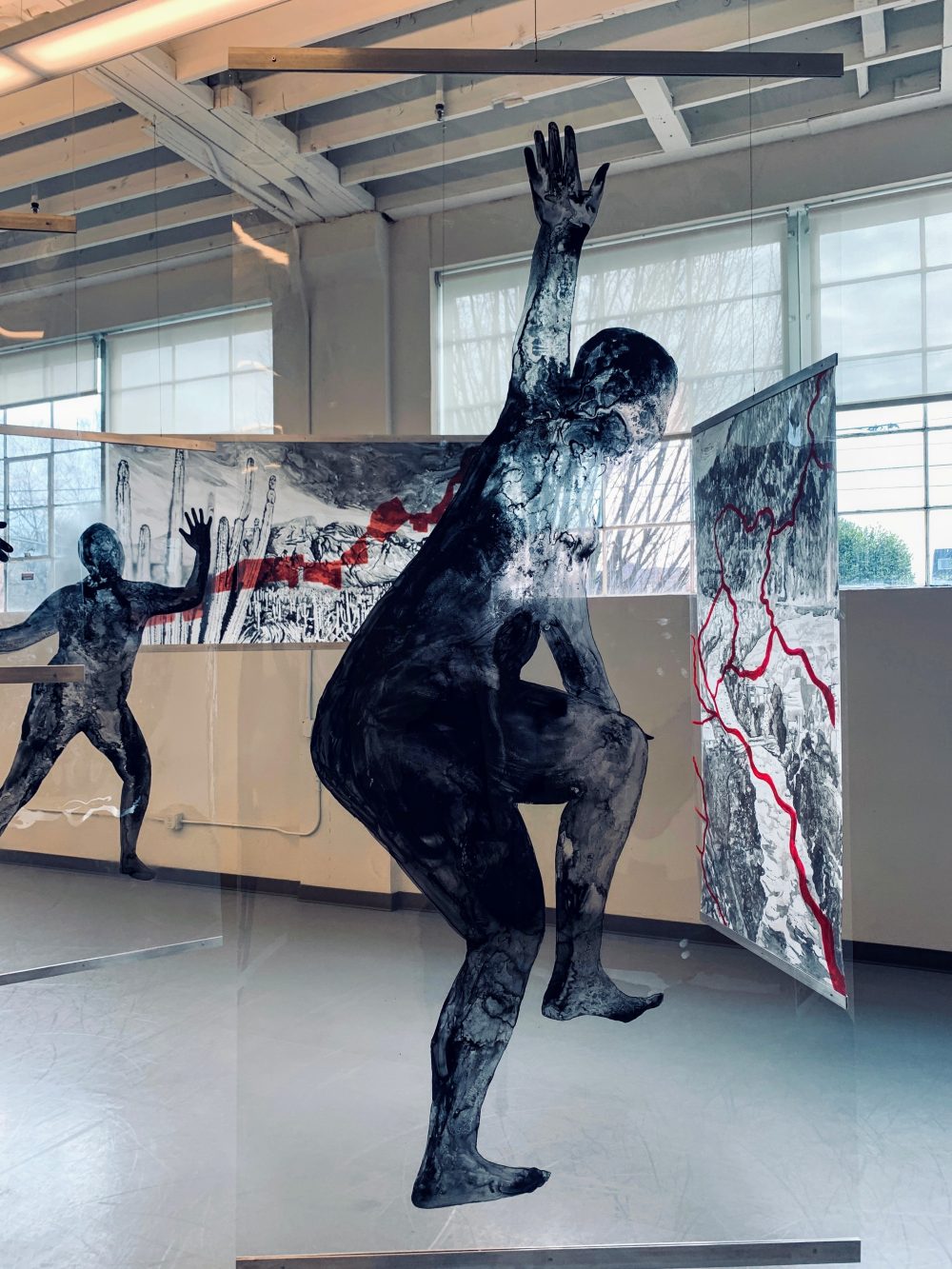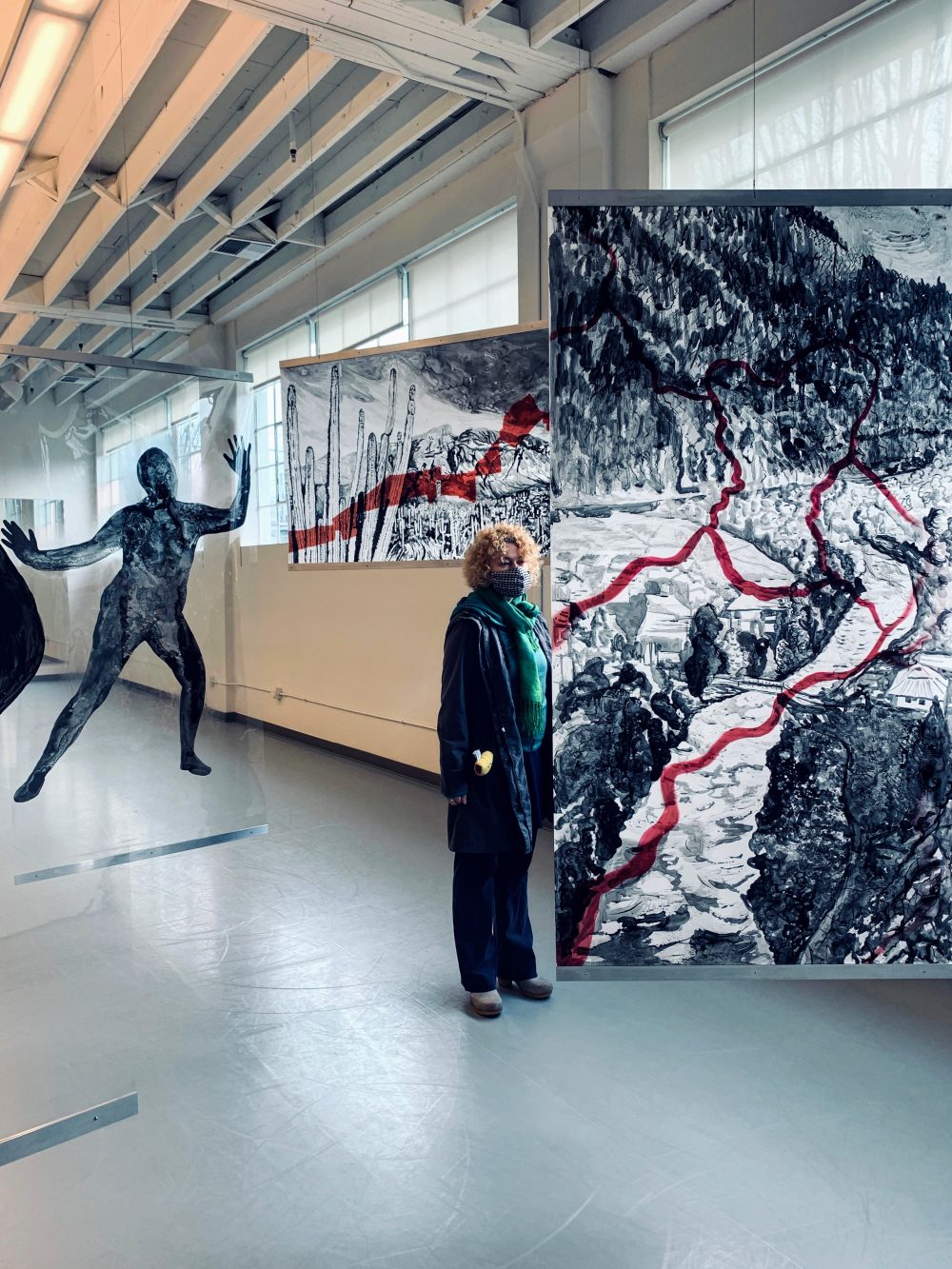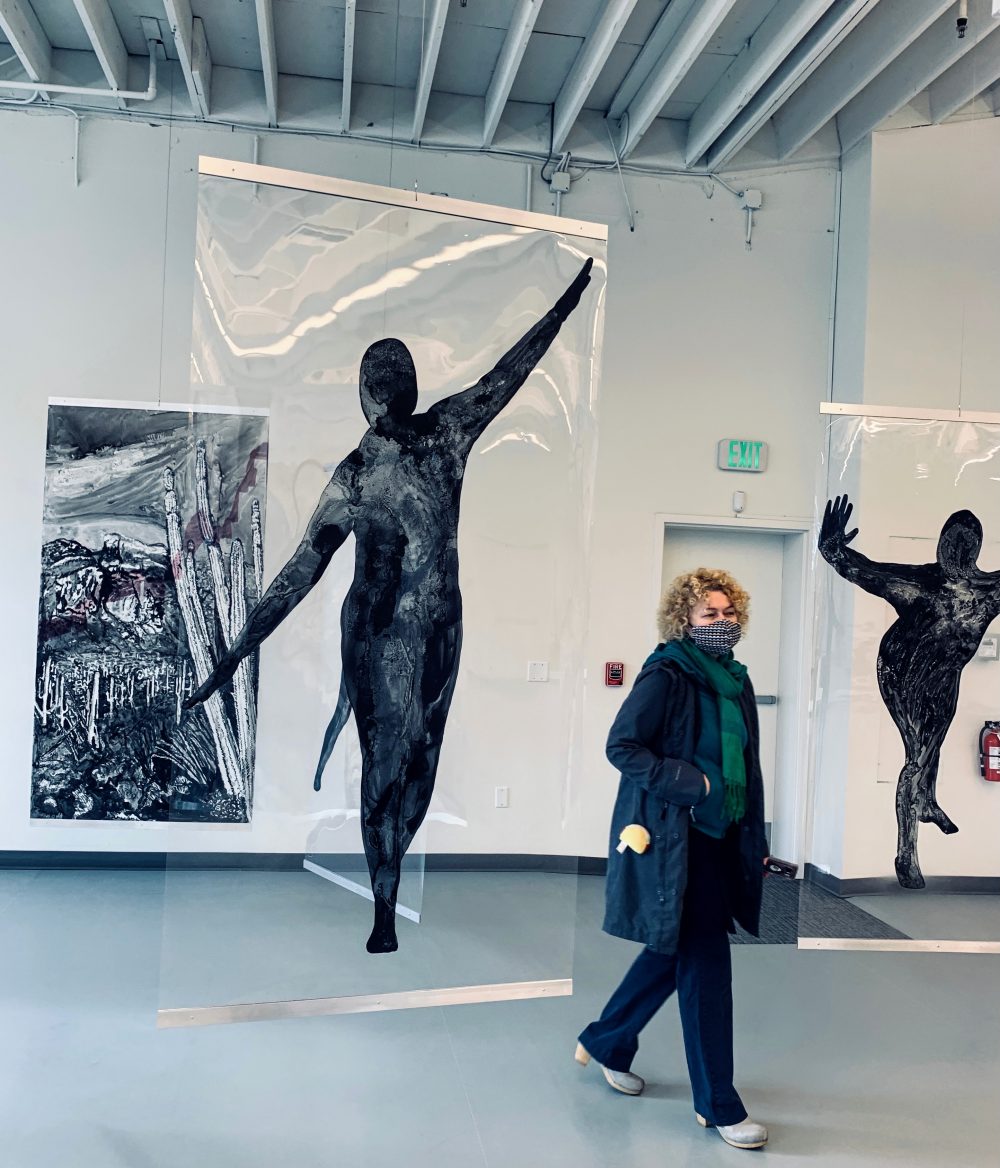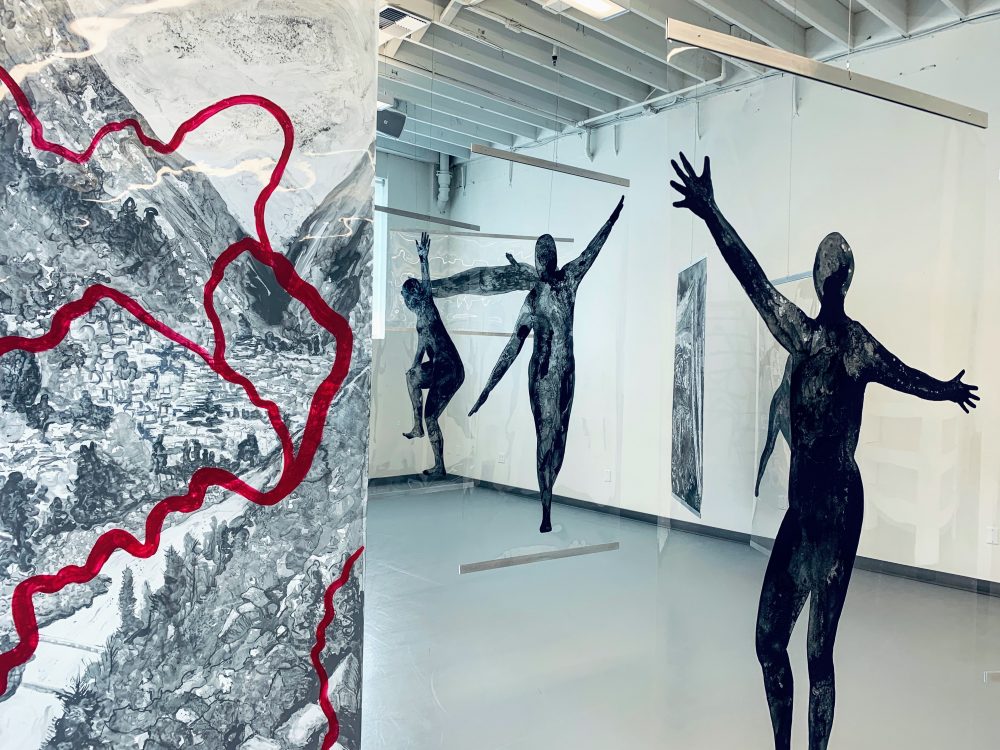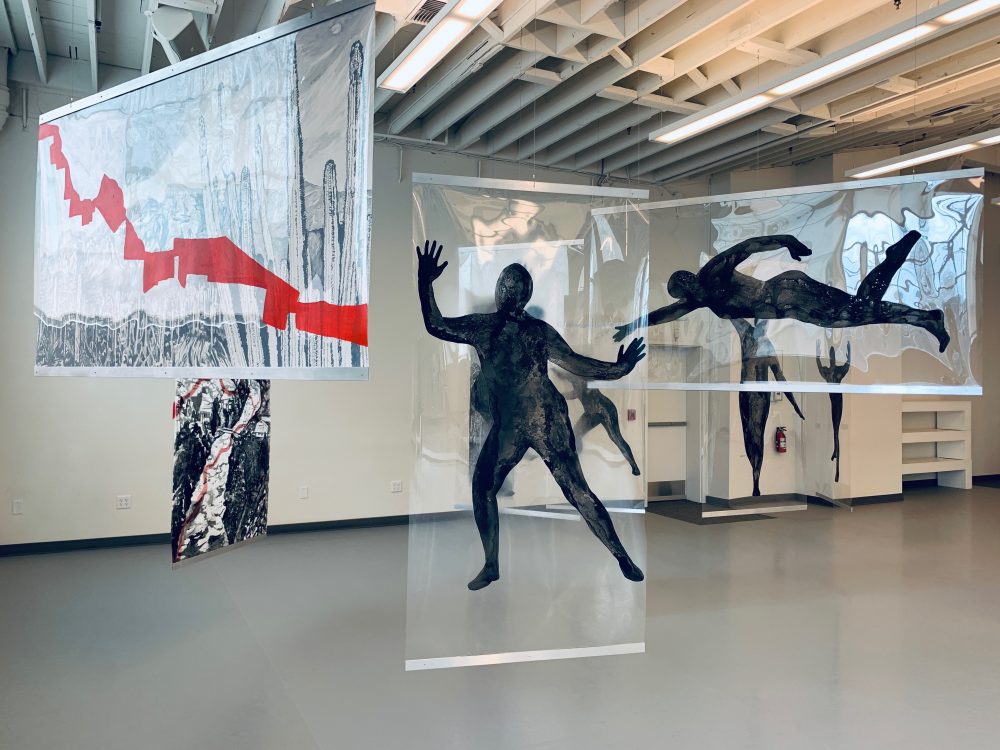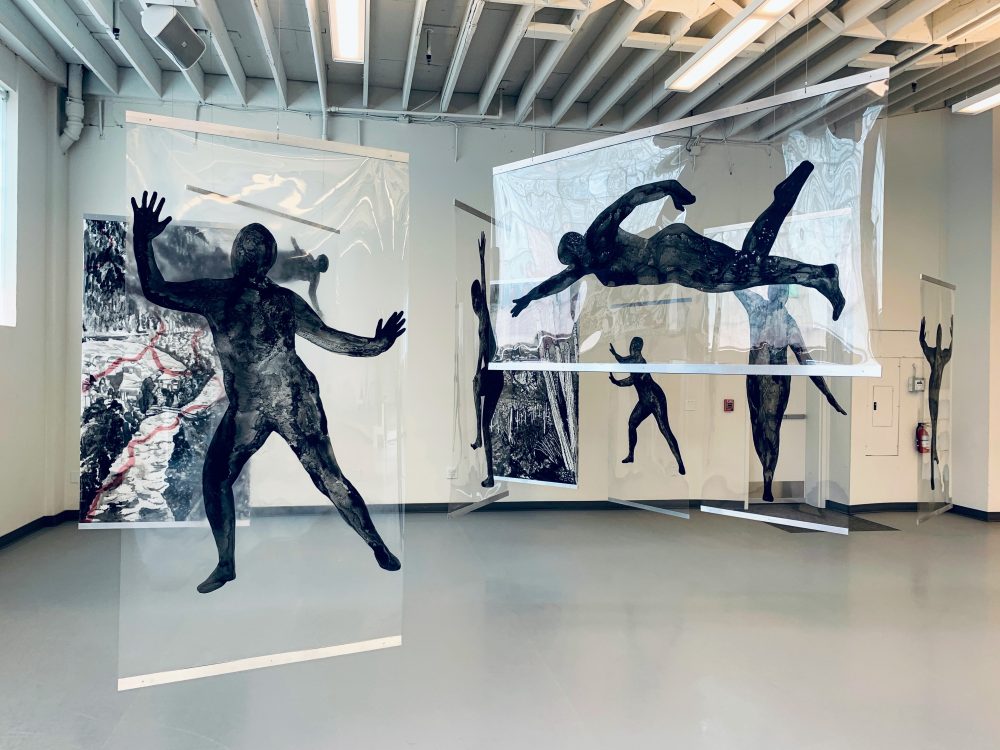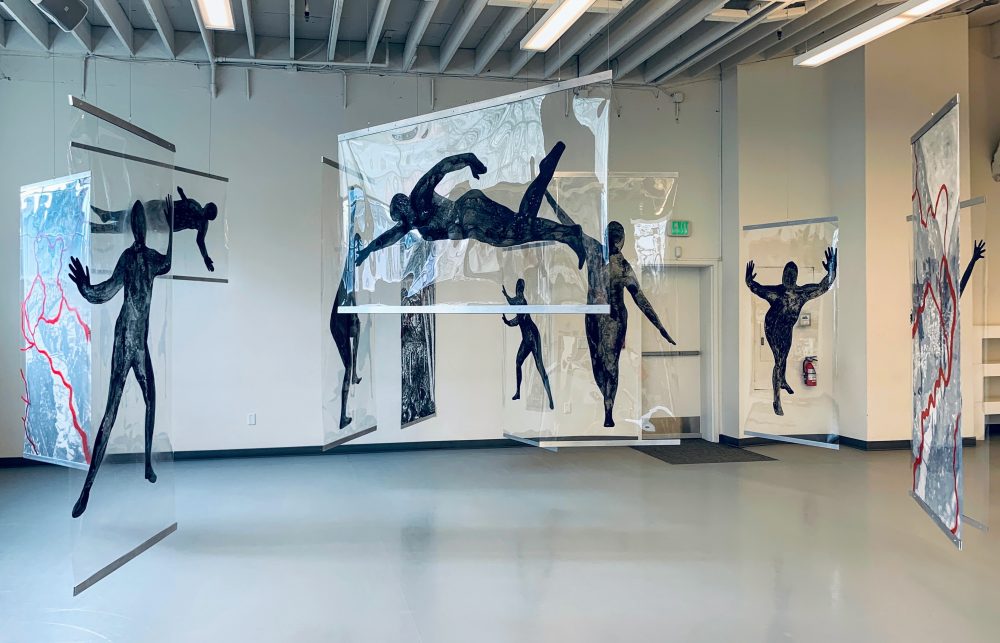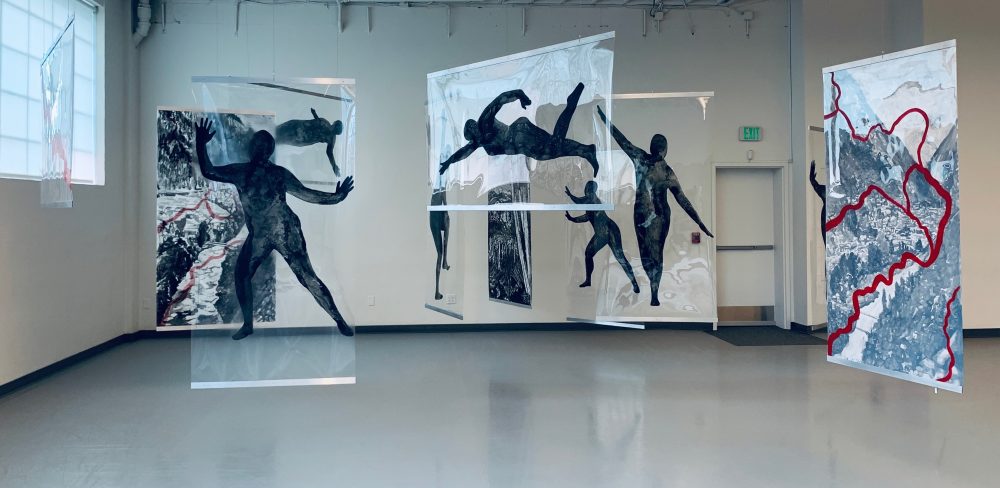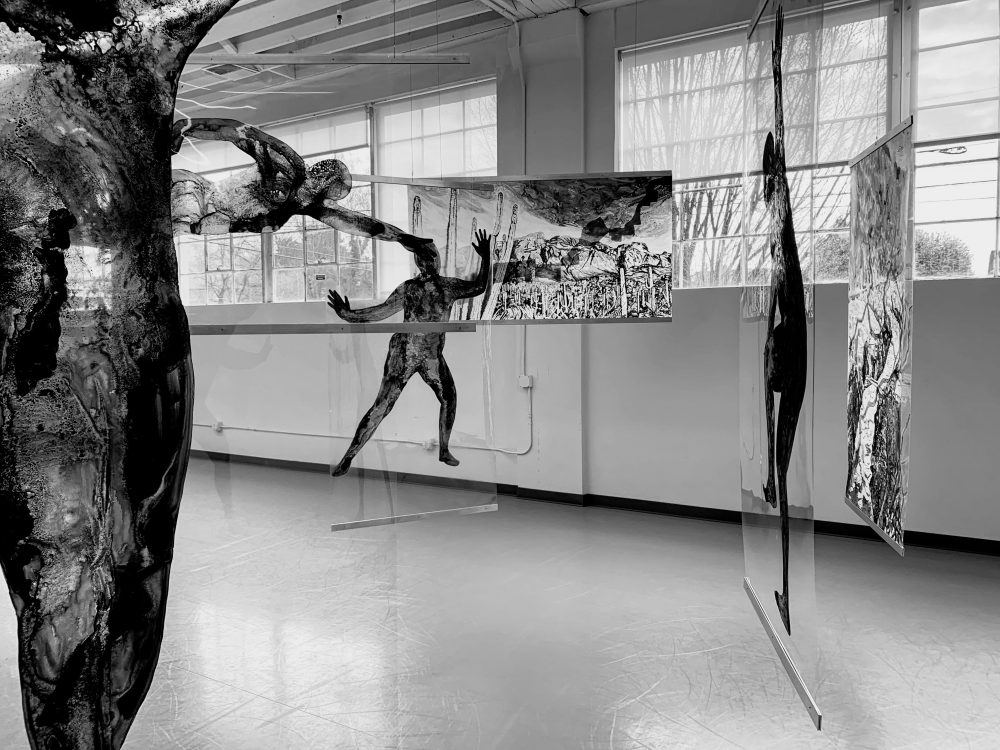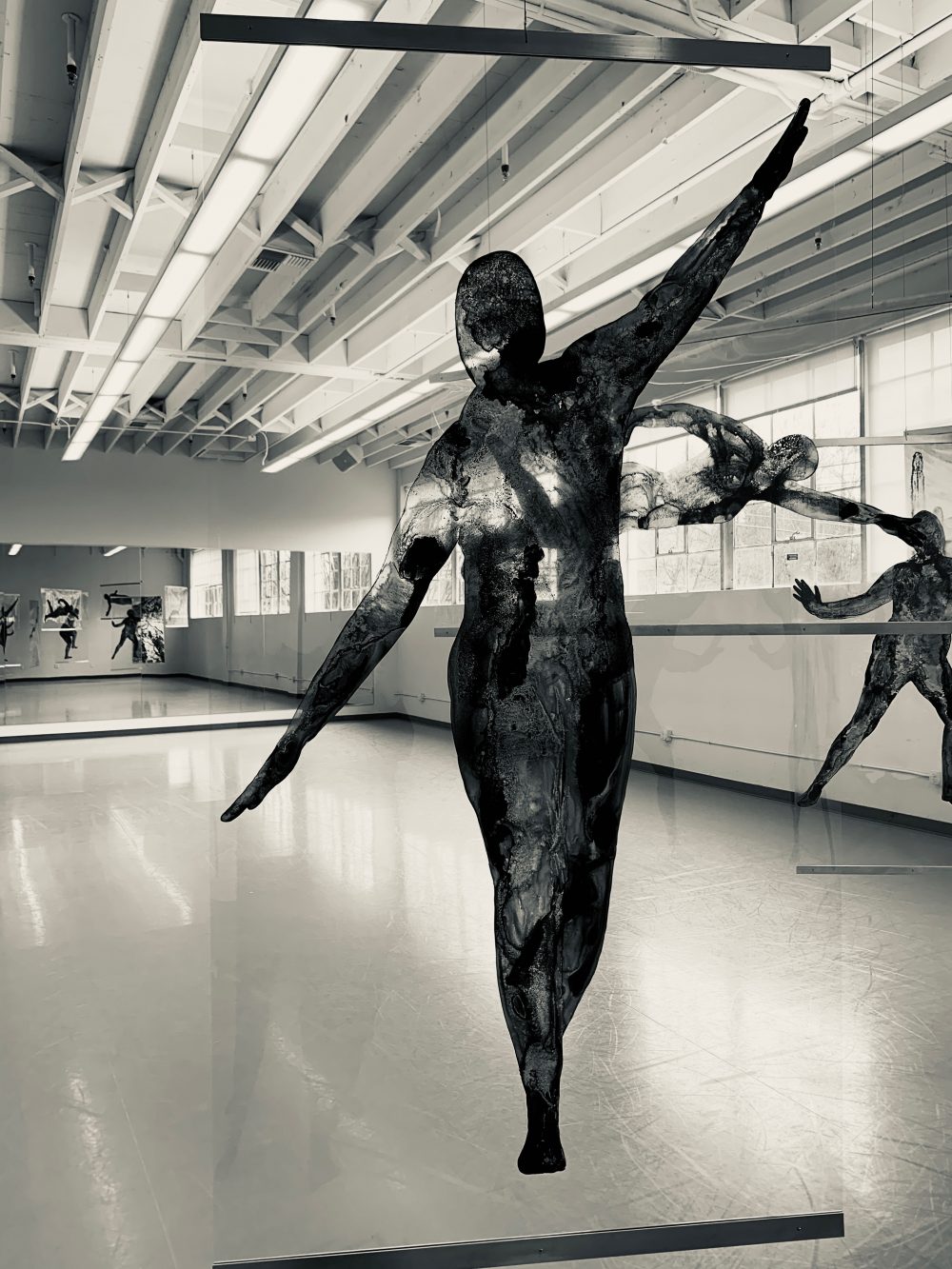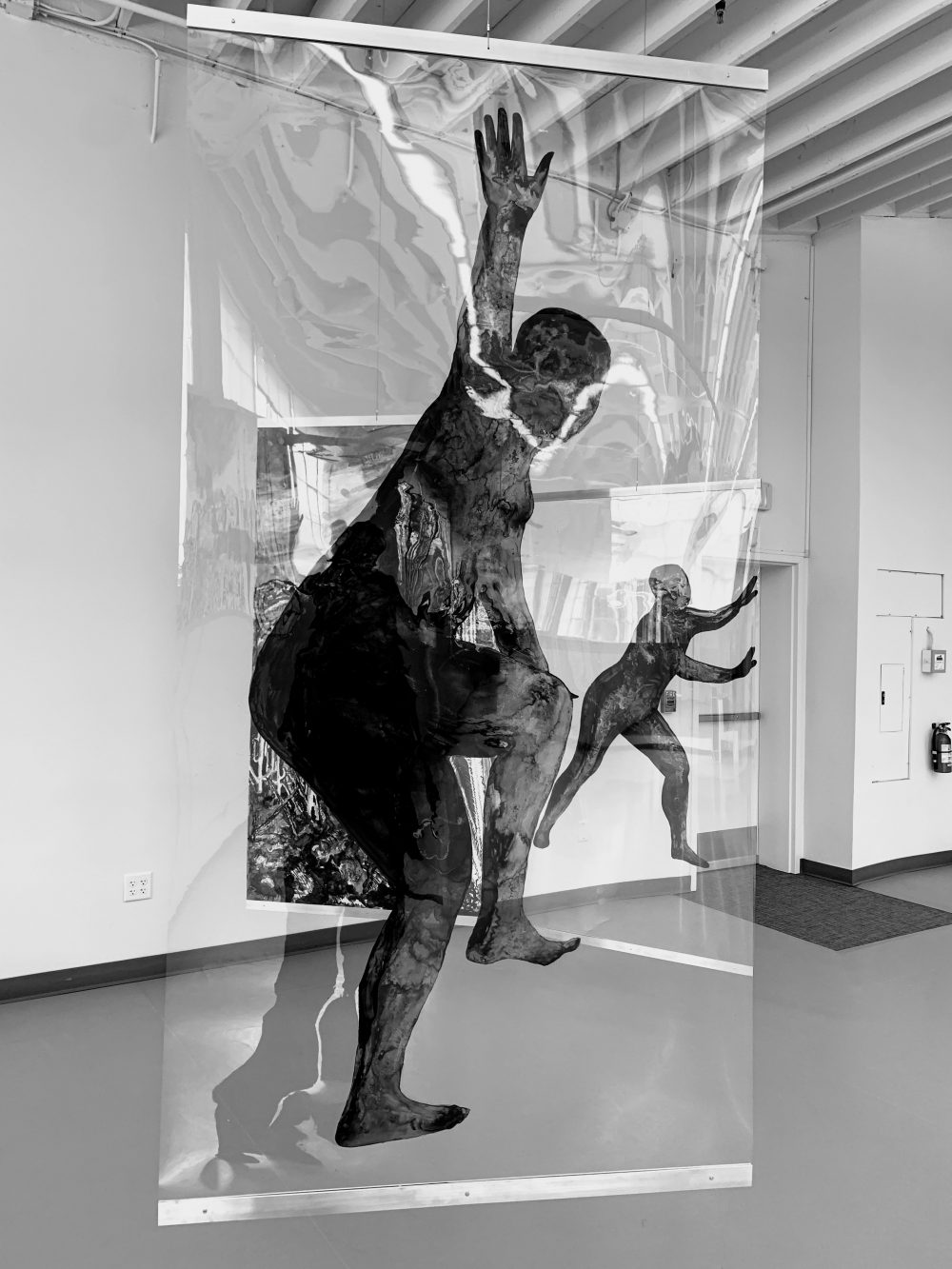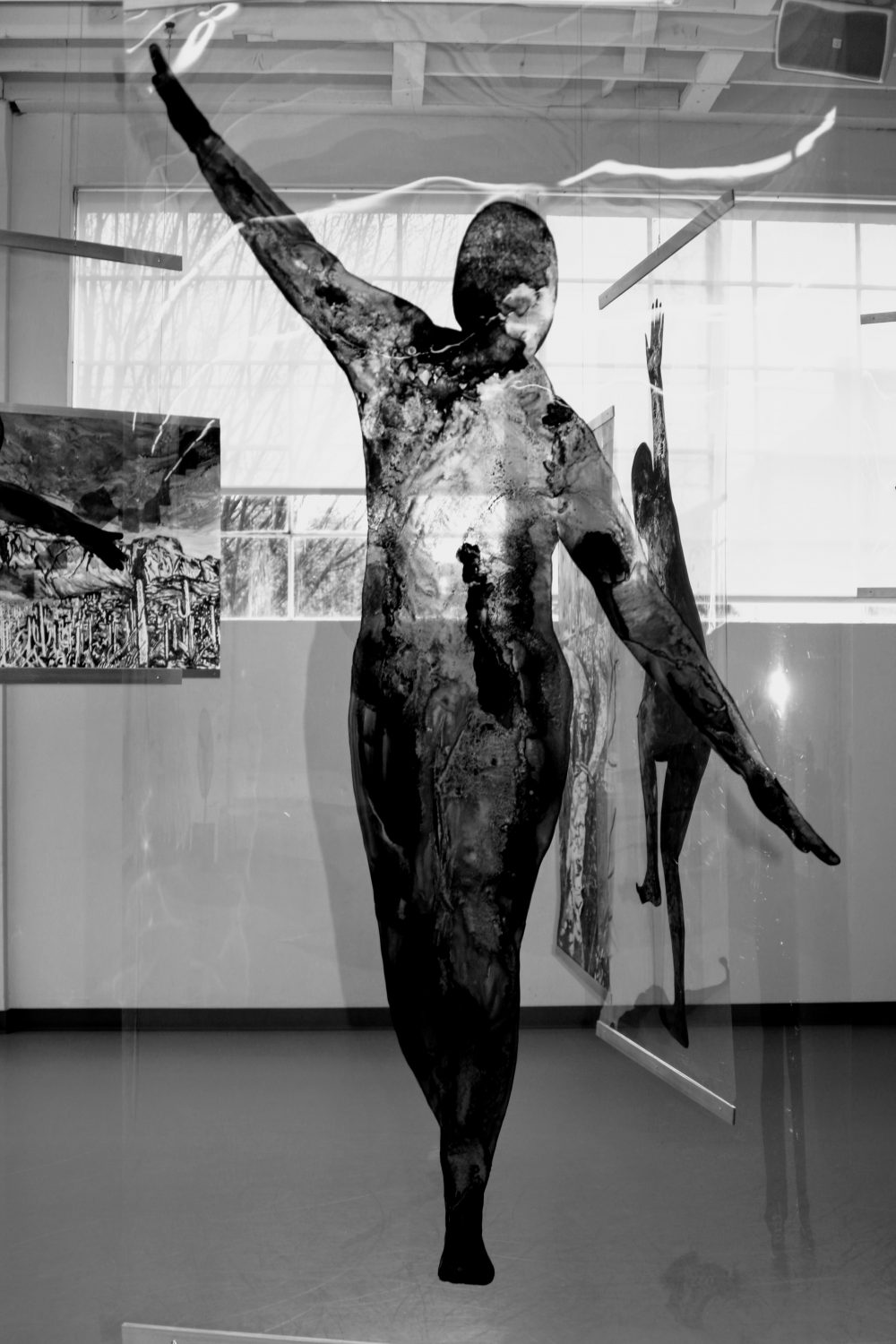 Sabina Haque, detail of (UN)Belonging, installation at NW Dance Project, Portland, OR, January-February 2021, ink drawings on DuraLar and Mylar transparencies, 15 drawings, each 7′ x 3′ or 3′ x 7′. Photographs by Ian Lucero.
video essay
(Un)Belonging is a longitudinal multimedia work exploring immigration. It was staged at Shaking the Tree Theater (2018) and developed into a new drawing installation at Caldera's artist-in-residence program (2020) for the solo exhibition at the Paragon Arts Gallery. Due to Covid-19 restrictions at the College, the exhibition was staged and documented at the NW Dance Project for virtual sharing through the Paragon Arts Gallery website and media outlets. Watch the video essay documenting the work:
about the artist
As a Pakistani immigrant, Sabina Haque's work explores experiences of place and identity through multi-media installations of migration and resilience. She seeks to foster civic engagement through art, especially with BIPOC youth. Haque has partnered with APANO, Africa House and east Portland schools (2016-2019) to facilitate civic engagement through art. This work was curated into the 2019-Portland-Biannual.
Sabina Haque received an M.F.A in Painting from Boston University and teaches Art at Portland State University, Oregon. She has received noted fellowships like the Oregon Arts Commission Individual Artist Fellowship. Haque has participated in residencies including Artist in Residence at the Portland Archives and Records Center and the TEDx Artist in Residence program.
Haque exhibits her work nationally and internationally. Noted public collections include the Gordon Gilkey Print Center at the Portland Art Museum, the Jordan Schnitzer Collection and City of Portland's and Seattle's Public Portable Art Collections.
Instagram @sabina_z_haque
Facebook @sabinahaqueartist
The exhibition is funded in part by the Regional Arts and Culture Council, the Oregon Arts Commission, and the Ford Family Foundation. Thank you to the NW Dance Project for hosting the (UN) Belonging drawing installation, 2021.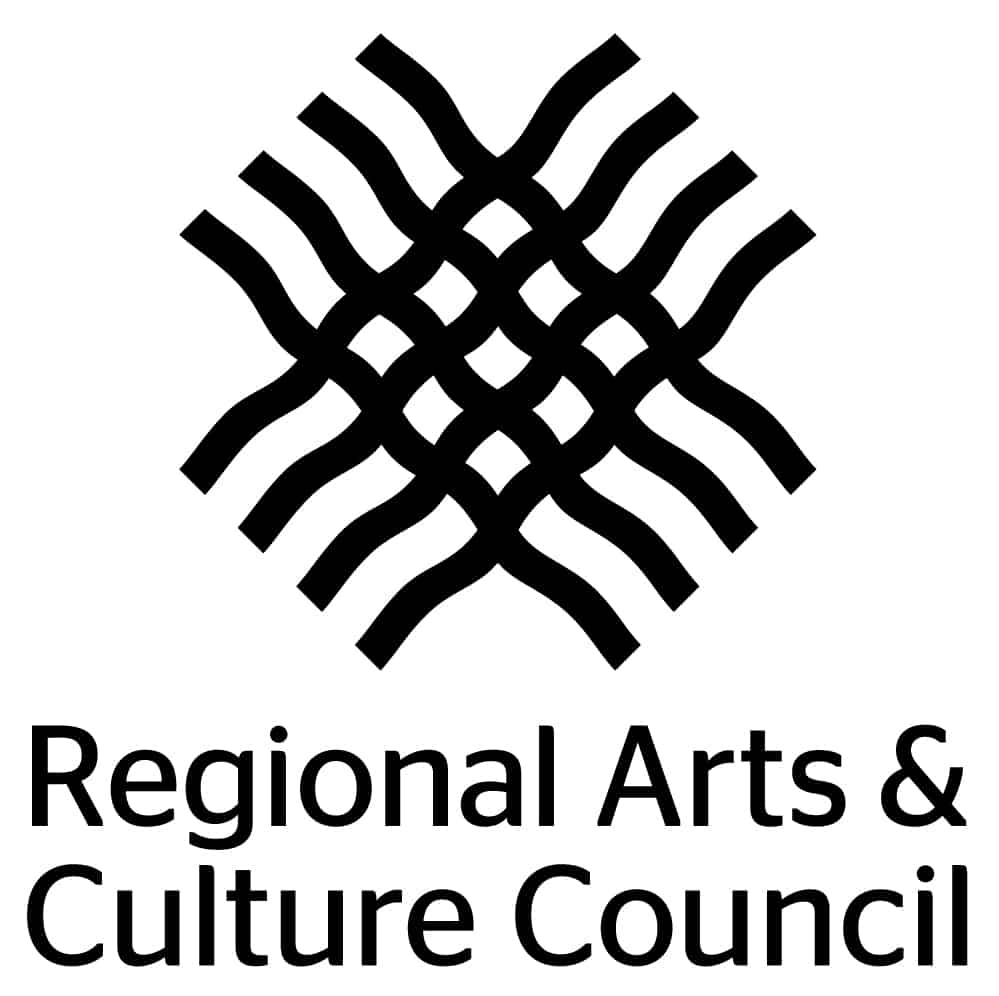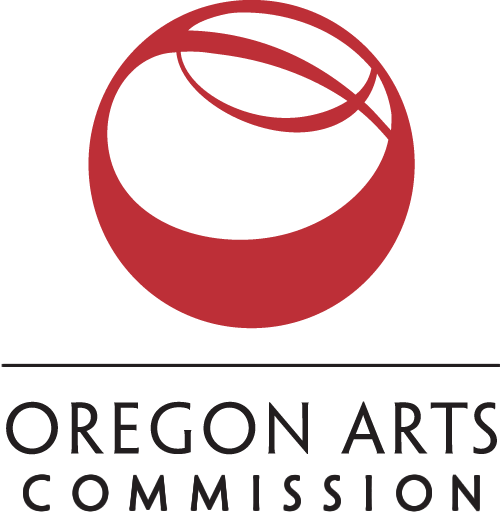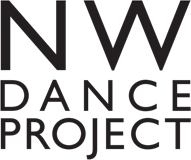 And, continuing in the Paragon Arts Gallery windows at 815 N. Killingsworth, Portland, OR —