This content was published: January 10, 2020. Phone numbers, email addresses, and other information may have changed.
David Eckard
Sylvania North View Gallery
Placards and Placeholders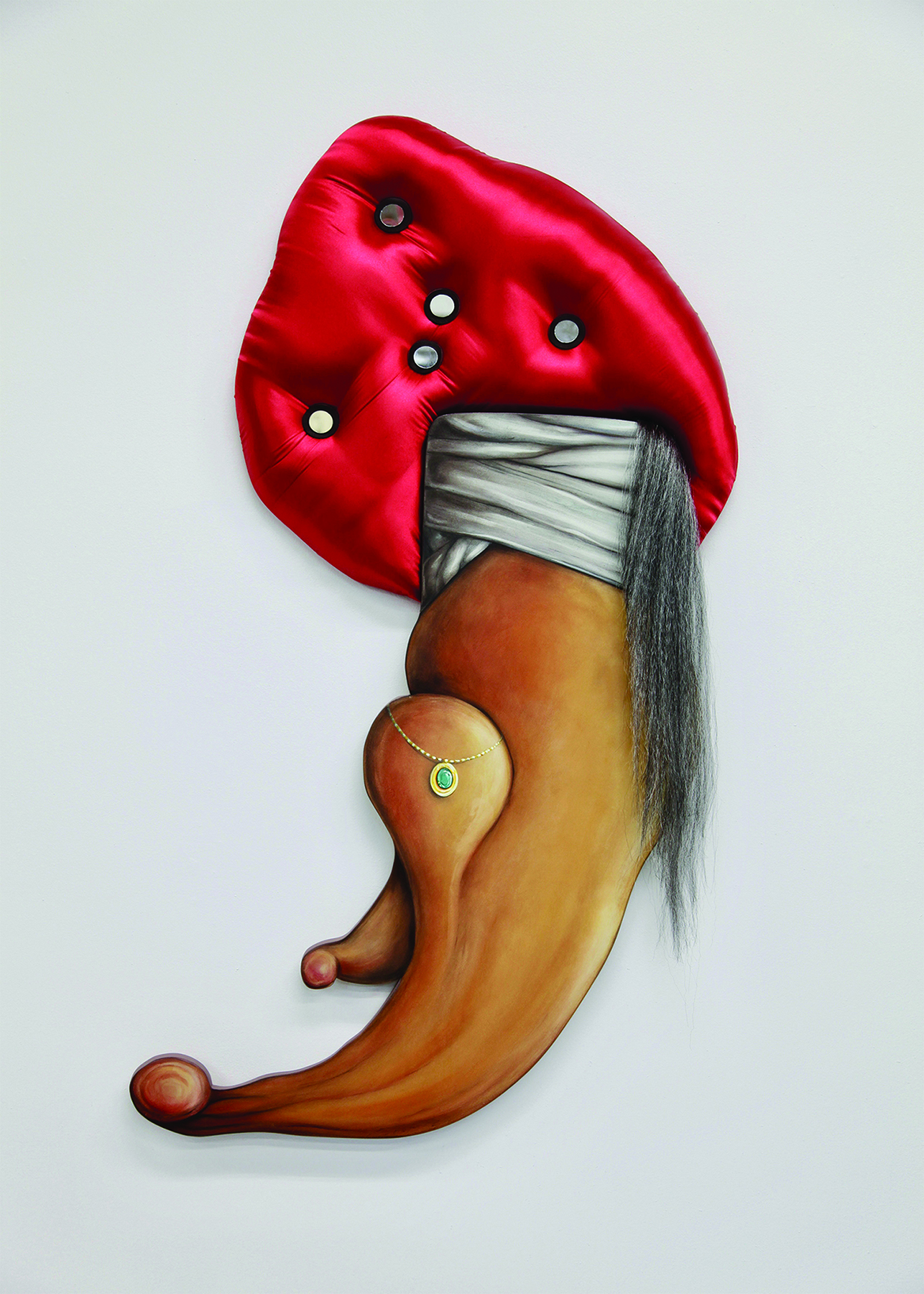 Quite, Quite, 2019, painted wood, fabric, leather, mirror, artificial hair, 45.5″ x 28″ x 3″
January 15 to February 15, 2020
Opening Reception and Gallery Talk:  Thursday, January 16, 2-4 PM
Weekend Opening:  Saturday, January 18, 3-5 PM
The North View Gallery is pleased to present new work by Portland-based artist David Eckard. This work continues his explorations combining rendered images with fabricated forms and structures. Eckard's sculptural rebuses offer up visual riddles built from a personal vocabulary of evocative forms, pragmatic materials and presentational invitation.
Placards and Placeholders
Notes from Eckard's studio journals:
…scores and schematics of fantasies and fetishes for an aging body (recalling).
…monk, dancing bear, trip hazard, jester, huckster.
…the power/cowardice of opaque emblems (shield/banner), icons and coy ciphers.  Yours?
…verse, chorus, punchline.
The artist hopes you will come and discover your own answers.

David Eckard utilizes diverse materials, techniques and presentational strategies in his studio practice. Futility, function, authority, queer masculinity and persona are the primary notions investigated, critiqued, and exploited in his work. Eckard fabricates fictive artifacts and enigmatic objects with a variety of materials and techniques. These sculptures exist as singular objects, installation components and performance props. His rendered works on panel and paper are biomorphic, sexualized schematics that address the body as carrier of histories, fantasies, potential and trauma. Through performance, Eckard orchestrates transient theatrics and deploys temporary monuments in civic spaces for incidental audiences.
About the Artist
Eckard has exhibited internationally and his work has been reviewed in Art in America, Sculpture, Flash Art, The New York Times, the Chicago Tribune and Artnews. He is the recipient of multiple fellowships and awards including the Individual Artist Fellowship (2015, Regional Arts and Culture Council, Portland, OR), the Hallie Ford Fellowship in the Visual Arts (2010, Ford Family Foundation, Portland, OR) and the Bonnie Bronson Fellowship (2010, Portland, OR).He is an Associate Professor and Head of the Sculpture Department at the Pacific Northwest College of Art in Portland, Oregon.
Gallery Hours: Monday – Friday, 8 AM to 4 PM, Saturday 11 AM to 4 PM
Directions:  Follow signs to bookstore and visitor parking.  Gallery is located in the Communications and Technology (CT) building, adjacent to the bookstore, on the NE corner of campus.