This content was published: November 8, 2019. Phone numbers, email addresses, and other information may have changed.
Kerry Skarbakka
Sylvania North View Gallery
White Noise
November 14 to December 20, 2019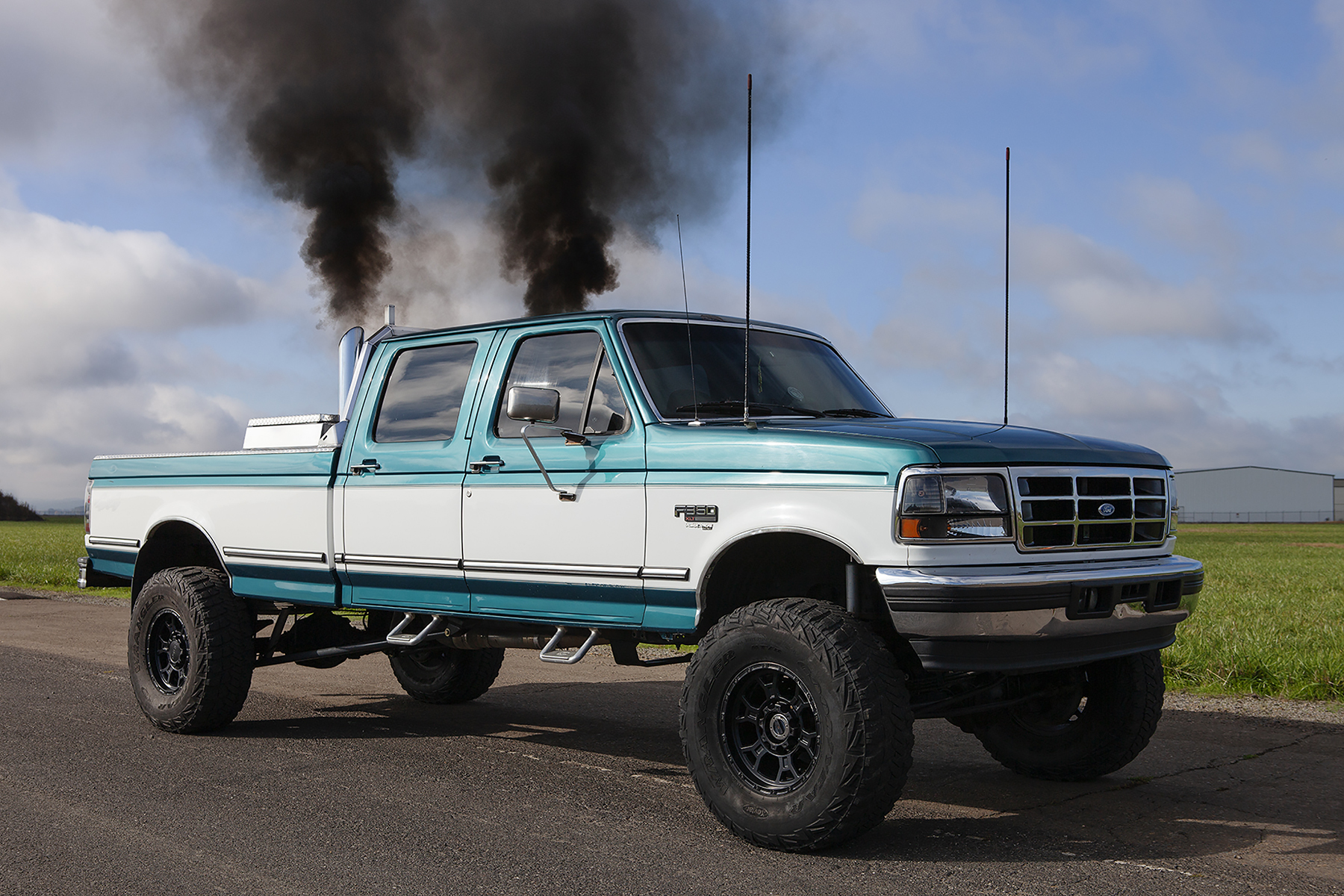 Rollin' Coal, archival pigment print, 2019
Opening Reception: Thursday, November 14, 2-5 PM
Panel Discussion:  Wednesday, November 20, 1-2 PM
Attention: This exhibition contains strong visual content. Please be advised that some images feature explicit nudity and references to violence.
The North View Gallery is proud to announce Kerry Skarbakka's first solo exhibition in Portland, featuring over twenty large scale photographic works, video, and sculpture from the artist's current project on toxic white masculinity.
For the past twenty years, Skarbakka's art has met at the intersection of studio arts, performance, and constructed photography. Coming onto the scene in the early 2000s for his seminal body of work on falling and loss of control, The Struggle to Right Oneself, the core of his work explores the nature of existence through performative physical acts and expanded roles of identity.
Initiated after the birth of his son in 2015, Skarbakka turned his attention to the crisis of masculinity and discord emanating directly from certain white male communities. Out of concern, White Noise, taps directly into the artist's past growing up in an authoritarian Evangelical household on a small farm outside Pulaski, Tennessee (the birthplace of the KKK) and eventually enlisting in the US Army. Blurring the lines between fact and fiction, construction and documentation, White Noise envisions an alternate reality, as Skarbakka, both the artist and subject, characterizes the life and eventual downward spiral of an angry white male.
Bloodline, 2017, stretched vinyl banner, 144″ x 96″
"…I've put in a painstaking amount of work into overcoming my conservative upbringing and religious encoding. However, an alternate narrative could have emerged, another reality, another portrait; that of an angry white man, driven by the tenets of hate, misogyny, and bigotry…pushed to the edge."
Upset at political correctness, immigration, the loss of jobs and a way of life, angry white men have forcibly attempted to reshape the socio-political landscape. By design, this work rides the fine line between interpretation and perspective during a time when nationalism and religious extremism are on the rise on a global scale. White Noise is not an easy conversation, but through this body of work, Skarbakka hopes, "…to provoke, to push the conversation, and to bring all sides to the table."
White Noise is accompanied by a 68-page exhibition catalog originally produced by the Torrance Art Museum in Torrance, California, where the show premiered in January. With an essay by art historian, Corey Dzenko, PhD and interview conducted by the artist, Paul Shambroom, White Noise (the exhibition catalog) is seen as an essential component of the show rather than a compendium of works.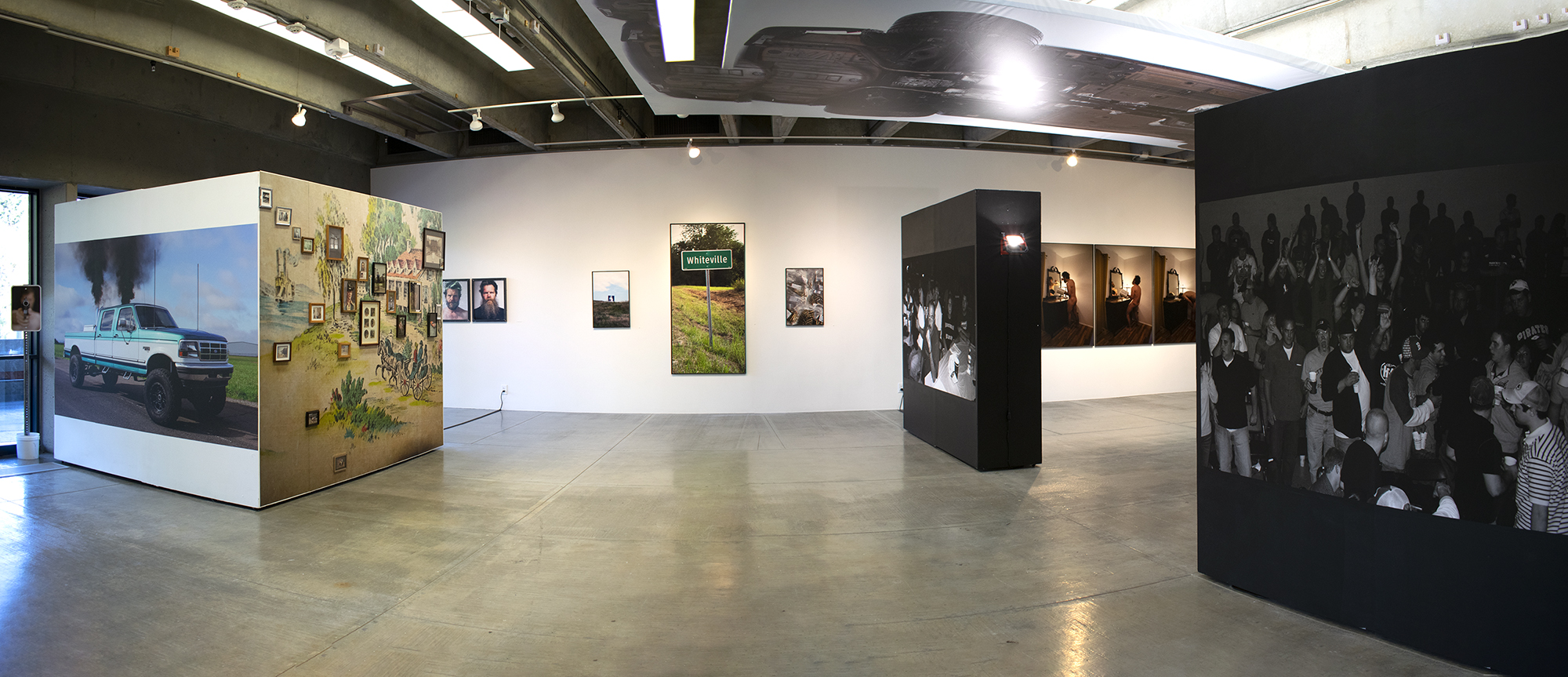 In conversation with current programming at the North View Gallery, on Wednesday, November 20, Skarbakka participated in a panel to discuss issues of race, perceptions of the other and cultural stereotyping.
About the Artist
Kerry Skarbakka was born in Duluth, Minnesota and raised in Tennessee. His performance-based photographic and video work depicting existential anxieties and loss of control through the acts of falling, drowning and fighting have been exhibited internationally. A 2005 Creative Capital Grantee, his work is held in such collections as the Museum of Contemporary Art Chicago, The North Carolina Museum of Art, The Corcoran Gallery of Art (formerly) and The Museum of Contemporary Photography in Chicago. Skarbakka received his BA in Studio Art with an emphasis in Sculpture from the University of Washington and his MFA in Photography from Columbia College Chicago. He lives in Corvallis, Oregon with his wife and son and serves as an Assistant Professor of Photography at Oregon State University.
Work in this show is supported by The Oregon Arts Commission and the Ford Family Foundation, The School of Arts and Communication and the College of Liberal Arts at Oregon State University.
Gallery Hours: Monday – Friday 8 AM to 4 PM, Saturday 11am-4pm
Directions: Follow signs to bookstore and visitor parking. The Gallery is located in the Communications and Technology (CT) building, adjacent to the bookstore on the NE corner of campus.