This content was published: July 16, 2019. Phone numbers, email addresses, and other information may have changed.
Parallel Exhibitions: Collin Richard "re:Presence" and Trash Hackers Collective
Cascade Paragon Gallery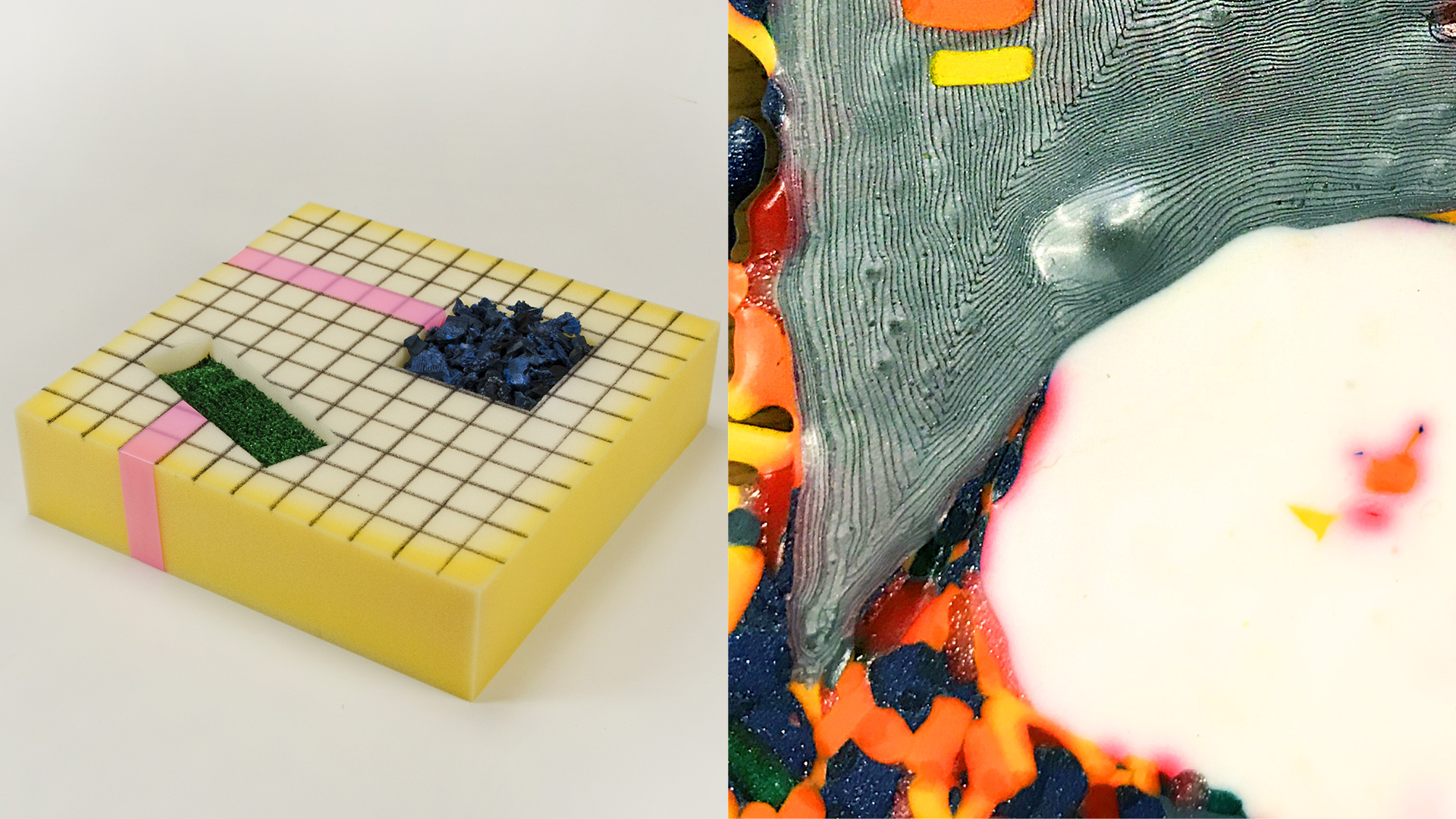 Left: Collin Richard, Topos, 2017, polyurethane foam, AstroTurf, rubber mulch, flagging tape, 3″ x 12″ x 12″. Right: Midori Hirose, detail of WSFN1, recycled polylactic acid, 2019.
re:Presence by Collin Richard
&
Trash Hackers by Trash Hackers Collective
Exhibition Dates: July 17 – August 17, 2019
Opening Reception for both exhibitions: Friday, July 19, 2019, 4 – 7 pm
Most evenings Wednesday through Friday, Collin Richard's The Point will be projected in the window of the Moriarty Arts and Humanities Building (corner of N. Killingsworth and N. Albina). This is best viewed after dark.
Collin Richard Artist Talk: Saturday, August 3, 2019, 1:00 pm
Trash Hackers Collective Artist Talk and demonstration: Saturday, August 3, 2019, 2:00 pm
Gallery Hours:

Wednesdays – Fridays, 12 – 7 pm
Saturdays, 12 – 5 pm
Paragon Arts Gallery at PCC Cascade presents two parallel exhibitions: "re:Presence" by Collin Richard in our West Gallery, and "Trash Hackers" by Trash Hackers Collective in our East Gallery. Thought-provoking and playful, both exhibitions show work made from repurposed objects and materials and allow us to contemplate our impact on the environment and avenues for creatively managing the waste from consumerism. Please join us for an opening reception on Friday, July 19th, 2019 from 4 – 7 p.m.
We will host an artist talk by Collin Richard on Saturday, August 3, 2019 at 1 p.m., followed by a talk and demonstration by Trash Hackers Collective at 2 p.m. All events are free and open to the public.
re:Presence by Collin Richard
"re:Presence" is a solo exhibition featuring the work of Portland based artist Collin Richard. Richard's work revolves around an exploration of environmental epistemics, taking as his point of departure the interstices of knowledge, governmentality, and phenomenology as they pertain to the culturally discursive formation of "nature". Through his multidisciplinary approach to artistic production – which includes sculpture, performance, printmaking, video, photography, and language – Richard seeks to unmask the dualistic semiotic regime of nature as a product of economic and cultural forces which create the cognitive and physical alienation which has laid the groundwork for today's dire environmental situation.
Through playful recontextualization of materials, juxtapositions of semiological polarities, and an investigation of language as a modulator of environmental consumerism, Richard hopes to reveal that instead of having fallen from an edenic or pure relationship to the environment, humans have, in the words of philosopher Timothy Morton, "always been ecological".  The work in the exhibition seeks to hint towards ways to move forward and encounter the problems ahead of us through an unromantic, messy, and indeterminate reckoning with the fact that we already live in an ever changing world and we must accept that we too will change with it.
In addition to the work Richard will be displaying in the gallery, there will be a nightly projection of his video piece Wilderness Dispatch taking place at the corner of N. Killingsworth and N. Albina in the window of the Moriarty Arts and Humanities Building between 7/17 and 7/22.  Collin Richard will also give an artist talk on Saturday, August 3 at 1 p.m.
About the Artist:
Collin Richard (United States, 1993) is a fine artist who graduated from the Savannah College of Art and Design in the spring of 2015 with a B.F.A. in Painting and a minor in Art History. His work has been exhibited in group shows in Georgia, Oregon, Rhode Island, Virginia, New Hampshire, Washington, Colorado, North Carolina, Lacoste, France, and the Crisp Ellert Art Museum in St. Augustine, Florida. He has also participated in residencies at Pulp and Deckle in Oregon and Mary Sky in Vermont. Collin Richard is the co-founder and curator of Here/There, a gallery and in North Portland that has bi-monthly exhibitions featuring artists from around the world.
Trash Hackers by Trash Hackers Collective
Disrupting the continuous flow of products into landfills and what would be deemed trash, Trash Hackers pushes the concept of disposable plastic waste to atmospheric, otherworldly expanses. The sculptural works exhibited range from playfully kaleidoscopic to anamorphic abstractions. Utilitarian in nature, the works are completely made of recycled plastic. Trash Hackers is a culmination of artistic narrative and everyday living through recent and in-progress transformation of discarded plastic. Trash Hackers is presented by the founding members of Trash Hackers Collective: Darcy Neal, Midori Hirose, Emma Prichard, Francesca Frattaroli and Alice Rotsztain.
The community is invited to collect and bring clean recycled plastic for the month of July in the gallery. Please visit www.trashhackers.org for more information on the specific types of plastic to donate.
Trash Hackers Collective will introduce the process through a shred demonstration on Saturday, August 3, 2019 at 2 p.m.
About the Collective:
Darcy Neal is a new media artist, creative technologist, and educator. Neal is founding member, artist and musician of Lady Brain Studios. (www.darcyneal.com)
Midori Hirose is a sculptor, curator, educator, Plastic Vision founder/educator/maker, and FORM+ADX AiR founding coordinator. (www.midorihirose.info)
Emma Prichard is the owner of Plastic Lizard Recycling, LLC. She is a trained ecologist and was inspired to start Plastic Lizard because of the plastic crisis facing our lakes, rivers, and oceans. (www.plasticlizard.com)
Francesca Frattaroli has a degree in mechanical engineering, with an emphasis in environmental (methane) sensor development, and is a STEAM coordinator/designer at PCC. (francescafr.github.io)
Alice Rotsztain is a Metro master recycler (class 71), creator of Plarn Lab, and a producer of public workshops. (https://mtc.pnca.edu/people/alice-rotsztain)
About Paragon Arts Gallery:
Paragon Arts Gallery is an educational showcase committed to exhibiting work of high artistic quality. Our versatile gallery is located at 815 North Killingsworth, at PCC's Cascade Campus. Mindful of our role as a member of the Humboldt community, we are especially committed to engaging community members in our space.