This content was published: May 12, 2019. Phone numbers, email addresses, and other information may have changed.
SO MUCH ABOUT PROCESS
Sylvania North View Gallery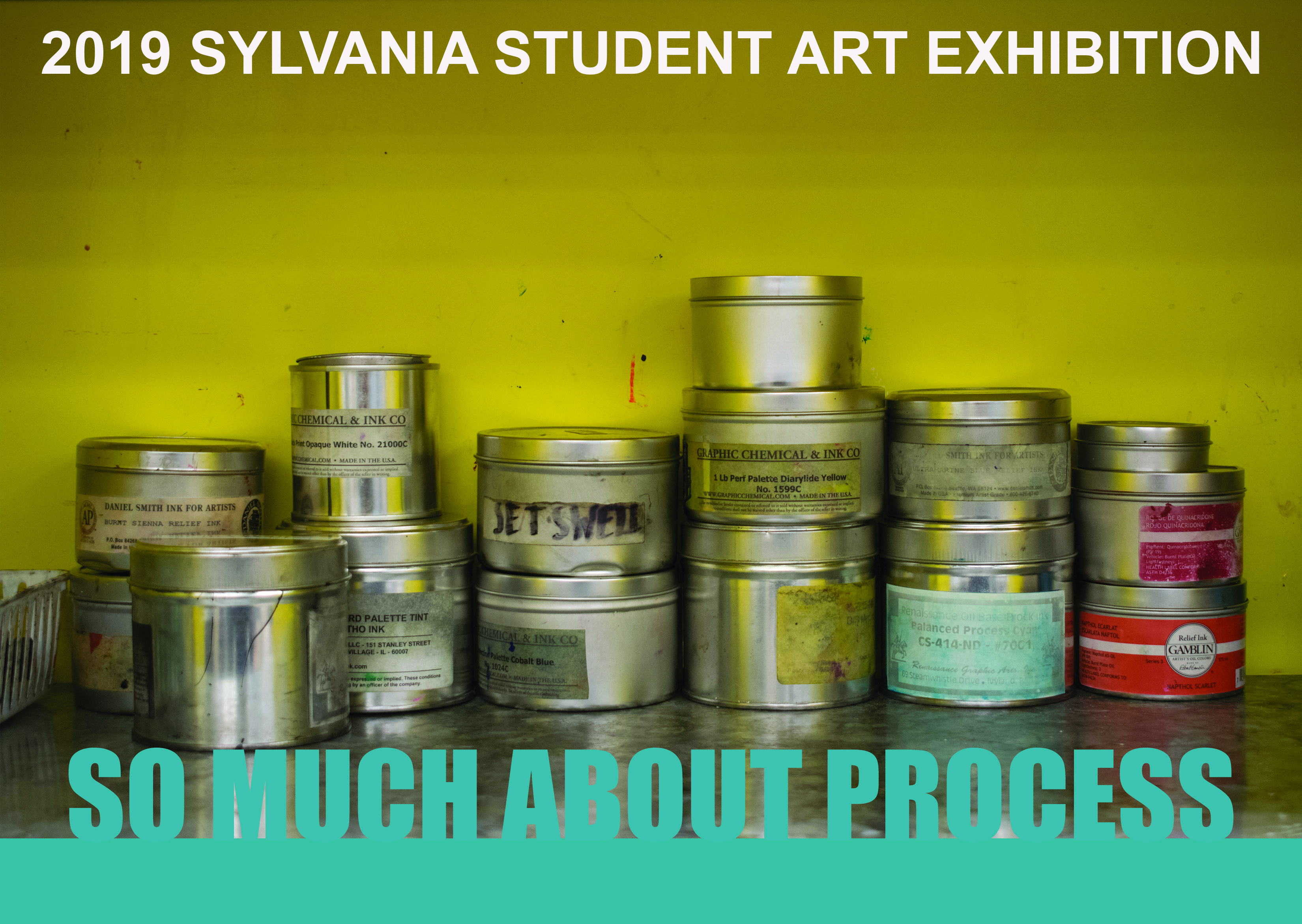 May 23 to June 8, 2019
Awards Reception:  Thursday, May 23, 2-4 PM


Participating Students
Ally Thompson
Amanda Cobb
Analisia Jaross (Hightower)
Apryl Dunlap
Ashley Moran
Carlos Rodriguez
Chella Foster-Flynn
Christie Burris
Cora C. Ross
Dwight Anderson
Ella Brown
Ellen Cervantes
Eric Holthaus
Eric Stone
Erin Macaulay
Esme Grail
Gabriel Fennimore
Greg Tuthill
Hannah Brewer
Harley Hansen
Harmony R. Lauritzen
Hayato Kikkawa
James Ovregaard
Jason Elwood
Jeanette Stewart
Jessinicole Schnee
Jevon Kent
Johann Nachtigall
Joy Raimondo
Julia Hamburger
Kambra Phoebus
Katrina Collins
Kendall Cottrell
Kevin Lane
Light
Lynn O'Kelley
Madison Broughton
Madison Smith
Megan Sides
Melia Dodge
Mijung Park
Militza Gonzalez
Mitch Bolster
Rachael Wong
Rasec Urbina Benton
Rina Niwa
Robert Groff
Sage Ascar
Sanda Smith
Sara Bachenberg
Shannon Bransfield
Sofia Georgiadis
Stephanie Aleshire
Steven Schiewe
Tamara Kahrchenko
Taylor Dean
Tyler Magoon
Wayne Wilburn
Will Roscoe Chalmers
Best in Show 2-D   
Hayato Kikkawa, Reclining Boy, 2018, oil on canvas, 22″ x 28″
Best in Show 3-D
Robert Groff, Makayla, 2019, ceramic, raku fired, 12″ x 9″ x 9″
Supporters
Dick Blick, Beaverton
PCC Sylvania Campus Bookstore
The PCC Foundation
Gallery Hours:  Monday – Friday 8 AM to 4 PM, Saturday 11 AM to 4 PM
Directions:  Follow signs to bookstore and visitor parking.  Gallery is located in the Communications and Technology (CT) building, adjacent to the bookstore on the NE corner of campus.