This content was published: April 5, 2019. Phone numbers, email addresses, and other information may have changed.
Selected Works: Palmarin Merges
Posted by Amy Bader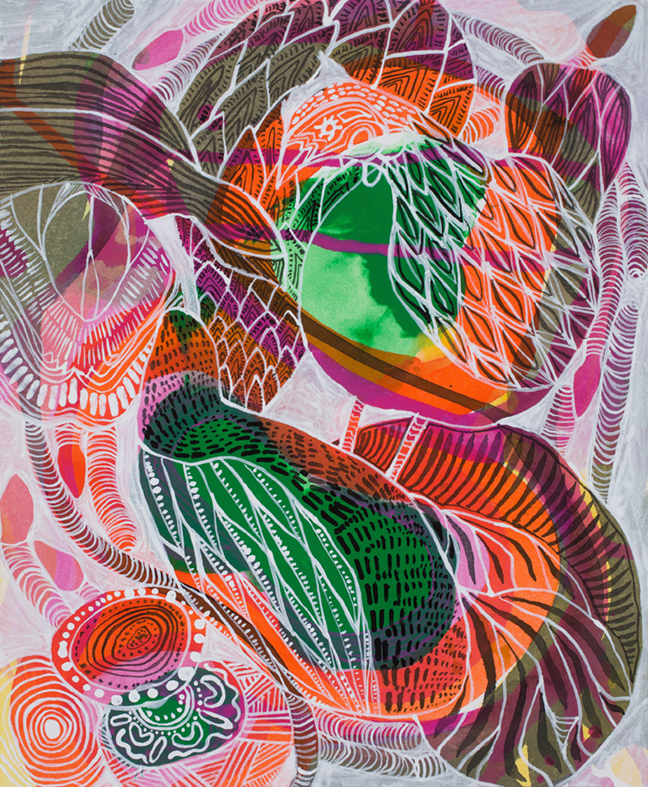 The Southeast Gallery is pleased to present an exhibit by local Portland artist Palmarin Merges. Selected Works: Palmarin Merges features samples of Merges' work from a variety of mediums, including collagraphs, screenprints and embroidery.
Dates: April 2- June 10, 2019
Artist's Talk: April 17th, 12-1pm in the Southeast Gallery

Come chat with the artist and learn about her work. All are welcome!

Gallery hours:

Monday through Friday, 7:30am-10pm
Saturday, 7:30am-5pm

Gallery Location: Southeast Campus, Student Commons ground floor
About the Artist
Palmarin Merges re-uses mundane materials, creating abstract and pictorial compositions that contemplate a sense of place. Drawing on a desire to become more sustainable, she adapts the restriction of the found materials as a generative force for creation.
Merges works primarily in mixed media, combining printmaking with sewing and painting. Taking materials from the fabric of her daily life, she processes and transforms them. Her work is also influenced by identity and life experiences, weaving in inspirations from her time living in California, Hawaii, Japan, and her adopted home, Oregon.
Merges holds an MFA from the San Francisco Art Institute and has exhibited in Japan, the Philippines, San Francisco, and Portland, Oregon. Merges currently teaches at Pacific Northwest College of Art and occasionally at the Multnomah Arts Center. She is represented by Blackfish Gallery in Portland, Oregon.
You can learn more about Palmarin Merges and her work on her website: http://www.palmarinmerges.com/work.