This content was published: February 18, 2019. Phone numbers, email addresses, and other information may have changed.
ISAMI CHING & CHARLENE LIU — UNHANDED
Rock Creek Helzer Gallery
February 25 – March 21, 2019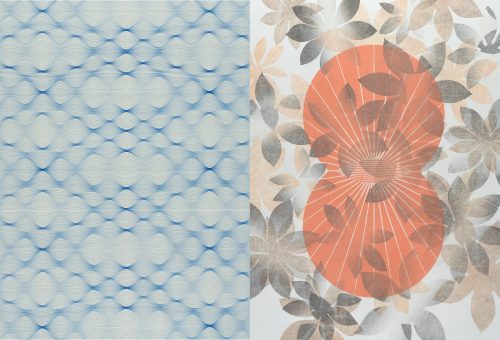 Artist Talk and Gallery Reception
March 7, 11 am – Noon
ART HOUR with Amy Bay
March 6, 1 pm – 2 pm
Join Amy Bay for a guided discussion of Unhanded
Unhanded is a show of prints, drawings, and video by artists Charlene Liu and Isami Ching. Both artists use pattern and decoration as foils to reveal phenomenological or cultural conditions. Their artistic practices are informed by a set of constraints that arise from the particular software, hardware, and aesthetic that each bring to their work.
Liu samples and translates elements from the landscape and East Asian art objects through the medium of woodcut. This series is composed of modular woodblocks which are arranged improvisationally on the press and printed. Liu is interested in the possibilities of invention, variation, and play within the seemingly rigid structure of the matrix and printing press.
Ching is interested in perception and the threshold between pattern and chaos. The drawings are made using vector-based software that is output to a plotter fitted with standard ballpoint pens. The result contains both the digital precision of the software and plotter, as well as the traces that are the result of various 'accidents' such as, the pen skipping or the ink slowly running out. The drawings are both renders of the digital files as well as documents of their rendering.