This content was published: May 17, 2018. Phone numbers, email addresses, and other information may have changed.
Illuminating Family, Reframing Teen Parenthood
Cascade Paragon Gallery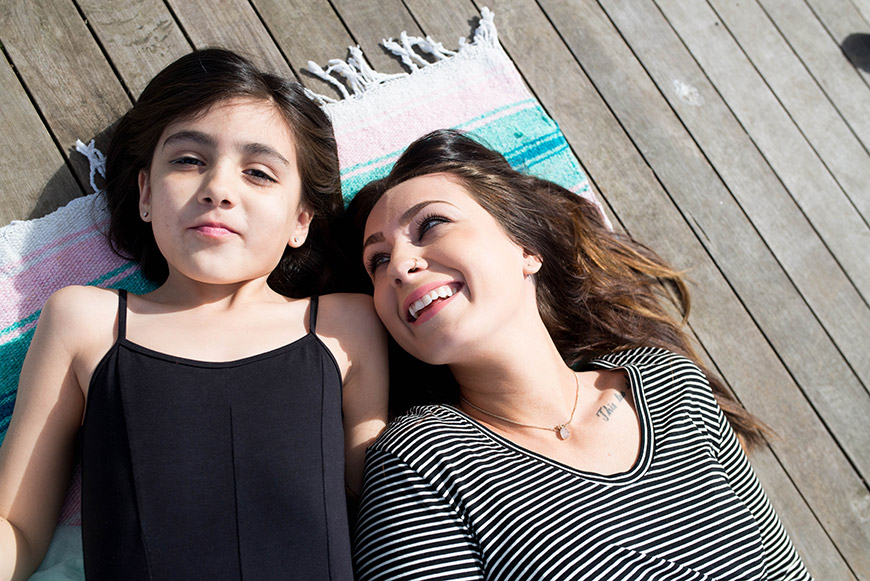 Naomi and Britni, Archival Pigment Print, 2017
Dates: May 17 – June 12, 2018
Location: Paragon Arts Gallery, Cascade Campus
Opening reception: Thursday, May 17, 4-7pm
Artist talk and panel discussion: Wednesday, May 30, 2pm
Panelists: Shanne Sowards, Britni Locke, Mary Hanel, Vanessa Salceda
Cost: All programming is free and open to the public.
Paragon Arts Gallery at PCC Cascade presents Illuminating Family, Reframing Teen Parenthood by photographer Eden Swartz. For the past three years, Eden Swartz has been photographing teen families. She began by photographing only teenagers with small children, but later broadened her focus to include people, no matter their current age, who were teenagers when they had children. The exhibition celebrates and honors teen families, showing them as strong, dignified, loving, and successful in life.
In the beginning, she started as a volunteer yoga instructor in Portland High Schools for the Teen Parent Services Program. As time went by, Eden got to know these powerful and inspiring young women, and realized that they were nothing like what our society tells us, they were not failures, in the least.
The project evolved over time from working with teen mothers who are teenagers now with small children, into working with mothers and fathers who were teenagers when they had children, but are now in their 20's, 30's, 40's, etc. This beautiful evolution has tremendous potential for bringing a community together in a powerful way.
This show is a celebration of teen families, to honor them in a society that tells them their dreams can never be fulfilled, that they should feel shame and they are worthless. Swartz has photographed these families in a way that honors them, that shows their strength, their power, dignity and love.
Please join us for an opening reception on Thursday, May 17 from 4-7pm, as well as an artist talk and panel discussion on Wednesday, May 30 at 2pm. Panelists will include Shanne Sowards, Program Director of Squires, a nonprofit mentoring program for young fathers in Portland, OR, Britni Locke, Licensed School Social Worker, Mary Hanel, Licensed Clinical Social Worker and Vanessa Salceda, teen mother.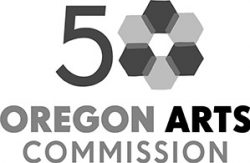 Eden Swartz has received a Career Opportunity Grant award from the Oregon Arts Commission.
About the artist
Eden Swartz's social commentary approach to art pushes our culture's boundaries and standards. Eden is a photographer who makes art about issues that cause shame. She cultivates environments where people feel safe speaking about sensitive subjects. She has created conversations on topics such as panic disorder, intimacy, suicide, disconnection, prejudice, stay-at-home motherhood and, in her most current body of work, teen parents. Eden currently lives and makes art in Portland, Oregon.
About the panelists
Shanne Sowards became a father at 15. Although he was a young a father, he had a reputation for being present in his child's life. In his professional career he excels in both manufacturing and sales. He has coached over 15 seasons of youth and adult sports. In 2012, Shanne founded Squires, a nonprofit mentoring program for young fathers in Portland, OR.
Britni Locke is a graduate of the Graduate School of Social Work at Portland State University and is a Licensed School Social Worker. She is currently employed by Portland Public Schools providing outreach to young people who have disengaged from their education. Britni became a mother at the age of 18, is a first generation college graduate and also the first in her family to pursue a masters level education.
Mary Hanel is a Licensed Clinical Social Worker. She works as a teen parent social worker for the Portland Public Schools' Teen Parent Services Program.
Vanessa Salceda is a teen mom to her 3 year old daughter, Melanie.
For more information, email cascade.gallery@pcc.edu.