This content was published: April 11, 2018. Phone numbers, email addresses, and other information may have changed.
Paragon Arts Annual 2018 Juried Student Exhibition
Cascade Paragon Gallery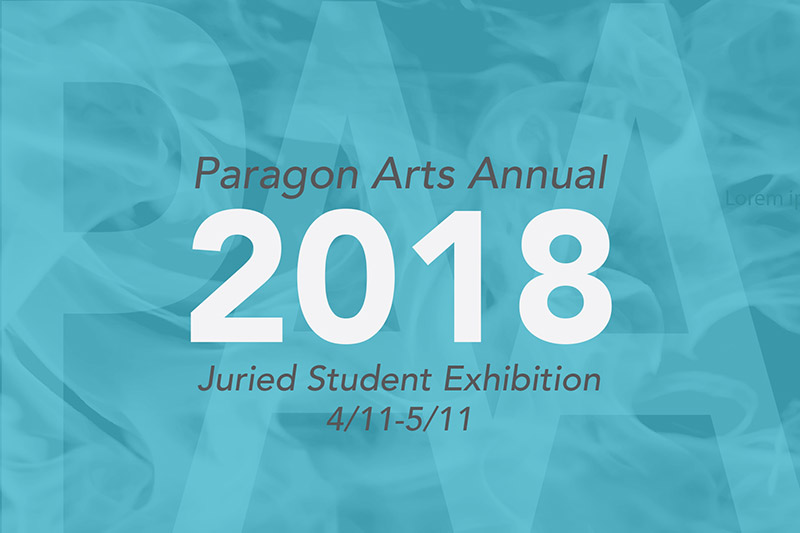 Selected works by PCC Cascade Arts Students, juried by Sara Siestreem
Dates:

April 11 – May 11, 2018

Location:

Paragon Arts Gallery, Cascade Campus

Opening reception:

Wednesday, April 11, 4-7pm

Cost:

All programming is free and open to the public.
Paragon Arts Gallery at PCC Cascade presents the second annual juried exhibition of works from PCC Cascade arts students. Guest juried by local master artist and educator Sara Siestreem, the exhibition features both works from selected student artists as well as a salon-style showcase of 2D, 3D and new media work submissions. Please join us for an opening reception on Wednesday, April 11 from 4-7pm.
The opening reception will feature a brief introduction by Sara Siestreem, as well as The Porschman Scholarship Recipient announcements.
About the Guest Juror
Sara Siestreem (Hanis Coos, 1976-) is a master artist from the Umpqua River Valley on the South Coast of Oregon.
Sara comes from a family of professional artists and educators, and her training began in the home. Siestreem graduated Phi Kappa Phi with a BS from PSU in 2005. She earned an MFA with distinction from Pratt Art Institute in 2007. Her studio work is multi-disciplinary.
Sara's primary language is painting, but she also works in photography, printmaking, drawing, sculpture, video, and traditional Indigenous weaving. Her art practice branches into education and institutional reform. Siestreem created and runs a weaving program for the Coos, Lower Umpqua, and Siuslaw Indians, andteaches Studio Arts and Indigenous Studies Courses at PSU and Community Education courses at PNCA. Her work in institutional reform relates to curatorial and educational practices regarding Indigenous Fine Art.
Sara has been represented by Augen Gallery in Portland, Oregon since 2010. She was the recipient of a Ford Family Gold Spot Residency at Crows Shadow and a Matrix Residency in Missoula, MT. Her work has been shown at Museum of Northwest Art, Missoula Art Museum, Hallie Ford Museum, Jordan Schnitzer Museum of Art, The Whatcom Museum of Arts, The University of Oregon Museum of Natural and Cultural History, Museum of Contemporary Native American Art, Grants Pass Museum of Art, Crow's Shadow Institute of the Arts, The Art Gallery of Greater Victoria, The Evergreen Longhouse, Newport Visual Arts Center, Spaceworks Gallery, Littman Gallery, Archer Gallery, Royal Nebeker Gallery, Crossroads Carnegie Arts Center, COCC, OSU, 1Spot Gallery, Jacobs Gallery, Columbia City Gallery, Pratt, Mark Wooley Gallery, Modern Zoo, The Life Gallery, Zeitgeist Gallery, Pip Gallery, and City Center Gallery.
Her work also figures in The Bonneville Power Administration Native Art Collection, Propel Insurance Collection, Crow's Shadow Institute of the Art Collection, The Hallie Ford Museum, The Missoula Art Museum, Native American Student and Community Center at Portland State, The Portland Art Museum, and the Regional Arts & Culture Council, Portable Works Collections, as well as private collections around the world.
She lives and works exclusively in the arts in Portland, Oregon.
For more information, email cascade.gallery@pcc.edu.