This content was published: February 27, 2018. Phone numbers, email addresses, and other information may have changed.
kiki nicole + black apotrope
Cascade Paragon Gallery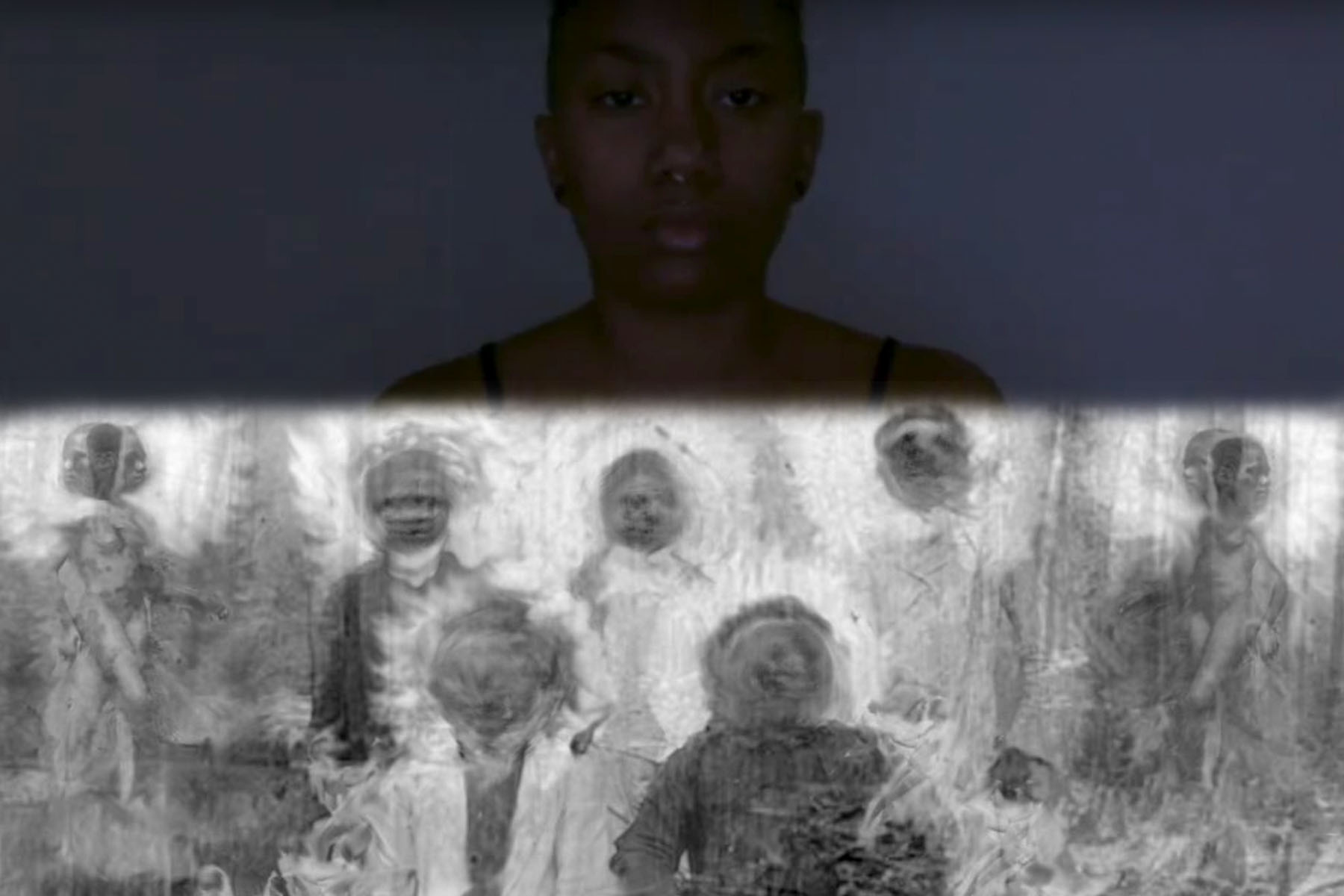 The Paragon Arts Gallery is pleased to Present kiki nicole + black apotrope
Guest curated by Nat Turner Project.
Please join us for an opening reception on Tuesday, February 27, 2018, with a performance at 7pm. Public programming continues with a second performance on Friday, March 2 at 7pm and an artist talk on Friday, March 16 at 6:30pm.
February 27 – March 23, 2018.
Tuesday, February 27, 2018 at 6pm, Performance at 7pm.
All programming is free and open to the public.
Ontogeny recapitulates phylogeny
Synchrony recapitulates diachrony 
Context is a material, lack of context too
Christ rebirthing his dead mother 
A tongue
nailed to the wall
could be more generative
than anxiety.
About the artists
kiki nicole is an agender yung negro artist who is still here. They work to create multidisciplinary blk art that un/bodies, un/genders, and re/news. kiki is a 2016 Pink Door fellow, a 2016 Voice is a Muscle semi-finalist and 2017 member of Destiny Arts' QEAR cohort. Their work has been commissioned by organizations such as Forward Together and published digitally on sites such as The Shade Journal, Wus Good Magazine. kiki's work has been installed/performed in galleries and venues in Oakland, CA and in Portland Oregon commissioned by CVLLEJERX, This is a Black Spatial Imaginary, and the nat turner project. kiki currently has two self published poetry collections, BLK/STILL/LIFE and NOBODY'S DAUGHTER, and can be found online at kikinicole.com.
black apotrope is a multimedia anthology of Black queer tendencies and processes, co-curated by Jamondria Marnice Harris and manuel arturo abreu.
kiki nicole:
somewhere is a death
with my name
on its hoop earrings:
exploring the social futility-futurity of the blk as(s) femme
black apotrope:
The air split the world
in a new and richer condemnation
the last time we spoke
We saw voices trapped in a falling tooth
A river that couldn't bend
Two versions of a stone church
Trust nobody not even nobody
The apotrope – the magical object, process, or context which wards off evil.
Jamondria Marnice Harris is a poet & artist living in Portland. They use words, sounds, wires, instruments, textiles & what falls into their hands to engage with blackness, desire, decolonization, fairy tales, femme supremacy, & body horror. They are a VONA Workshop Fellow, home school 2016 curriculum speaker, et al. Their music can be found at soundcloud.com/meroitic.
manuel arturo abreu (b. 1991, Santo Domingo) is an artist and writer from the Bronx. They received their BA in Linguistics from Reed College in 2014, and currently live/work in a garage in southeast Portland. Recent group exhibitions online with Rhizome and the New Museum, the cybertwee collective; in Portland with the Paragon Gallery, Cooley Gallery, Chicken Coop Contemporary; in Seattle with SOIL, Veronica project space, the Institute for New Connotative Action; and in LA at BBQLA, AA|LA, and As It Stands. Recent publications in Art in America, Rhizome, CURA, SFMoMA Open Space, AQNB, Berfrois, et al. abreu is the author of List of Consonants (Bottlecap Press, 2015) and transtrender (Quimérica Books, 2016), and their debut collection of critical writing is forthcoming 2018. They co-facilitate home school, a free pop-up art school in Portland. [manuelarturoabr.eu]
About Nat Turner Project
Nat Turner Project (NTP), an uncompromising radical space – filling a void in portland. NTP allows artists of color to go beyond the usual initial expositions inherent in presenting art borne of marginalized perspectives to a dominant culture; allowing artists of color freedom to create or express their own language within and without the parameters of racial commodification or designation. NTP creates an environment of inclusivity, a communal harbor for artists previously silenced by institutional constraints, and actively provides priority spaces to artists of color; allowing others the privilege of viewership from an outsider role. Nat Turner Project, not just a name, but a statement of artistic freedom.