This content was published: January 10, 2018. Phone numbers, email addresses, and other information may have changed.
A Good Pink
Sylvania North View Gallery
Maggie-Rose Condit, E.M. Fuller, Tessa Heck, Caitlin Rooney, BriAnna Rosen, Rachel Rosenkoetter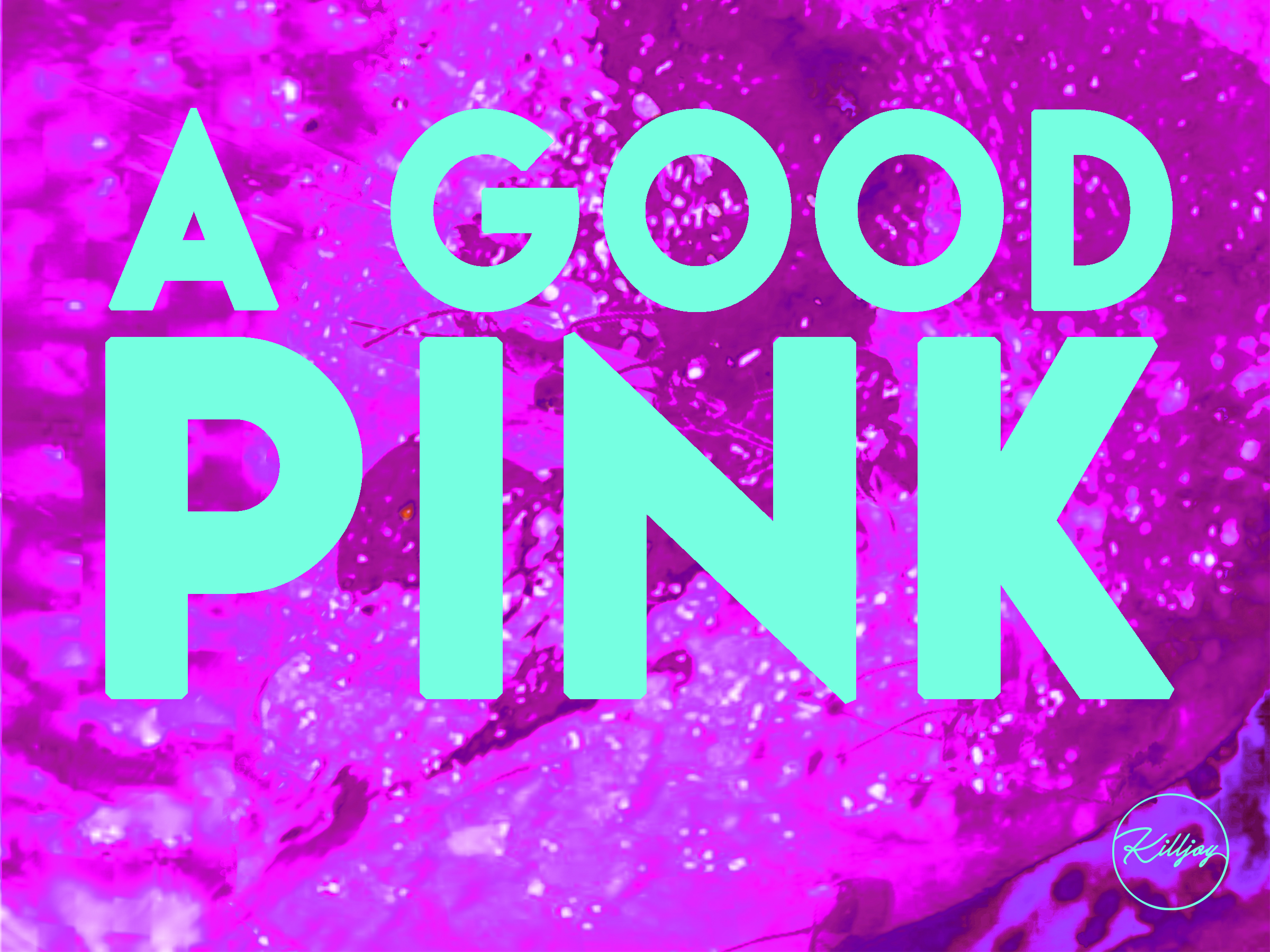 January 10 to February 10, 2018
Reception and Gallery Talk:  Thursday, January 18, 1-3 PM
Weekend Reception:  Saturday, January 13, 6-8 PM
In A Good Pink, a collective of six artists join forces to explore the ambiguity and power of pink's many diverging identities, participating in an inquisitive dialogue around these idiosyncratic relationships. Utilizing mediums such as painting, sculpture, light, video, drawing and textiles, Killjoy Collective creates a cohesive energetic space, examining how pink accentuates and isolates at once.
Pink is fruity sweetness dissolving on the tongue, a drift of fragrant blossoms, an evocation of the sensitive, the youthful, the pleasurable. Pink is sunsets and reveries and flamingos, the unreal, the eccentric, the dreamlike. Pink is silky hair ribbons and frothy Rococo painting, a glut of femininity, excess and exaggeration. Endlessly mutable in its gradations and connotations, pink is loaded with cultural signifiers which transcend the hue's slice of the color spectrum. As polarizing as it is promiscuous, pink occupies a liminal space of repulsion and attraction, sensuality and morbidity, luxury and kitsch. Explore, celebrate, and complicate the color pink in all of its glorious significations and contradictions.
Maggie-Rose Condit
Condit's work contends with the perplexing intersections of girlhood, pop culture, consumerism, body politics, and feminism. Condit utilizes humor to broach these bizarre, yet personal subjects in forms including installation, sculpture, video, and performance.
Hello world! I'm your wild girl reflects the ambiguous and confusing representation of women's sexual identity in pop culture. The cherry serves as a symbol of an unattainable ideal that is everything at once: precious, ecstatic, grotesque, alluring, empowering, shameful, taboo, terrifying, and consumable.
Maggie-Rose Condit is an interdisciplinary artist residing in Portland, Oregon, and was raised in Tucson, Arizona. Condit received her Masters in Fine Arts in Visual Studies from Pacific Northwest College of Art.
E.M. Fuller
What happens when fabric, light, and bodies interact?
The team of E.M. Fuller and BriAnna Rosen are mutually investigating the heterogeneous connotations of the color pink. Using Pink: The Exposed Color in Contemporary Art and Culture as a frame of research, the duo aims to reclaim the color pink by placing it in a public environment in which socially constructed associations are produced. As Karl Schawelka writes, "Pink reveals its powers of attraction and its charm because it does not actually call something by its name. Instead, pink suggests 'between the lines.'" The audience, lit with rose hues from the magenta floodlight will be confronted with the silks' seductive visual and tactile oeuvre; flirting with the public to evoke hidden emotional states.
E.M. Fuller is a multidisciplinary artist from Charlotte, North Carolina. Fuller completed her undergraduate studies in 2012 at The University of the Arts in Philadelphia, PA. Her work investigates the material associations of fabric with an acute focus on shifting the viewer's understanding of how fabric functions as a material in everyday life. Currently, she is working in performative and activated fabric sculpture and installation with an emphasis on pedestrian choreography, repetition, and gesture. Fuller is a graduate of the Visual Studies Master of Fine Arts program at PNCA in Portland, Oregon.
Tessa Heck
Life is a Highway is based off my recent move to Montana, where I grew up. Life is slower here. I am slowing down and breathing fresh air, I walk in the woods. Of course, there are trade-offs. I don't always have Internet, my town's food options are a crusty bar where they hold the NRA banquet. I fit in here, but I feel uneasy. The title of this piece is a poke at how much my world has changed this season, the image of my high school rig with dogs as my co-pilots.
My process typically involves a mish-mash of both personal and found imagery. I tend to work loosely off an image for the first half of a piece then work solely without the image. I am interested in humor, particularly self-deprecation.
Tessa Heck is a recent Visual Studies Graduate candidate at Pacific Northwest College of Art in Portland, Oregon and hails from NW Montana. Heck received her BFA in Painting/Drawing in Tacoma, WA at Pacific Lutheran University with a stint in London, UK to intern as a gallery assistant. Inspirations for her figurative based paintings include Nicole Eisenman, Marlene Dumas, Alice Neel and Wangechi Mutu. Common topics in her work are comprised of humor, absurdity of the human body, sexuality and eroticism.
Caitlin Rooney
The semiotics of fragmented popular culture is fraudulent.
Precious Moments is the appropriation and rebranding of objects found within popular culture's incessant banal consumerism and its latter transformation via desire, a good "ha ha ha" and anger.
i.e. buying a sympathy card for 6.99 USD at Whole Foods for someone you love's lover.
Caitlin Rooney (Milwaukee, WI) is an interdisciplinary artist currently living and working in Philadelphia, PA.
Rooney primarily works in sculpture, appropriation, drawing, installation and photography. She received her MFA in Visual Studies from Pacific Northwest College of Art and a BFA in Interdisciplinary Studio Arts and Writing from Milwaukee Institute of Art and Design. Her work examines and exploits the idiosyncratic nature of popular culture consumerism and its banal iconographies.
BriAnna Rosen
A flirtatious rose-hued theater of light and tactility.
Pink is scary. It is indicative of vulnerability, openness, nuance, and softness… attributes that hold great power but require an immense courage to practice. Pink embraces the dynamism of vitality and wards off the scales of entropy. It is warmth and excitement shaken into a flaming cocktail of passion. Pink is ultra, truth, honesty… pink is real.
BriAnna Rosen is an artist based in Portland, OR exploring the poetics of politics and spectacle with installation, video, and publications. Rosen completed her Bachelor of Arts degree in Film and Video Production at Pacific University graduating summa cum laude in 2012. Rosen then finished the Master of Fine Arts in Visual Studies program at Pacific Northwest College of Art in 2016 and received the thesis award for A Freestyle Artist: Socio Political Art in Five Interventions. Currently, Rosen works as a teaching artist at the PHAME Academy and helms Freestyle Artist Magazine; a socio-political artist brand and periodical investigating gentrification.
Rachel Rosenkoetter
Pink is: Rose quartz. Rotting cherry blossoms. The blush after a strong orgasm. Fake fur coats.
Girlhood (supposedly). Voluptuousness. Unjustifiably expensive razors. When you close your eyes and look right at the sun. Bizarre ideals of womanhood. Strawberry Frosting. Frothy blood. Cocks in Craigslist ads you can't unsee.
Rachel Rosenkoetter is a visual artist living in Portland, Oregon. Born and raised in Missouri, Rosenkoetter received a BFA in Painting from Missouri State University and her MFA in Visual Studies from Pacific Northwest College of Art. Utilizing painting, collage and installation, her work investigates mysticism and states of being. Revealing symbols and bodies as potent with sacred potential, Rosenkoetter harnesses physical forms to speak to a metaphysical ecstasy and excess.
Gallery Hours:  Monday – Friday 8AM to 4 PM, Saturday 11 AM to 4 PM
Directions:  Follow signs to bookstore and visitor parking.  Gallery is located in the Communications and Technology (CT) building, adjacent to the bookstore on the NE corner of campus.