This content was published: May 16, 2017. Phone numbers, email addresses, and other information may have changed.
Justseeds
Cascade Paragon Gallery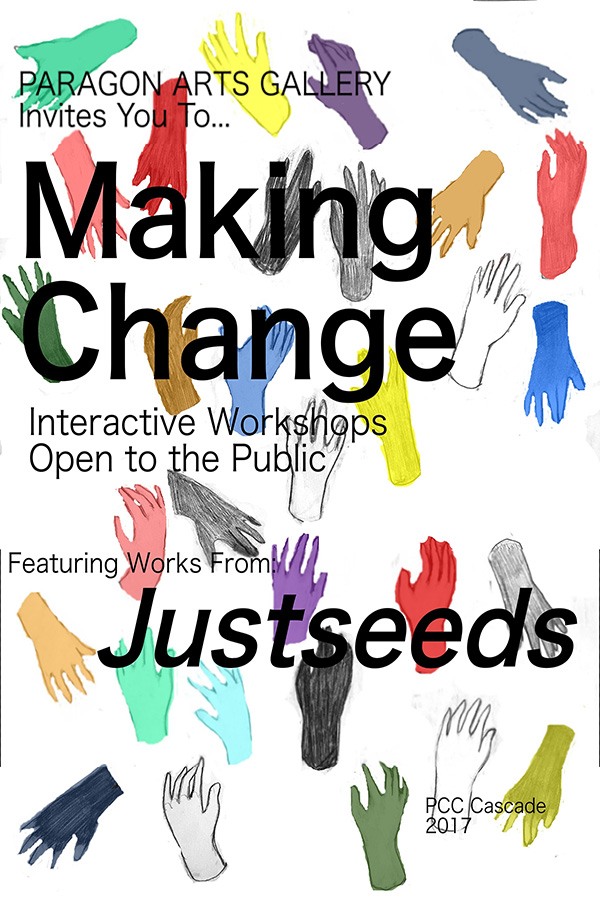 PCC Cascade's Paragon Art Gallery Presents: Making Change, featuring prints from Justseeds. The gallery will be hosting a variety of free, interactive events and workshops that are open to the public to promote positive social change.
Art collective Justseeds will be featuring a month-long exhibit of two print portfolios:
This is an Emergency (East Gallery)
We are the Storm (West Gallery)
For more info about Justseeds, visit the Justseeds website or follow Justseeds on Facebook.
Making Change Events and Workshops
Find the full event schedule and latest details on the Paragon Gallery Facebook page.
Tuesday, May 16:

5-7pm Chelsea can Midde & Crystal Villegas Creative Circle: coloring, tea, aroma therapy, and open group discussion

Wednesday, May 17:

12-5pm p:ear: Building positive relationships with homeless and transitional youths through art and education
5-7pm Dave Hedburg and Melissa Lang Portland Heritage Trees – Our Shared History

Thursday, May 18:

3-4:30pm; 5:30-7pm Tyler White: Presentation on the intersection of art and history in North Portland

Friday, May 19:

12-5pm Bobby Fouther: Workshop for making positive word spaces with fabric, stencils, and more
5-7pm Kalimah Abiota screening SIGHT: With performances from Avery Gilbert, Jamondria Harris, Jai Hurdle, Yafe Aros.

Saturday, May 20:

12:30-2:30pm Parfait: In the Shoes of an Immigrant: By means of songs, stories, and introspective activities, empathy specialist and singer-songwriter Parfait Bassale takes participants on a journey with the immigrant.
2:30-5pm Bobby Foulther: Workshop for making positive word spaces with fabric, stencils, and more
12-7pm Circle of Healing: Hosted by Portland Two Spirits Society

Tuesday, May 23:

5-7pm Public Annex

Wednesday, May 24:

1-4pm Anne Greenwood: Sewing workshop
12-7pm Julie Keefe: Photographer

Thursday, May 25:

12:30-1:30pm Vanessa Renwick: Land of the Free
3:30-7pm Paper Eclipse Puppet Company: Playing with Light and Shadows
8-8:30pm Special Performance

Friday, May 26:

5-7pm Garima Thakur: Mountain of Rice "Can we all share a meal? Can we all eat with our hands? Can we all read while we eat? Let's all have an Indian dinner together? Does that sound good to you?"

Saturday, May 27:

4-7pm Perla Bonilla: Journal Making Workshop
3-7pm Lary Yes: The Word Love again and again and again…