This content was published: April 8, 2017. Phone numbers, email addresses, and other information may have changed.
When We Dead Awaken: The Complete Cycle of Paintings
Sylvania North View Gallery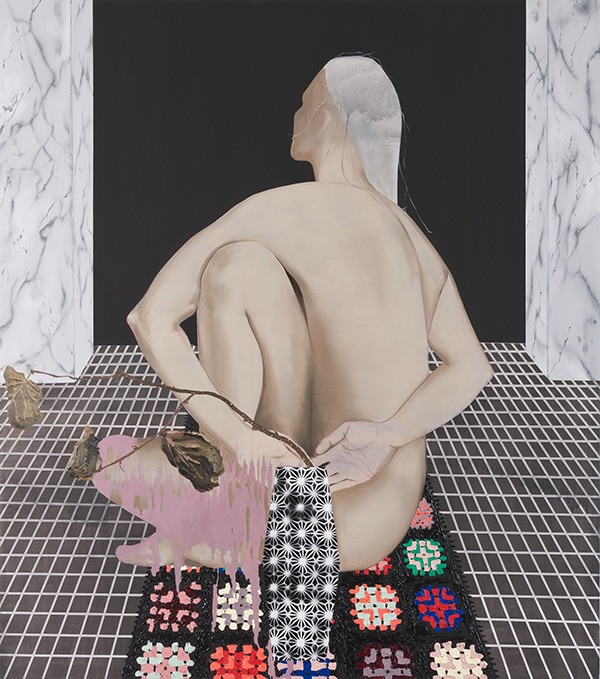 Pause and Give Thanks That We Rise Again From Death and Live
, 2014
oil, Flashe, spray paint, charcoal and pencil on canvas. 35.5 x 32″
By Elizabeth Malaska
Dates:

April 8 – May 6, 2017

Opening:

Saturday, April 8, 2-5pm

Artist talk and reception:

Wednesday, April 12, 2-4pm

Gallery hours:

Monday through Friday 8am–4pm and Saturday 11am–4pm
The North View Gallery is pleased to present When We Dead Awaken, Portland-based artist Elizabeth Malaska's dynamic cycle of paintings, addressing culture's ongoing fascination with and representation of the female body. Malaska's stylistically careening depictions of beautiful but discordant figures confront on both personal and political levels tweaking viewers' tendencies towards desire, stereotype and objectification. Originally exhibited in two parts, this series will be shown in its entirety in the North View space, along with a selection of journal notes, sketches and other ephemera relating to the project.
Artist statement
Because we make sense of the world through the meanings ascribed to what we see, I understand looking to be a form of creation and a political act. In today's image-saturated world, powerful – often political – forces conspire to occupy landscapes of visual information, colonizing vision and controlling meaning. I am concerned with this hegemonic sight, often a tool of violent and destructive forces. My work aims to disrupt the subjugated gaze through the calculated deployment of a variety of strategies: discordant shifts between surface and depth, an inundation of pattern, use and abuse of spatial perspective, the engagement of threatening narratives, and dissonant adjustments in style or materials.

Of special interest to me is the ubiquitous and normalized use of the often-naked female body throughout art history, a body that is frequently an object on display for the acquisitive gaze of the viewer. My work questions this practice, borrowing figures, settings and techniques from art history and recontextualizing them. By using familiar elements in unfamiliar contexts I allow the figures in my painting more agency and challenge viewers to question their own power and positions.

The figures in this body of work occupy ruins. For thousands of years patriarchal destruction has possessed the world. It is with a great urgency that I imagine the end to this devastation and the beginnings of something new. Such beginnings aren't easy, and in these paintings they are not yet whole. Nonetheless, despite vulnerability and instability, the figures here possess an unapologetic power. Rising from the wreck of the old order they look past us, keeping watch for the new world to come.

Elizabeth Malaska
About the artist
Born in Portland, OR, Elizabeth Malaska earned her MFA from the city's Pacific Northwest College of Art (PNCA). Her work has been exhibited nationally at various institutions including Portland's Nationale, Froelick Gallery, Disjecta Contemporary Art Center, Portland Center Stage, University of Oregon's White Box gallery, and San Francisco's California College of the Arts, where she also received her BFA. Malaska received support from the Barbara Deming Memorial Fund in 2015 and a Project Grant from the Regional Arts & Culture Council in 2016. Most recently, she was honored with an Individual Artist Fellowship through the Oregon Arts Commission. She has lectured, taught, and mentored at PNCA, Oregon College of Art and Craft, and Eastern Oregon University. Malaska lives and works in Portland, OR. She is represented by Portland gallery Nationale.