This content was published: February 23, 2017. Phone numbers, email addresses, and other information may have changed.
Recent Work by Three Sylvania Ceramic Artists
Sylvania North View Gallery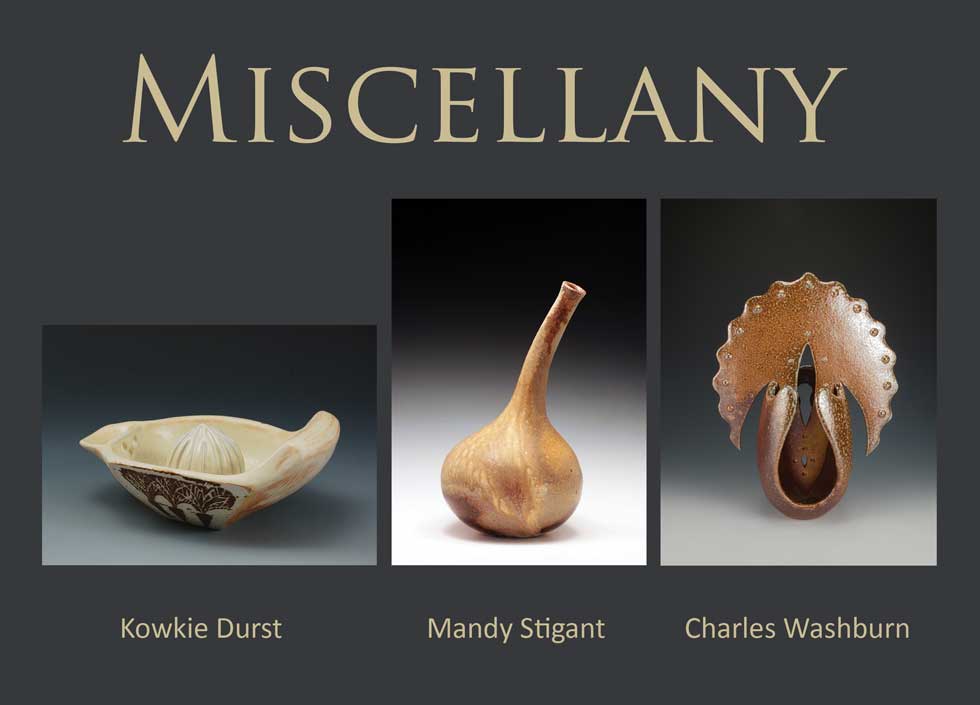 Dates:

February 23 – March 25, 2017

Artists reception:

Wednesday, March 1, 11am-1pm

Gallery hours:

Monday through Friday 8am–4pm and Saturday 11am–4pm
Participating artists
Kowkie Durst
Mandy Stigant
Charles Washburn
The North View Gallery is pleased to present the work of three ceramic artists from the PCC Sylvania art faculty and technical staff, who are collectively exploring a wide range of methodology within the ceramics discipline. This exhibition will run concurrent with the NCECA (National Council on Education in the Ceramic Arts) conference, held this year in Portland on March 22-25.
Kowkie Durst
I imagine my pots in someone's home, tossed from sink to table to shelf. I want them to live with someone and become a part of their everyday life. The physical connection – lips, hands, eyes—that engages a user with the object is essential to the creation of meaning for pottery. My approach to clay enacts my passion for the material and exposes the physical nature of my own existence.
I score my pots with drawings of objects such as bicycles or hand tools as well as drawings that investigate more social and political issues such as the commodification of food, chicken egg factory farms, gender identity, marriage equality, gasoline consumption, among others. The drawings on my pots are cartoon-like abstractions of our contemporary cultural icons, which I use to narrate our intimate relationship with everyday objects as well as to capture everyday moments that may sometimes be overlooked.
Mandy Stigant
I spend my best time making dishes and vessels and objects for my own house, for my own use or visual stimulus. Pots which aid, enrich and reflect upon my lifestyle, especially the part centered around food: from growing and raising to gathering and harvesting to preserving and cooking to eating and sharing. Some of these objects are specifically utilitarian, the pickling crocks and tea sets, and others, the bottles, offer a visual response to the squash and other full, engorged vegetables I like to grow. Then come the baskets, which occupy a grey area between the useful and the visual. It all culminates into a sense of the nourishment and plenty that comes from raising and gathering and eating food, a sense of the full experience of food.
Since sharing that sense of plenty is as important as partaking in it, I have decided to donate 10% of all the sales from this body of work to Sisters of the Road.
Charles Washburn
This series of ceramic sculptures is inspired by the idea of how our physical appearance and mannerisms only reveal a portion of our true persona and spirit. I use the ceramic vessel as a metaphor for our outward appearance and manners. Housed within the vessel is a blade shaped ceramic piece that represents our true character and essence contained within the physical body. The blade balances on the vessel symbolizing the symbiotic relationship between body and soul. For form and shapes ideas, I reference ancient implements from many different cultures that share similarities. I am also fascinated with how humans have been using their bodies as a three-dimensional canvas to express their inner nature and psyche for thousands of years. Body arts such as tattoos, piercings and scarification give me inspiration for surface decoration. I strive to create beautiful sculptures that could be a relic from another time or culture.
These sculptures are fired to cone 10 in a reduced atmospheric firing method such as wood, soda or gas. The vessel portion of these sculptures is constructed by using the slab and coil hand building techniques. The blades are carved from a solid slab of clay. I mostly rely on the claybody's reaction to the kiln atmosphere for surface treatment.