This content was published: November 12, 2016. Phone numbers, email addresses, and other information may have changed.
Drawing as Core
Sylvania North View Gallery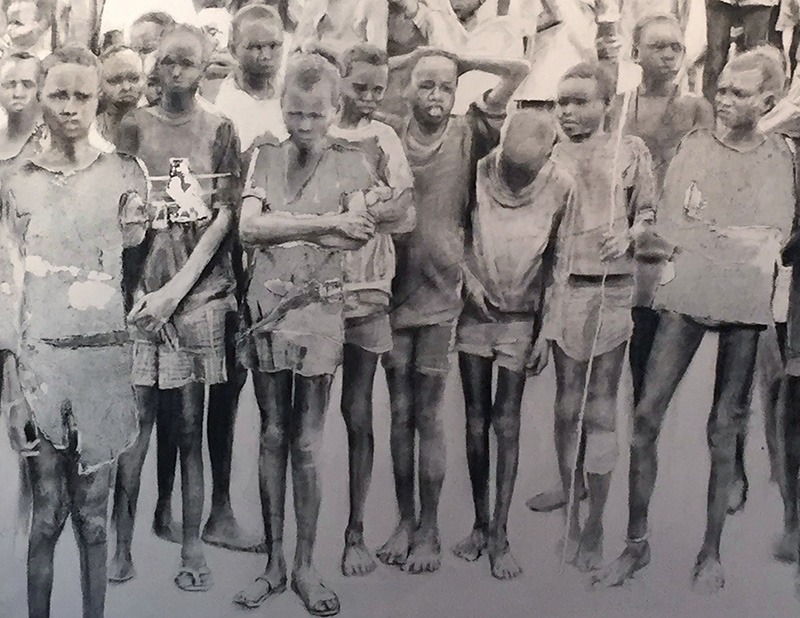 Karen Esler,
Drawing Life
, 2016 (detail)
By Karen Esler, Laura Ross-Paul and Renée Zangara
Dates:

November 12 – December 10 2016

Opening reception:

Saturday, November 12, 2-5pm

Additional reception and informal talk:

Tuesday, November 29, 1pm

Gallery hours:

Monday through Friday 8am–4pm and Saturday 11am–4pm
Artistic expression often germinates from a single mark. A line becomes a drawn form; a two-dimensional representation is interpreted as a three-dimensional form in the viewer's eye; a drawn thought brought to life. The three artists represented in Drawing As Core; Karen Esler, Laura Ross-Paul, and Renée Zangara, each employ a unique visual language, yet all share a reliance on "drawing" as the point of origin in their process.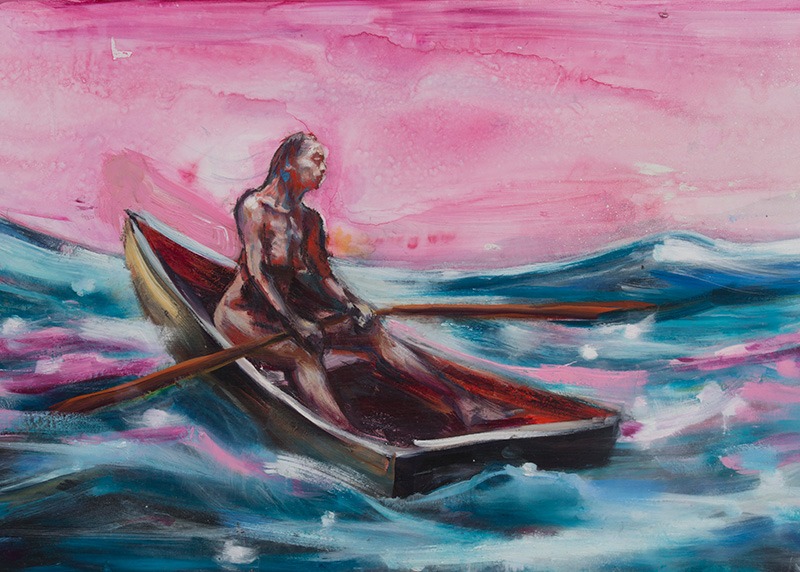 Laura Ross-Paul,
Pink Boat #2
, 2016 (detail from Visual Codes installation)
This exhibition will be a collection of large-scale, singular installations, where each artist's work will represent a specific material response to and elaboration of the drawing process. Esler's panoramic mural on synthetic paper is executed almost exclusively with densely worked charcoal. Ross-Paul's constellation of painted panels integrates dry marks with predominately fluid media. Zangara's work, a series of three paper scrolls suspended from a massive, freestanding frame, literally bridges Esler's and Ross-Paul's work, appearing to be equal parts drawn line and brushed on color.
Shared themes of unity, humanity, nature and light further unify this exhibition. Esler's Drawing Life, a stream-of-consciousness meditation on the concept of liberation, reveals the "slightly surreal, slightly mad" character of world events as they surface through the media. Visual Codes, by Ross-Paul, investigates a journey of discovery, renewal and cleansing, employing water as visual metaphor. Zangara's Revelation advocates for a respectful and seamless connection between nature and industry, utilizing sensitively interwoven forms. As mothers of grown children, all three artists intentionally cultivate elements of positivism, nurturing and care through the creative process, beginning with their initial tactile response to the drawn mark.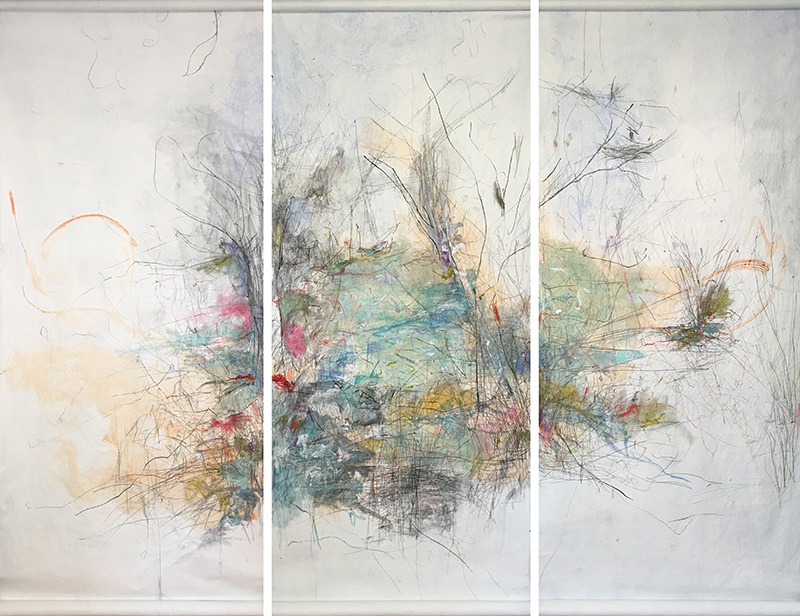 Renée Zangara,
Revelation
, 2016
Karen Esler is a visual artist living and working in Portland, Oregon, Her work is focused primarily on painting and drawing the figure and the landscape. Karen has served on art association boards and committees including Disjecta and Portland Art Center, and has exhibited locally and nationally. She has been represented by Augen Gallery for 8 years. She previously exhibited with Mark Woolley Gallery, Margo Jacobsen Gallery and Quartersaw Gallery. Karen's work is included in public and private collections including the University of Oregon and Good Samaritan Hospital. For 14 years Karen has taught primarily painting, life drawing and drawing at Portland Community College, University of Portland, and Portland State University.
Laura Ross-Paul is a dedicated artist, teacher and arts advocate. She has been practicing professionally for three decades, exhibiting her work nationally, throughout the Pacific Northwest and California. Venues include the Portland Art Museum, the Seattle Art Museum, the Art Gym and Portland Institute of Contemporary Art. She has served on numerous boards and committees for local and regional art as well as fostering the talents of art students through her teaching at Portland State, Pacific Northwest College of Art, Lewis and Clark College, and the Oregon College of Arts and Crafts, among others.Ross-Paul is represented by Froelick Gallery in Portland and Brian Marki Gallery in Palm Springs.
Renée Zangara lives in Portland and is an active member of the regional art community, serving as a press operator at Prints for PICA for eight years and as a member of Pubic Art Selection and Professional Practices Committees at RACC since 2011. Her work has been exhibited nationally and is in many private and public collections, including the Portland Art Museum, the Regional Arts and Culture Council's Visual Chronicle, Oregon Health and Sciences University, Oregon Sate University's College of Agricultural Sciences, the Swedish Medical Center Foundation in Seattle and PricewaterhouseCoopers. Zangara exhibits her work in Portland as a member of the Nine Gallery cooperative.