This content was published: October 3, 2016. Phone numbers, email addresses, and other information may have changed.
In the Balance
Sylvania North View Gallery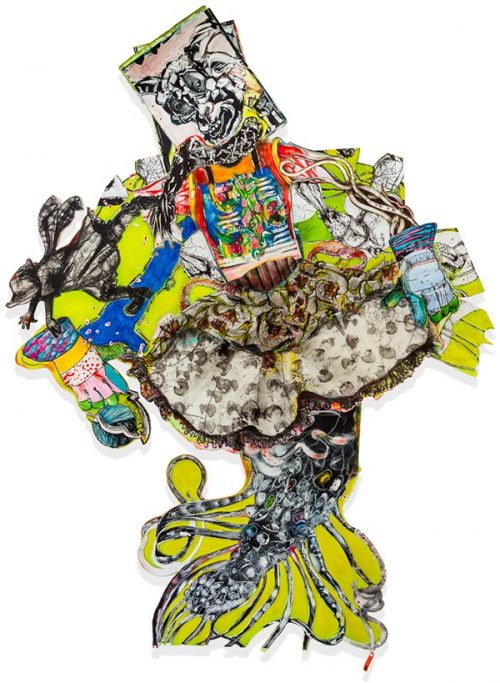 By Diane Kendall
Dates:

October 3 to November 5 2016

Opening:

Wednesday, October 5, 3-6pm
Reception preceded by an artist talk at 2pm

Gallery hours:

Monday through Friday 8am–4pm and Saturday 11am–4pm
The North View Gallery is pleased to present In the Balance, an exhibition of large scale collage and print constructions by Portland area artist Diane Kendall. Rooted in the printmaking tradition, Kendall's complex visual narratives incorporate painting, drawing, intaglio, woodcut, linocut, lithography and monotype into densely layered, shaped configurations that transcend conventional rectangular formats.
Artist statement
"The content of my work is drawn from sources that are personal and experiential. There are familiar depictions in each piece, but they are assembled in an unfamiliar syntax; realistic images combined to create something improbable. They can include images of or derived from nature, household items, medieval mystic illuminations, folk art, textiles, children's art, Victorian fairy tales and nursery rhymes, Japanese woodcuts, and occasionally, family members.

The work may be made in a somewhat unorthodox way and the visual syntax may be eccentric, but it is important me that the end result still holds together. Formally, there are forces at work. Forces that are counter to one another and which compete for the same space. And the imagery has connotations that conflict as well, homographs that flick between meanings, each seeking to be true at the same time. What I'm exploring in these works is how equipoise is achieved in the presence of duality or even plurality."
About the artist
Diane Kendall earned a Bachelor's degree in Painting and Drawing from Arizona State University in 1981 and a Master's degree in Painting and Drawing from the University of New Mexico in 1985. While at the University of New Mexico she was invited to participate in the Collaborative Program at the Tamarind Institute where she gained experience in and a love for stone lithography.
The artist's work has been exhibited frequently in the southwest, including works at the Harry Wood Gallery at Arizona State University; University Art Museum at the University of New Mexico; Meridian Gallery, Albuquerque, NM; Bridge Center for Contemporary Art, El Paso, TX; and Instituto Nacional de Bellas Artes, Juarez, Mexico. Diane moved to Oregon in 2005. In the Balance, will be the first exhibition of her work in the Pacific Northwest.