This content was published: June 28, 2016. Phone numbers, email addresses, and other information may have changed.
Maternal Geographies
Southeast Gallery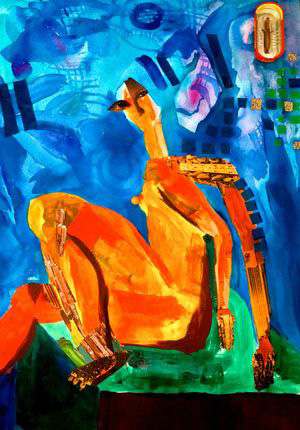 Dates:

June 28 – September 3, 2016

Artist talk and closing reception:

September 2, 6-8pm

Gallery Hours:

Monday through Friday, 7:30am to 10pm
Saturday, 7:30am to 5pm
Comprised of collages built with paper, fabric, and found objects during the first three years of motherhood, Maternal Geographies surveys the body as a landscape that shifts with seasons of life. Artist Emma Colburn uses vibrant imagery to capture the vibrations of transformation, building portraits of bodies (models, family members, and her own) to redefine the relationship between self and other into self as other. The resulting work formalizes this reflection: depicting and embodying, gazing at while coming from, exploring feminine forms from within them.
Talking back to an art historical gaze that projects femininity and wilderness as sites of capture, Colburn plays on the shoulders of landscape painting by proposing female geography – womb, joint, breast – as topographies of home that thwart place-based notions of belonging. Abstract maps of Portland process relationships between self and space that emerge when home is located somatically. And with the houses she grew up in down the street, this body of work finds a perfect, if temporary, "home" at PCC.
Emma Colburn is an artist, geographer, teacher, curator, and organizer based in Portland, Oregon who has explored the spaces between these fields for the past fourteen years. She is deeply committed to disrupting narratives of safety and belonging particularly in regard to the diasporic expansion of African spaces, cultures, and peoples. Carving out the intersection of art, geography, and law, her creative practice is guided by an intuition for and curiosity towards the relationship between the self (ego) and space (geo) negotiated in specific moments of time. She uses processes of painting, collage, performative geographic research, collaborations, and personal migration to investigate systems that structure micro and macro cosmic realities while stimulating improvisational relationships to these ordering systems. Find out more about Emma Colburn at emmacolburn.com.