This content was published: November 6, 2015. Phone numbers, email addresses, and other information may have changed.
EastSouthEast: Merge
Southeast Gallery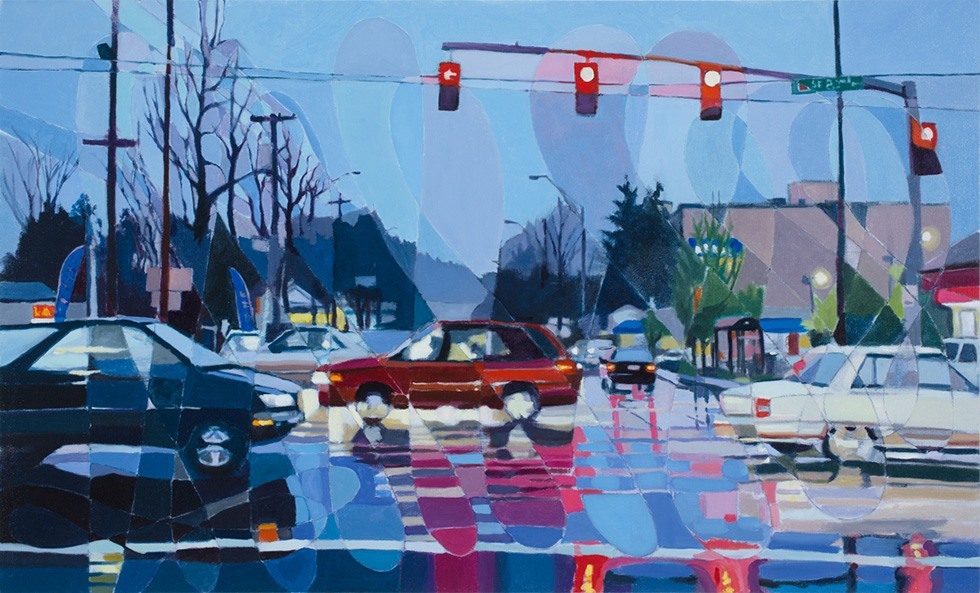 SE Powell and 82nd
18″ x 30″ oil and graphite on panel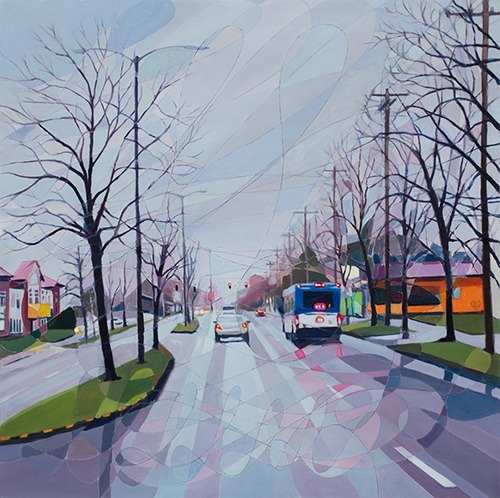 SE Powell no1
30″ x 30″ oil and graphite on panel
By Shawn Demarest
Dates:

November 6 – Dec 30, 2015

Gallery Hours:

Monday through Friday, 7:30am to 10pm
Saturday, 7:30am to 5pm

Opening Reception:

Friday, November 6 from 6-8pm
PCC Southeast Student Commons
Artist statement
After moving into the Foster-Powell neighborhood I became enamored with a street I often drive on – SE 82nd. In 2014, I approached PCC about exhibiting a new series of work in the Student Commons area. It was my intention that people who live and travel in this SE Portland area would have easy access to see and respond to the paintings. In fact, one of the paintings depicts the intersection of SE Division and 82nd (adjacent to PCC Southeast Campus). I was drawn to the rhythm of lights, cars, power lines, advertisements and energy of this part of town. Surprisingly, as the paintings progressed, I found my recent abstract painting approach finding its way into my, generally representational urbanscapes. To tell this part of the story, I have included a number of my small abstract paintings in the exhibit. Initially, this series was titled EastSouthEast. After the melding of styles occurred, I renamed it EastSouthEast: Merge.
Please consider sharing your thoughts about the paintings and their depiction of the streets surrounding PCC in the notebook accompanying the exhibit.
Supported by a grant from the Regional Arts and Culture Council.
View more work at Shawn Demarest's website.