Sustainability Leadership Council
The Sustainability Leadership Council (SLC) is a cross-district council that coordinates implementation of the Climate Action Plan and other operational and educational efforts in line with the college's commitment to sustainability. The council is co-chaired by the Director of Facilities Management Services. The SLC provides recommendations to the Cabinet and annual updates to the Board of Directors. If you are interested in joining, please send an email to briar.schoon@pcc.edu.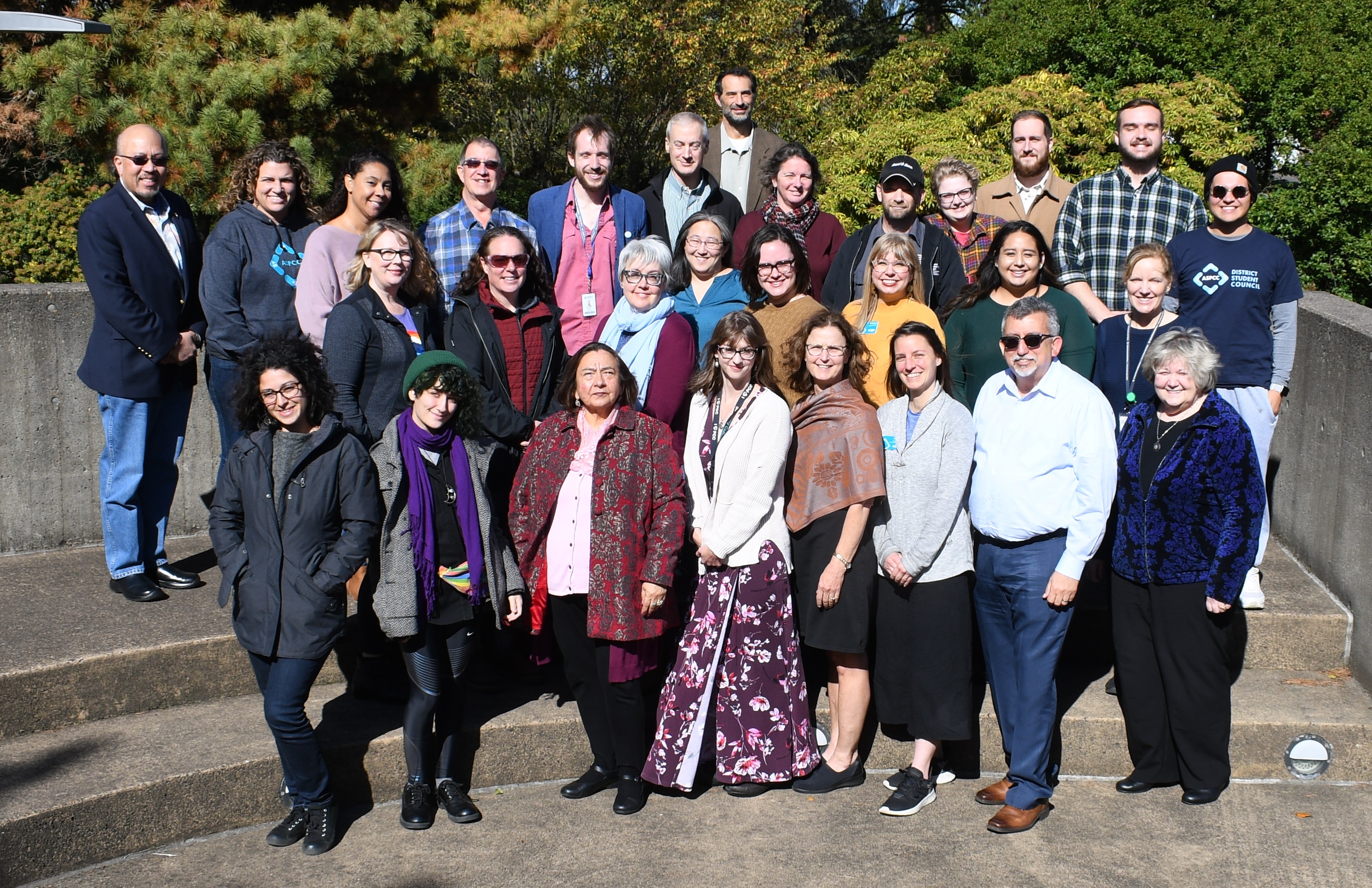 SLC Sub-Committees
Scope 1 & 2
Lead: Dr. Elaine Cole
Dr. Elaine Cole has worked in a variety of sustainability roles at Portland Community College since 2012. As the college's Sustainability Coordinator, she manages a wide range of practices and programs working with staff, faculty and students. From the community garden to waste reduction, she provides education and training, event support and project creation and maintenance. Elaine helps to support her work through grant and policy writing, fundraising and resource sharing on and off campus. She serves on many college committees, advises student clubs and mentors K-12 STEM students. Elaine leads the Bee Campus USA Committee, Rock Creek Green Team, Strategic Energy Management Program (as the Energy Champion) and oversees a team of Facilities Management Services and sustainability staff to save the college money through energy reduction projects. Elaine represents the college on state and national associations and is a frequent presenter at local and North American professional conferences. Elaine likes to work hard and play hard. When she is not on campus, she can be found trail running with her rescued Border Collie, cross country skiing, mountain biking and on a pickleball court.
Scope 3
Sub-Committee – Scope IIIb: Targets initiatives to reduce supply chain and solid waste-related emissions.
Co-Lead: Jade Menchaca
Jade Menchaca is the college's Recycling Program Coordinator and focuses on outreach, recycling education, and overall improvement of recycling habits on campus through campaigns and special events. She earned her B.A. in Environmental Studies from the University of Oregon. She has many years of experience coordinating programs and events for higher education students to enhance their sustainability, involvement on campus, and created campus-wide food security initiatives. She is passionate about community involvement, social inclusion, environmental education, and waste reduction. She likes to spend her free time cooking, crafting, dancing, and trying out new restaurants.
Co-Lead: Rachel Zarfas
Rachel is the District Sustainability Assistant for PCC. She supports department leadership in studying new and proposed sustainability programs, and collaborates on PCC's district-wide sustainability strategies. Rachel holds a Bachelor of Arts in International Studies and certificate of Environmental Studies from the University of Missouri – Columbia. Rachel brings over a decade of experience working in environmental field with focuses on food waste recovery, recycling, waste minimization and sustainability. Her skill set includes program development and coordination, research, data analysis, technical assistance and outreach, environmental restoration and volunteer coordination. She is an AmeriCorps Alumni and certified Master Recycler and Mentor. She is also volunteering to advance local healthy food accessibility by helping manage a urban garden and start a new farmer's market in her neighborhood. Rachel is eager to leverage her experience to contribute to the college's sustainability commitment to strategize a foundation for sustainability that will ensure consistent and lasting progress is made in this rapidly evolving field. She likes to spend her free time gardening, crafting, exercising, camping and learning new skills. She has enjoyed taking dozens of non-credit classes at PCC over the years!
Outreach & Education
Works to promote sustainability education and provide curriculum-related resources. Find more info here.
Lead: Briar Schoon
Briar is the college's Sustainability Manager, with the focus of mainstreaming sustainability throughout all college practices district-wide. She has taught sustainability courses at PCC and sits on the Board of Directors for the Greater Portland Sustainability Education Network. She holds a Master's Degree in Sustainability from Arizona State University, as well as a B.A. in Sustainability and a B.S. in Justice Studies. She is a LEED Green Associate and received her Master Gardener certification in 2016. Briar has represented the college at the local, national and international-level, most recently at the UN Climate Change Conference in Bonn, Germany! Prior to her role as the Sustainability Manager, she worked as the Sustainability Analyst for PCC, completing the college's greenhouse gas inventories and STARS reports. She likes to spend her free time crafting, gardening, and playing with her kitty.
Resiliency
Lead: Stephania Fregosi
Stephania is the college's Sustainability Analyst, maintaining and tracking various sustainability indicators such as greenhouse gas (GHG) emissions. She supports department leadership in studying new and proposed sustainability programs. Stephania holds a Masters of Studies in Environmental Law from the Vermont Law School and Bachelor of Arts from Oberlin College in Environmental Studies and English. Prior to her role as Sustainability Analyst, she was the Sustainability Coordinator at Chemeketa Community College. Stephania has worked in a variety of sustainability roles including sustainability coordination, project management, environmental assessment, community development, and environmental education. She has a passion for social justice, equity, and inclusion and recently served on the Association for Advancement of Sustainability in Higher Education's advisory board on the Diversity & Inclusion committee. Stephania spends her free time with her family and dyeing yarn and fiber for other crafters.