Gerontology Professional, career pathway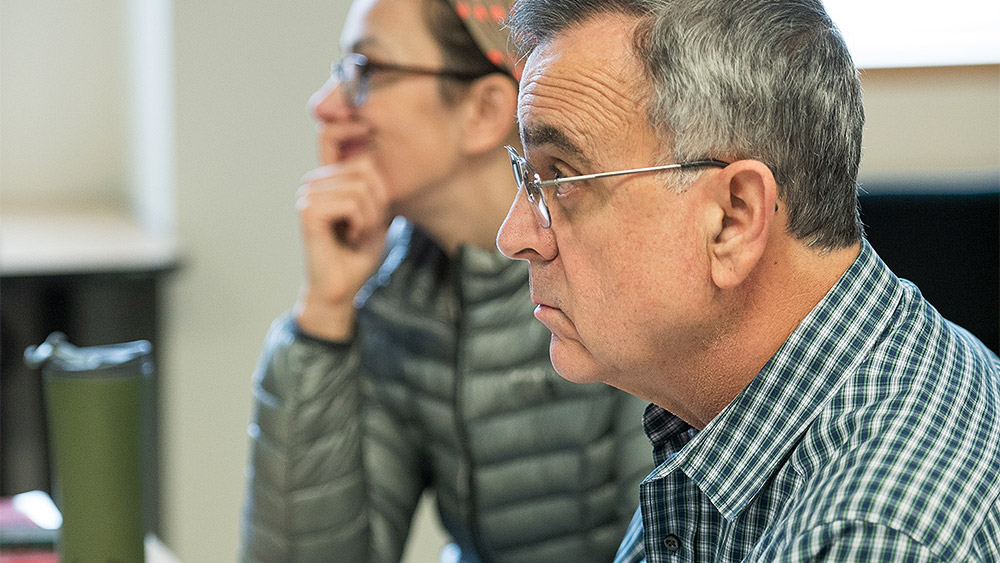 Why choose the Gerontology Professional Career Pathway certificate at PCC?
The Gerontology Professional Certificate is designed to ensure students acquire the necessary competencies to function effectively in the different types of work settings within the diverse and ever-changing field of aging, particularly in the three focal areas of advocacy, end of life and cognitive care. This certificate replaced three previous certificates: Gerontology Advocacy, Advanced Behavioral & Cognitive Care, and End of Life Care & Support. Students who have already declared any of those three certificates can complete them and have them awarded. Those same students would be eligible as of the Fall 2021 term to also earn the Gerontology Professional Certificate.
Salary
Salary information on the wide range of potential career opportunities that may be available for a Gerontology Professional Certificate graduate include:
Personal Care Provider: $13.57 average hourly wage or $28,231 average annual wage
Healthcare Aids: $16.54 average hourly wage or $34,421 average annual wage
Social and Community Service Managers: $31.16 average hourly wage or $64,827 average annual wage (Adult Day Care Director)
Medical and Health Service Managers: $58.19 average hourly wage or $121,027 average annual wage (Memory Care Administrator)
Bereavement/Mental Health Counselors: $29.06 average hourly wage or $60,435 average annual wage
Social Workers: $34.64 average hourly wage or $72,067 average annual wage
Funeral Directors: $41.66 average hourly wage or $86,657 average annual wage
Medical and Health Service Managers: $58.19 average hourly wage or $121,027 average annual wage (Hospice Administrator)
Aging Life Manager, and Care Manager: $16.50 per hour and $32,178 average annual wage (Case Manager) – $32.01 per hour and $66,582 average annual wage (Social and Community Service Managers)
Care & Service Coordinator and Healthcare Navigator: $15.41 per hour and $32,057 average annual wage (Personal Care and Service Workers) – $59.57 per hour and $123,899 average annual wage (Medical and Health Services Managers)
Personal Advocate: 22.59 per hour and $46,987 average annual wage (Patient Advocate)
Social & Human Services Assistant, Social Services Coordinator, and Social Services Navigator: $32.01 per hour and $66,582 average annual wage (Social and Community Service Managers)
Chaplains and Spiritual Counselors: $26.19 per hour and $54,476 average annual wage
Insurance agents specializing in Life and Long-Term Care Insurance: $37.09 per hour and $77,152 average annual wage
Financial Advisors: $58.17 per hour and $120,989 average annual wage
Guardians and Conservators: $28.47 per hour and $59,215 average annual wage (Paralegals and Legal Assistants)
Individualized coaching
As a Career Pathway student, you can get one-on-one support to help you access resources, services, and employment. You may also be eligible for financial support to help you with the costs of college.
Get connected
Award information
Degrees and certificates by number of terms to complete

| Award | Length | Financial aid eligible | Currently accepting students? |
| --- | --- | --- | --- |
| Career Pathway Certificate: Gerontology Professional | Less than 1 year | | |
Learn more about Gerontology and all 2 awards available »
What will you learn?
Students successfully completing this certificate will be able to:
Plan, implement and contribute to research-based programs, policies, and practices for and with older persons in professional, institutional and community settings.
Apply best practices of person-centered and directed care and support of older persons, working effectively with all stakeholders, including professionals, family and social support networks.
Work effectively in a variety of settings as an advanced care provider serving diverse individuals or groups of older persons experiencing cognitive and behavioral challenges.
Assess, document and advocate for the resources and support needs and assets of older persons and their family and social support network.
Advocate for family members and dying persons through the end-of-life process, including social, psychological, medical, financial, legal, and spiritual issues related to care and support.
Adhere to professional and ethical standards appropriate to one's gerontological areas of specialty while managing one's career and continuing to develop professional knowledge and skills through education and training.
Courses
Course listing for the 2022-2023 catalog year.
Course List
Code
Title
Credits

GRN 175

The Aging Mind
2

GRN 176

Cognitive Activity Design
2

GRN 181

Exploring the Field of Aging
2

GRN 201

Understanding and Ending Ageism
2

GRN 233

Supporting End of Life
4

GRN 234

Introduction to Dementia Care & Practice
4

GRN 240

Care and Service Coordination
3

GRN 245

Introduction to Guardianship in Oregon
1

GRN 247

Applied Legal and Policy Issues in Aging
2

GRN 280A

CE: Gerontology Internship (4 credits total)
4

GRN 280B

Gerontology Internship Seminar
1

GRN 282

Gerontology Professional Seminar
2

SOC 223

Sociology of the Life Course
4

SOC 230

Introduction to Gerontology
4

SOC 231

Sociology of Healthy Aging
4
Total Credits
41
What will you do?
Depending on their prior experience and education, Gerontology Professional certificate graduates assume positions in aging and social services, long-term care, end of life care, healthcare, and other career paths with job titles like the following:
Aging Life Manager
Care Manager
Care & Service Coordinator
Community & Social Service Specialist (or Manager)
Healthcare Navigator
Personal Advocate
Social & Human Services Assistant
Social Services Coordinator
Social Services Navigator
Personal Care Provider
Certified Nursing Assistant – Dementia Care
Dementia Care Assistant, Specialist, Coordinator, Director, Consultant
Memory Care Residential Unit or Day Care Center Assistant, Specialist, Coordinator, Director, Consultant
Chaplains and Spiritual Counselors
Funeral Directors
Insurance agents specializing in Life and Long-Term Care Insurance
Financial Advisors
Guardians and Conservators
Paralegals and lawyers providing elder law services
Nurses
Physicians
Healthcare Aides
Resident Assistants in care facilities
Personal Home Care Assistants
Social Workers
Bereavement Counselors
Therapists working with massage, touch, art, music, pet, horticultural, environmental and other modalities
Hospice Volunteer Coordinators
Hospice Administrators
End of Life Instructors
End of Life Researchers
Next steps
Applying to PCC is free and only takes a few minutes.Apply now

Not quite ready to apply?
We can help you get the information you need.