Intentional internships
To provide you the support you need as you embark on a new professional direction, the Gerontology program has developed the Career Management Model which presents a three-part approach to academic and career success.
Assessment
In-depth self-assessment and market research are the foundation for both academic and career success. Through a critical evaluation of interests, preferred skills, values, and other workplace considerations, you will maximize your chances of selecting an appropriate course of study and/or choosing your next perfect work.
The course Exploring the Field of Aging (GRN 181) is full of activities that help you figure out not only who you are in this moment, but also identify specific career options in the field.
Intentional internships
Based on in-depth personal assessment and extensive market research you will zero in on and choose specific worksites to further explore your unique gerontology career interests.
In Gerontology Internships – Cooperative Education (GRN 280A) you are coached to select intentional internships and are introduced to a variety of key community partners where you can test drive discreet job options. You can also pursue virtual internships, designed in collaboration with Gerontology faculty areas such as cognitive activity design, work-based Gerontology professional training, intergenerational relationships, and therapeutic horticulture. While we are developing virtual internships in response to the current COVID-19 pandemic, we foresee that virtual internships especially for home-based long-term care residents will remain a necessary option.
In the Gerontology Internship Seminar (GRN 280B) you explore ways to maximize your ongoing intentional internship opportunities. You will learn how to expand your career development network and the value of seeking out key mentors.
Targeted job search
Energize your competitive job search advantage with informational interviews, personal introductions, and presentations to prospective employers.
In the Gerontology Professional Seminar (GRN 282) you will become familiar with options for creating dynamic representations of your knowledge and skills, particularly job-specific resumes and ePortfolios. You will also hone effective communication techniques before, during, and after job interviews.
Each stage of the process is supported by a network of community partners, program advisors, and peer mentors.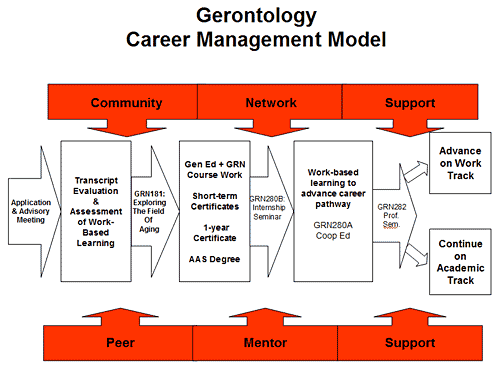 Gerontology Career Management Model
Application and advisory meeting

Students, supported by peers and community members, complete a transcript evaluation and assessment of work-based learning.

GRN 181: Exploring the Field of Aging

Students, supported by mentors and student networks, complete PCC general education courses and Gerontology coursework to complete a degree or certificate.

GRN 208B: Internship Seminar

Students, with ongoing support, do work-based learning to advance their career pathway with GRN 208A: Cooperative Education.

GRN 282: Professional Seminar

Students, with ongoing support, can either advance on a work track or continue on an academic track.