Homepage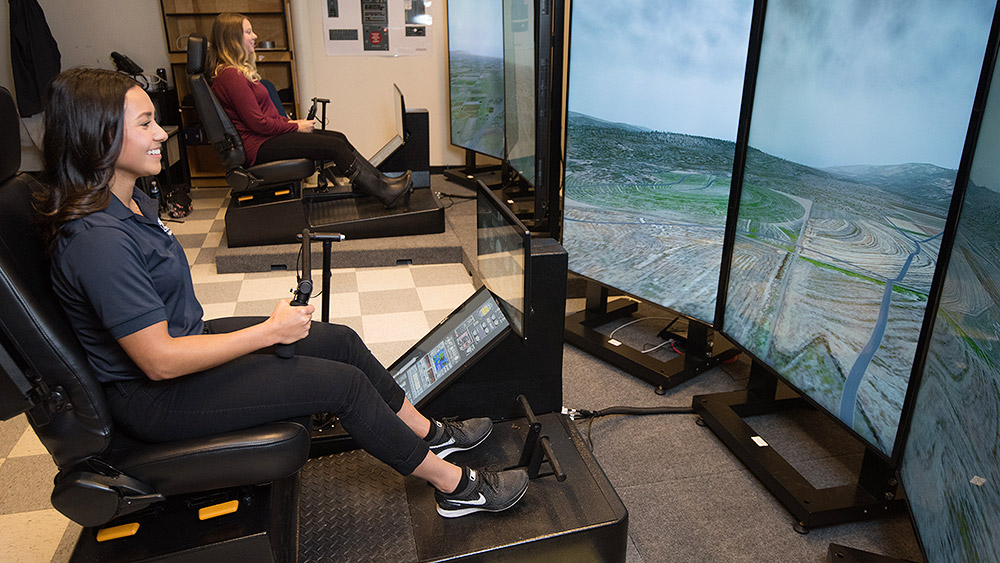 The Portland Community Colleges Aviation Science program provides a practical, supportive environment to start your professional pilot career. You'll have the opportunity to earn a commercial pilot certificate and a flight instructor certificate for either airplane or helicopter, while also earning an Associate of Applied Science degree in Aviation Science. This degree will open the door to many exciting pilot career opportunities.
The Oregon Employment Department forecasts the employment of pilots in the Portland area will grow 9% through 2027. The Boeing Company forecasts a need for 117,000 new pilots just in North America over the next 20 years.
Explore aviation careers
AVS 127: Introduction to Aviation, is a great place to start! This class is open to the public and offered at the PCC Rock Creek Campus. You will have the chance to explore aviation, learn about aviation careers, and see if this is a good fit for you. Whether you know that you want to join the program and are waiting to be admitted or not sure yet and want more information, this class is for you.
If you are wondering if you have the study skills to succeed in becoming a pilot, we can help you! AVS 117: Aviation Skills and Professionalism, which will be offered to the public starting winter of 2021, is designed to help students develop the skills necessary to succeed both as a student and as a professional pilot. It would be an excellent class to take with AVS 127: Intro to Aviation. The skills you learn in this course can be used no matter what program you select.
Open to the general public, these classes can be used as electives towards the Associate of General Studies degree. They are also both required for the Aviation Science Associate of Applied Science degree. Check with your advisor to see if it can count towards other degrees.
Prepare for FAA written and oral tests
Are you working on an FAA certificate already? Would you like to? Our ground courses prepare students for the FAA written tests and the oral portion of the FAA practical tests and are open to the public! These courses cover the areas of knowledge for each FAA certificate and rating, potentially saving thousands of dollars compared with one-on-one ground instruction. Unlike online courses, however, you will have the support of our instructor and your fellow students to help you through the material.
Why choose Aviation Science at PCC?
Salary
The Oregon Employment Department reports that Portland-area pilots earn from $34,669 to $110,547 per year. The average annual salary is $58,408. Most positions earn much higher salaries later in a career. Some positions also include flight benefits for you and your family.
Portland Community College's Aviation Science program, in contrast to similar programs, provides quick entry into an often daunting field. Our hands-on training allows you to become a professional helicopter or airplane pilot as soon as you complete the degree.
Our inclusive admissions process, in concert with PCC's mission to help people get started and succeed in college, will help you ready yourself for success in both the program and the profession regardless of where you are starting. Even if you have never attended college before, you can get your start in this program.
Our instructors possess years of in-flight and industry experience and a wealth of common sense about becoming a professional airplane or helicopter pilot.
Graduate testimonial
"I tell everyone how I did it. I was working and going to school at the same time to fuel my addiction to flying. I had a great time with it. I definitely would tell (new students) to get a hold of Larry Altree and talk to him. Flying is never the same. There is always something new and it's very challenging." Mike Lane Aviation Science, airline pilot
How is this program different from just going to a flight school?
You could earn all the same FAA certificates by going to a reputable flight school. There are big advantages to making PCC a part of your aviation training:
You get to count the flight training towards the college degree which saves you time over having to get a degree separately from your flight training.
The Aviation Science AAS college degree will allow you to move forward with your career. Even if you decide that you want to eventually earn a bachelor's degree, the AAS degree will allow you to begin your career sooner.
You will be a safer, more effective pilot and flight instructor with the knowledge you obtain in the aviation academic courses that go above and beyond what the FAA requires for certificates.
You will be surrounded by students who are on the same path as you, who help one another succeed and will be the beginning of a critical network of contacts that will enhance your career.
Degrees and certificates
What will you learn?
Class information
Our program offers in-flight training, knowledgeable instructors, and the opportunity to achieve in-depth specialization. You will learn to:
Make sound, rapid judgments based on flight conditions
Maintain concentration under demanding conditions for extended periods
Provide customer service
Read and interpret technical data
Solve flight and aircraft problems
Use the latest  technology
Write concise reports related to flight activities
Learn more on the program overview page. You can also explore our program costs and frequently asked questions.
What will you do?
The professional airplane or helicopter pilot is responsible for the safety of each flight. This includes:
Airplane pre-flight checks
Communication with flight control
Flight route planning
Making split-second decisions for safe take-off and landing
Managing aircraft speed, altitude, and heading based on flight information
Overseeing cargo or passenger loading and unloading
Responding effectively to abnormal or emergency flight conditions
Weather checks and evaluation
Who will hire you?
After earning FAA Commercial Pilot and Flight Instructor certificates, most pilots build their initial flight experience as flight instructors. After about two years of work as a flight instructor, you may be eligible for many pilot positions such as:
Charters
Corporate aircraft
Helicopter scenic tours
Helicopter oil rig support
Helicopter logging
Helicopter construction support
Helicopter life flight services
Regional airlines
An Associate of Applied Science degree increases your eligibility for many of these positions. Our graduates have also found work overseas though foreign countries may require additional certification. If you pursue a four-year degree at another school, you may find jobs in any of the major, international airlines.
Professional organizations
Aviation Science and VA funding
PCC has restructured the Aviation Science program to return to a student-centered approach to flight training. This enhanced flexibility fulfills our mission to accommodate a broad range of students. Our focus on your needs will bring you the proficiency to achieve your goals and prepare you for an outstanding career in this high-growth industry.
However, this flexibility means that PCC's program does not meet with Veterans Administration (VA) regulations and is not eligible for VA funding. As such, PCC will be unable to admit new, VA-funded students to the Aviation Science program. Learn more about this change.
Transferring to a four-year college or university
See the program overview page for information about transferring.
Not quite ready to apply?
We can help you get the info you need.