Secretary Pete Buttigieg impressed by PCC and 82nd Avenue transportation work
Photos and Story by James Hill
It wasn't a quick pitstop, but nobody was complaining.
On Friday, July 7, Congressman Earl Blumenauer's 82nd Avenue Bus Tour with U.S. Transportation Secretary Pete Buttigieg got a very in-depth and long look at the community support and partnering happening along the main arterial. The group stopped by Portland Community College's Southeast Campus where President Adrien Bennings hosted a walk-and-talk with gathered media and dignitaries, including Congresswoman Suzanne Bonamici, U.S. Senator Jeff Merkley and Oregon Governor Tina Kotek. The guests were provided a glimpse of how the college is part of the community, developing pathways in workforce development and connecting students to transportation options.
"Thank you President Bennings for hosting us here and for speaking to the ways in which transportation is so important to students and students are so important to transportation," said Secretary Buttigieg. "The latter because there is no way we can deliver all of these projects or fix and operate all of these transit vehicles and do any of the other things that we have ambitiously set out to do without the students, who we are training for success in their careers."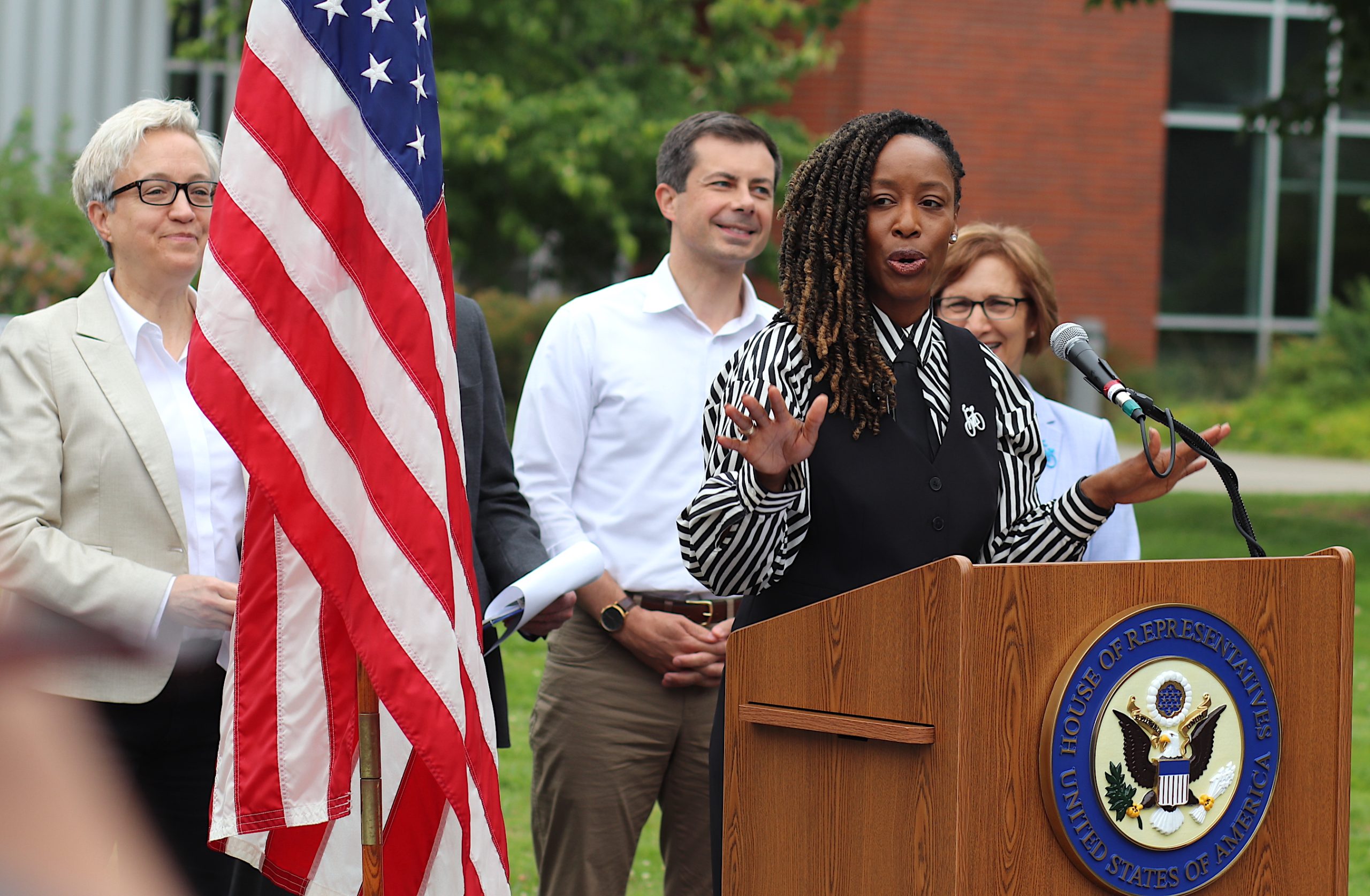 The Strategic Plan: Belonging
The 2020-2025 Strategic Plan prepares the college for the future of higher education. Led by President Adrien Bennings, part of this plan is creating a sense of belonging and well-being for every student and staff, ensuring access to key resources like transportation, develop intercultural competencies, and support a culture where everyone feel acknowledged, inspired and supported.
According to Congressman Blumenauer, 82nd Avenue has long been overdue for investment. The tour was an opportunity for local leaders and organizations to show Secretary Buttigieg what's possible when the community comes together to craft a vision and advocate for change. Blumenauer said he is encouraged by the work that's already happening — from the recent jurisdictional transfer and affordable housing investments to the creation of the Jade District and life-saving pedestrian safety improvements.
PCC partners locally with TriMet to offer access for its students all year long, including this summer on the "Free Summer 23" program. This project connects students who rely on transit to free passes during summer months. This program is just one of many ways TriMet and PCC are partnering to increase access for college students and the region. 
"At PCC we focus on equity, education, training, and providing resources needed for students to attain good-paying jobs that meet the needs of employers throughout our region," said President Bennings. "But, as we know, the biggest barrier to college that students face is not having their basic needs met. Our students can't learn if they don't have a safe place to sleep, enough food to eat, or if they can't get to campus.
"Increasing student supports has been a priority for the college, especially as we continue to recover from the COVID-19 pandemic," she continued. "With the support of Governor Kotek, Representative Pham, and many others, PCC leads the statewide efforts to coordinate benefits navigators, who connect students to critical resources like food programs, housing, childcare, and transportation."
Photo Gallery