This content was published: September 27, 2018. Phone numbers, email addresses, and other information may have changed.
TriMet coming to PCC to offer reduced fares for low-income students
Photos and Story by James Hill
For those students in need, there's a greater, and cheaper, option available to get to their classes.
TriMet is coming to Portland Community College to sign up students who qualify for new HOP low-income fares. TriMet staff will verify students eligibility and take their picture so they can pick-up the pass card either at the TriMet ticket office in Pioneer Square or through the mail. SNAP, OHP, WIC, HUD, Free/Reduced Lunch, Oregon and Federal Energy assistance programs, and active unemployment are all auto qualifiers for the program.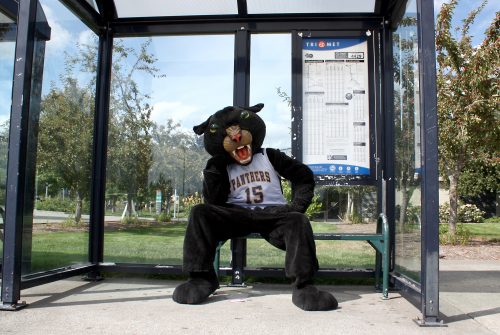 For more details on eligibility visit trimet.org/lowincome.
The TriMet van will be onsite at each PCC campus from 9 a.m. to 5 p.m. Interested students need to bring their SNAP, OHP, TANF, Emergency Assistance, Free/Reduced Lunch, HUD Assistance or WIC information. TriMet can verify income using tax documents or recent pay stubs for the last 30 days.
TriMet's schedule is:
Sylvania Campus — Monday, Oct. 1 and Tuesday Oct. 2, in front of TCB.

Southeast Campus —  Wednesday, Oct. 3 and Thursday, Oct. 4, between Mt. Scott and the bank.

Cascade Campus — Monday, Oct. 8 and Tuesday, Oct. 9, Borthwick Mall.

Rock Creek Campus — Wednesday, Oct. 10 and Thursday, Oct. 11, in front of Building 5.