PCC's first permanent training facility in Columbia County is set to open in August
Photos and Story by James Hill
Years of planning and construction have finally paid off as Portland Community College's Oregon Manufacturing Innovation Training Center opens for some in-person classes this summer and a limited amount of credit offerings this fall.
The training center is the educational arm of the Oregon Manufacturing Innovation Center (OMIC) initiative — a collaboration of industry, higher education and government that combines applied research and development and workforce training. PCC's facility is traditionally known as the OMIC Training Center and is located at the Columbia County Center (34001 NE Wagner Ct. in Scappoose). It is PCC's first permanent physical location in the region.
There has been plenty of activity leading up to the opening of the center. The facility recently earned LEED Silver for its sustainable construction and operations. In June, the Oregon Community Foundation awarded the PCC Foundation a $100,000 Leadership Grant to help the center purchase capital equipment and provide local students with scholarships and financial assistance.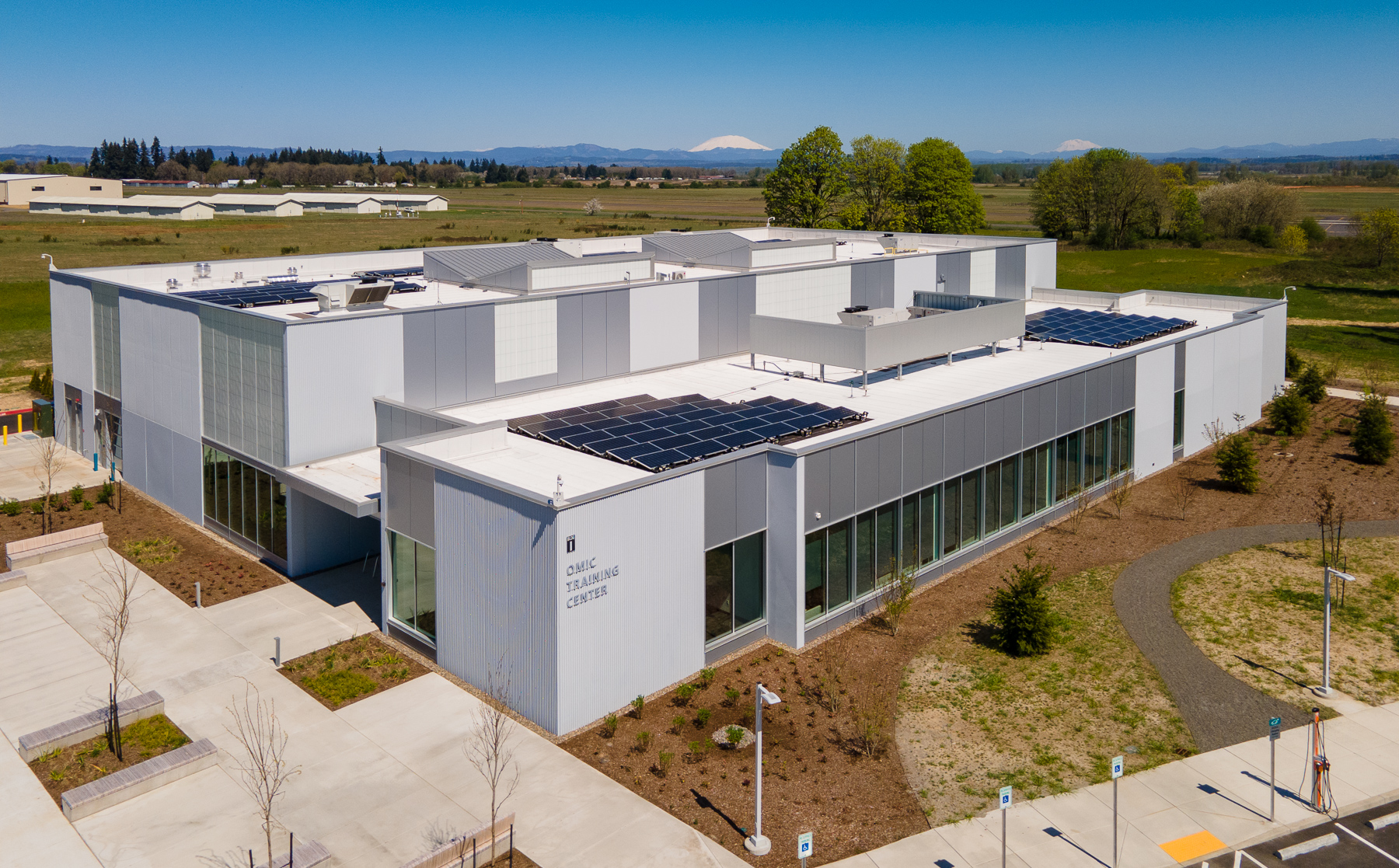 On Ramp to Manufacturing
The Columbia County Center's first facility officially opens on Monday, Aug. 16 with a free, five-week series of "On-Ramp to Manufacturing" classes. These offerings are designed for people interested in working in advanced manufacturing and are designed to give students flexibility in attending some of the sections or all three.
These non-credit, introductory classes help participants make informed decisions about their careers, build skills for success in school or on the job, and access support on their journey to becoming a PCC student.
"Not only will this lead grant from OCF provide the OMIC Training Center with critical financial resources as we prepare to open our doors to students in the fall, but it will serve as a catalyst to engage additional corporate- and private-sector philanthropy beyond OMIC's industry partners," said Andrew Lattanner, director of the OMIC Training Center. "These investments will ensure that we are ready to outfit the training center with the equipment and technology to support real-world industry education and innovation that is critical to both the success of the manufacturing sector as well as to our students."
Serving a Need
Locally, Oregon's manufacturing industry reports a need for shorter, quicker training programs to keep up with change and to engage more young people in these careers. When it opens, PCC's OMIC Training Center will connect students to careers in advanced manufacturing and offer crucial skills training.
Once in full operation, PCC's 32,000-square-foot advanced manufacturing training facility will house a number of manufacturing-related programs, including machining, welding and mechatronics. It will support both traditional and work-based learning models like registered apprenticeship, pre-trades programs and internships, while providing introductory, intermediate and advanced training in machining, computer numerically controlled (CNC) lathe operation, CNC mill operation, welding and fabrication and other areas of advanced manufacturing.
"As we work to respond to the uncertain economic times, manufacturers continue to play a critical role in our region by doing what they do best — innovating and adapting to the demands of the changing economy," Lattanner added. "The same is true of the manufacturing workforce, which must continue to develop new skills to operate smarter technologies and build stronger, higher-quality, and more advanced products more efficiently."
Sustainable Design and Operations
Featuring the latest sustainable design features, the OMIC Training Center earned LEED Silver this past year. PCC promotes sustainable design principles for all of its bond-funded work, which is an integral part of the college's goals to meet its Climate Action Plan.
The open and spacious design allows for plenty of room for programs and classes. Interior windows allow plenty of light into the center, which features mechatronics, welding, fabrication, measurement and verification, computer aided design (CNC) and programmable logic controller labs. Plus, the facility features classrooms and group study and collaboration rooms, and more.
LEED evaluated OMIC in several categories: location and transportation; sustainable sites; indoor environmental quality; materials and resources; water efficiency; innovation and design; and energy and atmosphere. Project Manager Gary Sutton said that despite the center requiring infrastructure that can support robust electrical and HVAC needs due to the type of programs housed there, the center's open-concept design made the difference.
"PCC designed a building to maximize transparency," he said. "We want people inside the facility to see the technologies and training and get a feel for a modern manufacturing environment. We incorporated glass and natural daylight to brighten the space and showcase the exciting things going on in the various labs, classrooms and shop areas."