This content was published: February 8, 2021. Phone numbers, email addresses, and other information may have changed.
PCC's CTE, academic programs and partnerships driving economic recovery
Photos and Story by James Hill
For any economic recovery from the effects of the COVID-19 pandemic and wildfire devastation in Oregon, community colleges will be the engine.
Oregon's 17 community colleges provide the opportunity to gain the academic, technical and employability skills necessary for true career readiness. They all serve critical roles, particularly in assisting marginalized Oregonians who have been the most adversely impacted by these challenges.
Portland Community College students have a choice of career-technical education (CTE) programs that provide pathways to great careers and helps employers fill the skills gap. In addition, students can take many of the freshman and sophomore courses they'll find at universities everywhere at a fraction of the cost, which in turn helps close the opportunity gap in the state. In total, more than 5,000 students transfer PCC credits to a four-year college or university every year, and they achieve a higher grade-point average than students who begin at a four-year institution.
Serving the Community
The avenue to opportunity isn't just in what PCC has to offer in training and academic courses, but also in key partnerships that break down barriers for the under-represented in the community. Last fall, PCC partnered with Multnomah County Communicable Disease Services to host a free, weekly, flu vaccine and COVID-19 testing drive-thru clinic at the college's Cascade Campus so that people of color who don't have health insurance can be served. The clinic is still being offered. Flu vaccine and COVID-19 testing is available from 11 a.m. to 6 p.m. every Wednesday through until March 31. Call to schedule your appointment at 503-988-8939.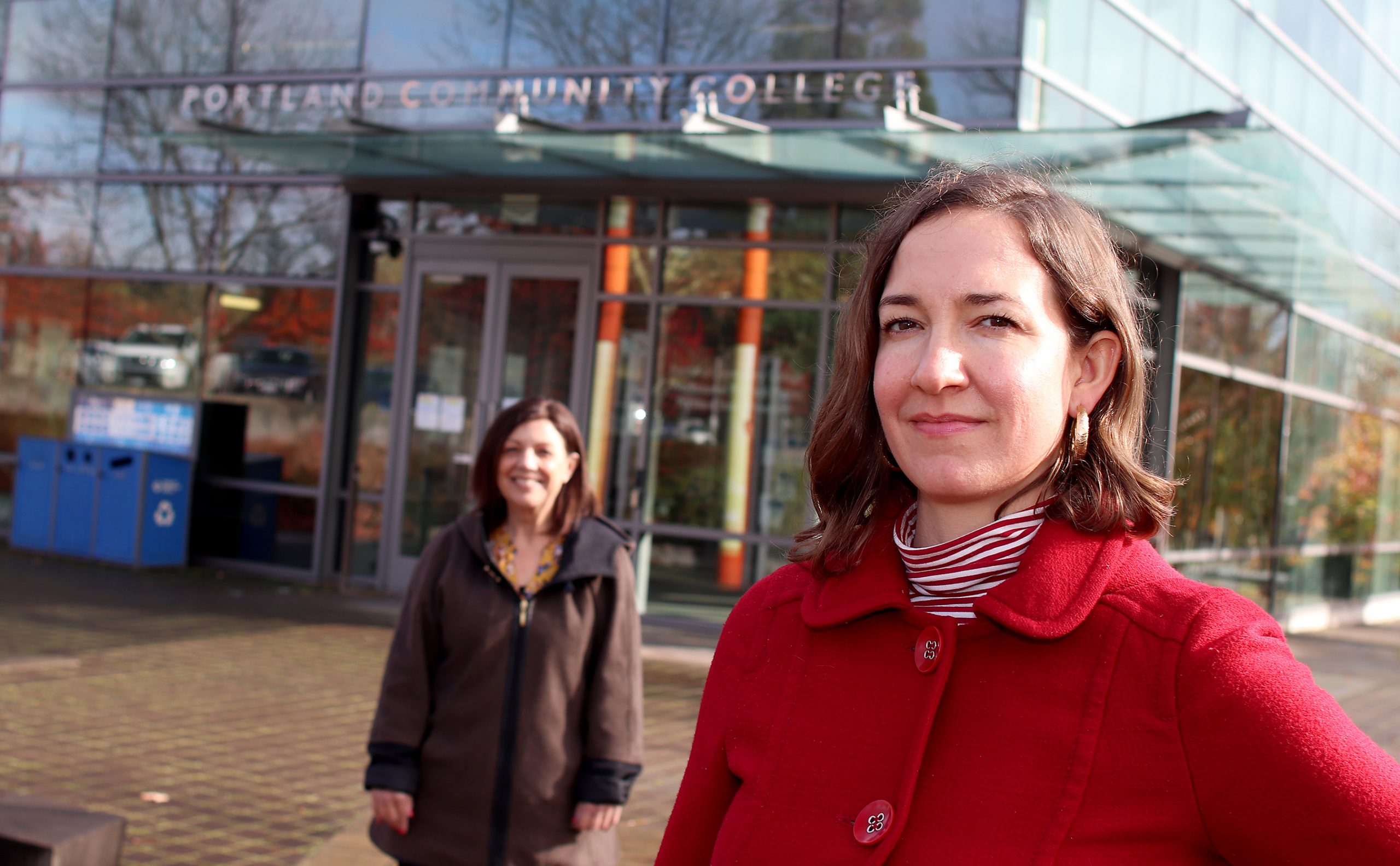 On Ramp to CTE Careers
A $2.25 million Title III grant to PCC's equitable student success initiative is assisting community members in Washington County find career-technical education (CTE) training and jobs. The On-Ramps to Trades Series is an industry-focused, skills-based courses designed to expose would-be students to the career opportunities available to them through PCC's CTE offerings.
"Portland Community College is proud to partner with Multnomah County and offer flu vaccines and COVID-19 testing, especially as pandemic cases continue to spike in Oregon," said Brooke Loyd, PCC's Emergency Preparedness manager. "Our collaboration will help to protect the most vulnerable Oregonians."
To help frontline workers battling COVID-19, the college's CTE programs banded together in 2020 to collect or manufacture Personal Protection Equipment (PPE). Programs like Veterinary Technology, Dental, Emergency Medical Services, Nursing and others donated 11,427 items, including 10,000 pairs of gloves, 450 exam tissues and 245 caps, to local doctors and nurses.
In addition, the Microelectronics Technology Program coordinated a 3D-printing production facility, making 200 face shields and straps for the Virginia Garcia Memorial Health Center while the PCC CLIMB Center contributed 104 boxes of gloves, five boxes of masks, 13 containers of hand sanitizer, and 14 boxes of alcohol pads to the Providence St. Vincent Medical Foundation.
Last summer, Gov. Kate Brown requested that all university and community college firefighting programs release students and staff from training so they can provide support to the effort to combat the Oregon wildfires. PCC's Fire Protection Technology Program heeded the call and sent more than 60 students, staff and faculty to help weary firefighting crews and to support operations.
The program already has hundreds of trained firefighting alumni working in fire districts all over Oregon. This includes Scio Fire Chief Levi Eckhardt, who taught Emergency Medical Services classes at the Cascade Campus after earning an associate degree in fire science. While in the PCC program, Eckhardt worked at the Cornelius and Banks fire departments where he served as captain and training officer, respectively.
Creating Healthcare Pathways
To help with Gov. Kate Brown and the Oregon Health Authority's directives on re-opening procedures, the college created a new program to help the community battle the coronavirus. Last summer, PCC established the Contact Tracer Training — a self-paced, non-credit course, teaching the basics of COVID-19 and contact tracing skills. Nearly 300 students had signed up within the first few weeks of the online course going live.
PCC's CTE programs may not be completely up and running due to COVID-19 safety protocols, but they have been key in guiding students caught in the pandemic to completion. For instance, nursing students wondered if they could ever graduate and care for COVID-19 patients when their program paused due to safety concerns. However, PCC staff and instructors were able to shift to a remote format to enable students to finish their degrees.
Many of the students had been working towards their degrees for years and faced financial hardship. 
"I worked part-time during nursing school, but due to COVID, like a lot of us, I got laid off," said student Alena Hasson. 
Classmate Chris Immonen added, "My wife is a hair stylist and she pushed really hard, doubling up on clients, so I could concentrate on nursing school. I needed to finish. I was ready to begin my career."
Staff assisted them to not only graduate, but pass the NCLEX-RN exam. Immonen landed an emergency room position with PeaceHealth Southwest Medical Center in Vancouver, Wash., while Hasson transitioned into a nursing role in the Portland Clinic's urgent care department.
"We're on the front lines, all the way from putting patients into isolation rooms to notifying the Oregon Health Authority if their tests are positive," Hasson said. "PCC has changed my life. I was able to learn and grow and get my career started. I met some amazing people along the way and learned a lot. It's changed my life for the better in every way."