COVID-19 Contact Tracer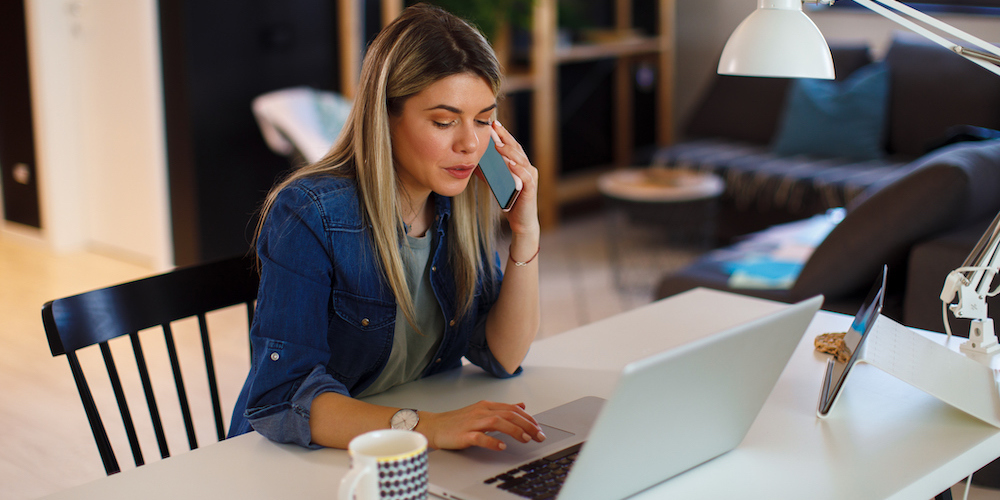 Become a vital partner in the fight against the spread of COVID-19 in your community.
Governor Kate Brown and the Oregon Health Authority have both identified Contact Tracers as vital roles for county and city health departments to ensure the safe re-opening of business. Contact Tracers from all backgrounds are needed throughout Oregon to help track and monitor the spread of COVID-19.
Acquire culturally sensitive interviewing skills, take the first step toward the frontline of defense in this online, self-paced program.
The Job
Contact tracers will be used to reach out to individuals who have been in close contact with someone who has tested positive for the COVID-19 virus. Contact tracers advise individuals to stay home and maintain social distance from other people for 14 days after they've been exposed to the virus. During this time, the exposed individual will be encouraged to check their temperature twice a day and monitor whether or not they develop any COVID-19 symptoms like coughing or shortness of breath. Contact tracers will then check in with these individuals daily to ensure that these self-monitoring steps are being taken. In the event that symptoms do arise, the individual will be advised to seek medical care medical care and the presumptive case will be reported to the local public health department.
The Program
Portland Community College's Contact Tracer Training is a self-paced course made up of six modules adapted from the Oregon Health Authority's Contact Tracing Fundamentals. Participants will have up to 2 weeks to complete the course. Students will learn:
The basics of COVID-19 and Contact Tracing
Why HIPAA is important for Contact Tracing
How to practice cultural humility as a Contact Tracer
The basics of motivational interviewing
How to develop and effectively deliver a Contact Tracer phone script
The Investment
Time: 8-10 hours, 6 self paced modules to be completed in approximately 2 weeks
Class Fee: $65
The Instructors
Janis Crawford, PhD

Hello! My name is Janis Crawford. Email: janis.crawford@pcc.edu
I am an adjunct instructor in the Addictions Counseling Department at Portland Community College. I have been training human services professionals in clinical and communication skills since 2015 and teaching students at Portland Community College since fall of 2017. In addition to learning and teaching, I have a small private practice providing psychotherapy for adults and couples, which is now via phone or virtual meetings. My passion for learning and growing as a professional has led me to work within the department of corrections developing and implementing substance use counseling programs, and at the detoxification and stabilization unit in Providence Medical Center where I provided program management and clinical supervision for substance use counselors and medical staff.
My philosophy of teaching an online course is that I'm a guide for your success. This is different from many traditional classes, in that I won't be meeting you for lectures or leading interactive group activities. The responsibility for "getting" the material in this course up to you. An online course like this one requires maturity and active participation on your part. I am present and active in fielding ongoing questions and assessing your assignments (discussions, quizzes, script, and self-evaluation). You can think of me as a coach, interested in your success and your independence.
"To be compassionate is to actively promote the others welfare, to give priority to the others needs." Motivational Interviewing 3rd edition, page 20
Emily Gaige
My name is Emily Gaige and I am an adjunct instructor in the Health Studies Department at Portland Community College. I was born and raised in the Portland, Oregon area and have lived here my entire life except during high-school and college when I lived overseas in Torun, Poland for four years. I have a Master's degree in Public Health with an emphasis in health management and policy which I received from the Oregon Master of Public Health program. At the time of my study, this was a tri-university collaborative between Portland State University, Oregon Health and Sciences University, and Oregon State University.
Most of my professional background is in health care. I originally started working as front office staff in a medical office and then transitioned to working with community health centers in Oregon around health systems change.
In my free time I enjoy running, cycling, dancing, cooking, making soap, roasting coffee, sewing, tending to my garden, reading, traveling, and thinking about health and what it would take to get people to live healthier lives.
I started teaching at Portland Community College in 2013 and I am passionate about creating a positive learning environment where individuals feel safe and comfortable in expressing their thoughts and ideas and learning new information. I enjoy discussing emerging health topics while asking my students and myself to reflect upon what they are doing to make their own lives the most healthful and productive they can be.
Virginia Chambers

Virginia Chambers is the department faculty chair and program director for the Medical Assisting Program at Portland Community College. She is responsible for maintaining national accreditation standards and curriculum development. She has been working in healthcare for more than 25 years and is enthusiastic about the learning. It was because of her love for learning that led her to PCC. After finishing her master's degree in Healthcare Administration and Management she started teaching in the Medical Assisting Program. Ten years later, she is still as enthusiastic and excited about supporting student success.
In 2015 Virginia was awarded the Educator of the Year by the Oregon Society of Medical Assistants and later that same year received the Golden Apply award by the American Association of Medical Assistants. In 2017 she received the John & Suzanne Roueche Teaching Excellence award from the national League for Innovation in Community Colleges.
Virginia serves on several tasks force committees, including Oregon's Educators Forum and the AAMA's Leaders in Education and Practice.
As a Medical Assistant, Virginia has been exposed to a wide range of unique clinical experiences. From working as a phlebotomist in a small Forest Grove clinic to working as a clinical research assistant at OHSU. Much of Virginia's career was spent working two jobs while going to school and exploring opportunities for personal and professional growth. She has traveled with NW Medical Teams to Oaxaca and worked on a farm for a month in Mullingar, Ireland.
You can see her entire journey by visiting Virginia's PCC faculty webpage.
FAQs
How can I learn about future classes?
Sign up to this mailing list to be among the first to be alerted about new classes, as they become available.
Do you offer COVID-19 Contact Tracer training for an organization or business?
Yes! Contact our Professional Development & Training team to learn more.
What does a contact tracer do?
Contact tracers help to ensure the safe, sustainable and effective quarantine of contacts to prevent additional transmission by tracing and monitoring the contacts of infected people and notifying them of their exposure.
Is it safe?
Yes, COVID-19 contact tracers work from the comfort and safety of their home.
How many hours should I expect to spend in this training program?
The program has been designed to allow students to navigate at their own pace with all students completing in no more than two weeks. The total program can be completed within approximately 8-10 hours.
What time of day do I need to be online for instruction?
This course can be done on your own schedule. It allows students to access information (e.g., pre-recorded videos, reading materials, etc) and demonstrate what they've learned on their own time.
How is this course structured?
Students will navigate through specific modules that focus on a main topic which will be broken down into lessons or sub-modules. Students then learn from pre-recorded video lectures, discussion boards, quizzes, case studies, and more for each lesson. Module quizzes and a final project are also required.
Will I receive a grade?
This is a non-credit program, so students will receive a Successfully Completed or Not Successfully Completed grade. To pass the course, students will need to achieve 70% or higher on all assignments, quizzes and exams. Your percentage will be calculated from the number of points earned out of the total points available. Points are earned via quizzes, exams, and other participation-based assignments.
What are the technology requirements to participate in this program?
You will need access to a computer or smartphone with an Internet connection. Access to a printer is preferred (but not required). While the course is available via smartphone, it is advisable that students use a computer for a better learning experience.
Am I guaranteed a job after this program?
While we cannot guarantee a job, it is important to note the high demand for contact tracers. Preliminary reports suggest that more than 100,000 contact tracers are needed nationwide in the very immediate future to help prevent further spread of COVID-19. In addition, our curriculum is aligned to specific training guidelines per the Center for Disease Control (CDC) and the Oregon Health Authority (OHA), which is a benefit to students who complete training through our program. Several positions may require additional education, experience and other related professional or technical skills. PCC students are encouraged to work with our Career Services team for additional support in resume development, job search and interview skills.
What if I want to continue my educational career at Portland Community College after completing this program?
We welcome you to continue at PCC after program completion. We offer many flexible opportunities to earn a degree or certificate in a wide variety of subject areas. For more information on all of PCC's health programs visit pcc.edu/ihp.
En Español
Vuélvase un aliado en la lucha contra la propagación de COVID-19 en su comunidad. Español CTT Flyer Jan2021 (1)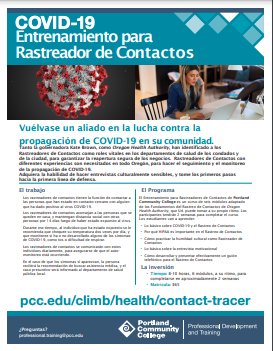 Upcoming Course Schedule
Don't see the course you want? Contact us for more information.
Loading...
Questions?
For more information, please email PCC Professional Development & Training.
From the IHP Blog
The Essential Role of Sterile Processing Technicians (and How it Can Help Your Career)

Thu, 10 Mar 2022
Hospitals and other clinical care facilities can only operate because they maintain meticulous attention to cleanliness. People expect hospital spaces to be clean to prevent complication risk due to exposure to outside bacteria or viruses. As a result, healthcare settings employ Sterile Processing Technicians who are very well versed in how to completely, carefully, and…

How a PCC Student Became a Pharmacy Technician in the Pandemic

Wed, 25 Aug 2021
Pharmaceuticals is a growing field, and the demand for pharmacy techs is high. It is a field that never has a shortage of work. However, just like in other industries, current events have made working in the pharmacy even more difficult than it was before.

Explore the Optician Assistant Training program at PCC

Mon, 03 May 2021
There's a growing field in Portland that you've got to see to believe! No, really! At PCC you can get started in a career as an Optician Assistant after just one term in the Optician Assistant Training program. On the last day of class you can turn your resume in to a potential employer.