Ophthalmic Medical Technology students excited to return to in-person training
Photos and Story by Abe Proctor | 3 comments
If you're a history professor and your college is forced to transition entirely to online and remote instruction – as Portland Community College did in response to the coronavirus outbreak – it's a problem, but not an insurmountable one. But what if your academic discipline relies more on hands-on, laboratory instruction than it does on old-fashioned book learning?
That is the dilemma faced by the Ophthalmic Medical Technology Program (OMT) and all of the college's healthcare training programs. The sought-after, successful program – known for the extraordinary rates at which its students pass their certification exam and are placed in jobs – was forced to scale back in spring term due to COVID-19. Its lab-intensive curriculum was simply incompatible with the realities of social distancing.
Fortunately, thanks to some innovative thinking and intensive preparation, Ophthalmic Medical Technology is resuming instruction this summer and fall terms.
"Students and faculty are ready and excited to get back into the lab to practice hands-on skills," said Adeline Stone, chair of the program. "The graduating class of 2020 is especially excited to finish their degrees and work in the field after this summer."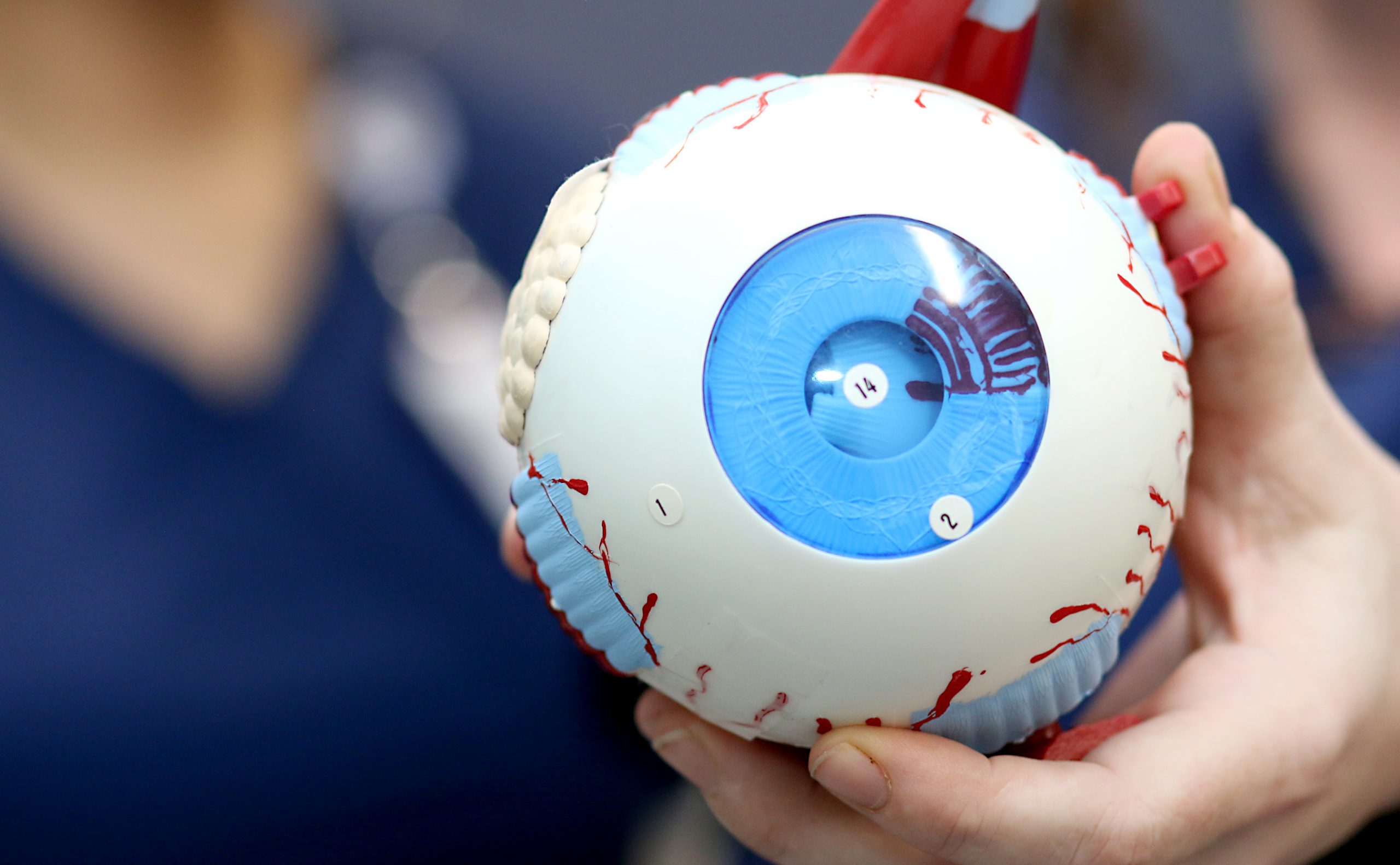 Healthcare at PCC
The college has many healthcare-related programs for students to enter like Ophthalmic Medical Technology. These programs represent an array fields and skills that are in big demand by local employers such as:
For a program like OMT, Stone said, the biggest obstacle is having enough personal protective equipment (PPE) for students, clinicians and instructors alike, as well as making sure everyone is using PPE correctly.
"Our biggest concerns are making sure our students are safe and getting access to any resources needed within or outside of PCC to be successful with their training in the OMT program," said Stone, whose program sports a 100% pass rate of students on the written Certified Ophthalmic Technician (COT) exam. "This includes ensuring that students and faculty are protected during in-person education with disinfection steps, and making sure proper protocols of hygiene from the CDC (Centers for Disease Control and Prevention) are followed."
The practicum portion of OMT's curriculum involves working with patients, technicians, doctors and staff in an active clinical setting. As the program's practicum returns, she said, it will be guided by the existing hygienic practices recommended by the ophthalmic community and the Oregon Health Authority.
Many of these hygienic practices were already in place before the coronavirus outbreak, but clinics are now more actively communicating about them with patients for their protection and peace of mind, as well as placing limits on who is in clinic at a given time. In addition, the OMT program and other allied health programs at PCC are providing additional education via online training modules to students about PPE use and blood-borne pathogens, and implementing temperature tracking for 14 days before their clinical experience.
In preparing to relaunch OMT's clinical practicum, Stone said the program had the advantage of being able to work in close collaboration with partners in the community. She added that industry partners are collaborating with the program by allowing students to attend clinicals in block schedules, making it easier for them to take part in the practicum.
But the clinical practicum, however important to students' training, represents only a portion of their education. They also spend a good deal of time in the program's skill lab, which poses its own challenges in the COVID-19 era. One of these is the fact that observing social distancing guidelines means that fewer students can occupy lab space at the same time. The impact of this, Stone said, is that more sessions of lab-based courses will be made available to students this summer.
"The current plan for the summer is to have these lab courses available with remote lecture learning occurring prior to lab instruction," Stone said.
She added that a principal ingredient in retooling the program for COVID-19 is flexibility – they are continuing to explore new ways to instruct and interact with students while preparing to adapt to any unforeseen developments in the ongoing coronavirus situation.
Despite the difficulty posed by first having to scale back the program, and then figuring out how to safely revive it, Stone said that she believes the adaptations they're making now will benefit OMT and its students in the long term.
"The OMT program had already been working to offer more distance learning opportunities," Stone said. "The silver lining is the speed at which we will now be able to offer this for students who are working, as well as students who have families or who are commuting long distances to campus. We think this will help us better serve many more students and, ultimately, continue to give a strong foundation to the hands-on learning and training we offer."