Homepage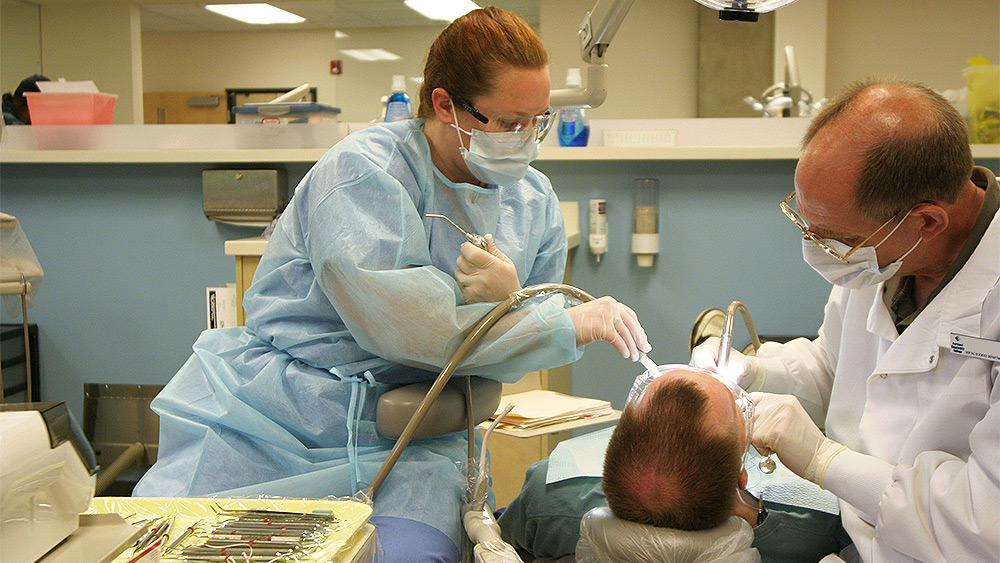 Dental assistants provide both technical and communication skills to assist the dentist.  Sometimes dental assistants work independently to serve patients.
The Oregon Employment Department forecasts Portland area dental assistant employment will grow 12.6% through 2027.
Why choose Dental Assisting at PCC?
Salary
The Oregon Employment Department reports that Portland area dental assistants earn from $24.14 to $31.00 per hour. The average annual salary is $55,725.
Dental clinic
Our dental clinic will provide you with opportunities to practice your skills and serve the public.
With an onsite community clinic, additional off-campus sites, and a wealth of college resources, Portland Community College's Dental Assisting program offers a strong foundation that enables quick entry into a high-demand field. In just nine months, you can begin a rewarding career in which you care for the dental health of thousands of people. PCC dental assisting graduates are in high demand.
Certification and accreditation
When all course requirements are completed with a C grade or higher, you are eligible to graduate with a Certificate in Dental Assisting from PCC and Oregon Certification in Expanded Functions. You are also prepared for the Dental Assisting National Board Exam (DANB).
Our one-year certificate program is accredited by the Commission on Dental Accreditation. If needed, you may file comments or complaints with the Commission on Dental Accreditation (CODA) about the program concerning Accreditation Standards. (View CODA Dental Accreditation standards.)
Degrees and certificates
What will you learn?
Class information
More information
In the news
PCC will prepare you to provide the complete range of services dental assistants provide:
Clinical laboratory skills
Handling water, air, and suction devices
Mixing dental cements, bases, and impression materials
Office management
Oral hygiene instruction
Organization of the treatment room
Recording medical and dental histories
Rubber dam use
Sealant and fluoride application
Sterilizing instruments
Study model preparation
Topical anesthetic placement
X-ray filming and developing
What will you do?
Certified Expanded Functions Dental Assistants (EFDA) are in high demand. Dental assistants are hired by private dental offices and large dental clinics.
To work as a dental assistant in Oregon, graduates must take the Radiation Health and Safety exam and demonstrate the ability to take dental radiographs. Graduates are also eligible for the Oregon Expanded Function Assisting (EFDA) endorsement. Further testing through the Dental Assisting National Board (DANB),  allows graduates to become Certified Dental Assistants (CDA). For additional information about the testing and certification process, please contact Dental Assisting National Board (DANB) at 1-800-367-3262.
Transfer options
You should speak with an advisor at the institution you plan to transfer to, as they will have the final decision in determining which of the PCC credits are transferable and accepted.
Not quite ready to apply?
We can help you get the info you need.