This content was published: October 7, 2019. Phone numbers, email addresses, and other information may have changed.
To help students succeed at math, two instructors have 'flipped' their classrooms
Photos and Story by James Hill
Two Portland Community College math instructors have developed a new formula for how their students learn.
Jessica Bernards and Wendy Fresh have taken a national learning model called the "Flipped Classroom" to a whole new level. Students go online outside of class at MyMathLab to watch short videos of lectures created by the instructors that contain embedded introductory questions. Working at their own pace, students can pause and rewind the lectures, filling in corresponding video notes as they go.
The Rock Creek Campus instructors said this helps students stay organized, remain engaged and develop a valuable resource for studying. Having identified the prerequisite skills needed for each section, the instructors provide links to outside resources within the video notes for students to use as needed.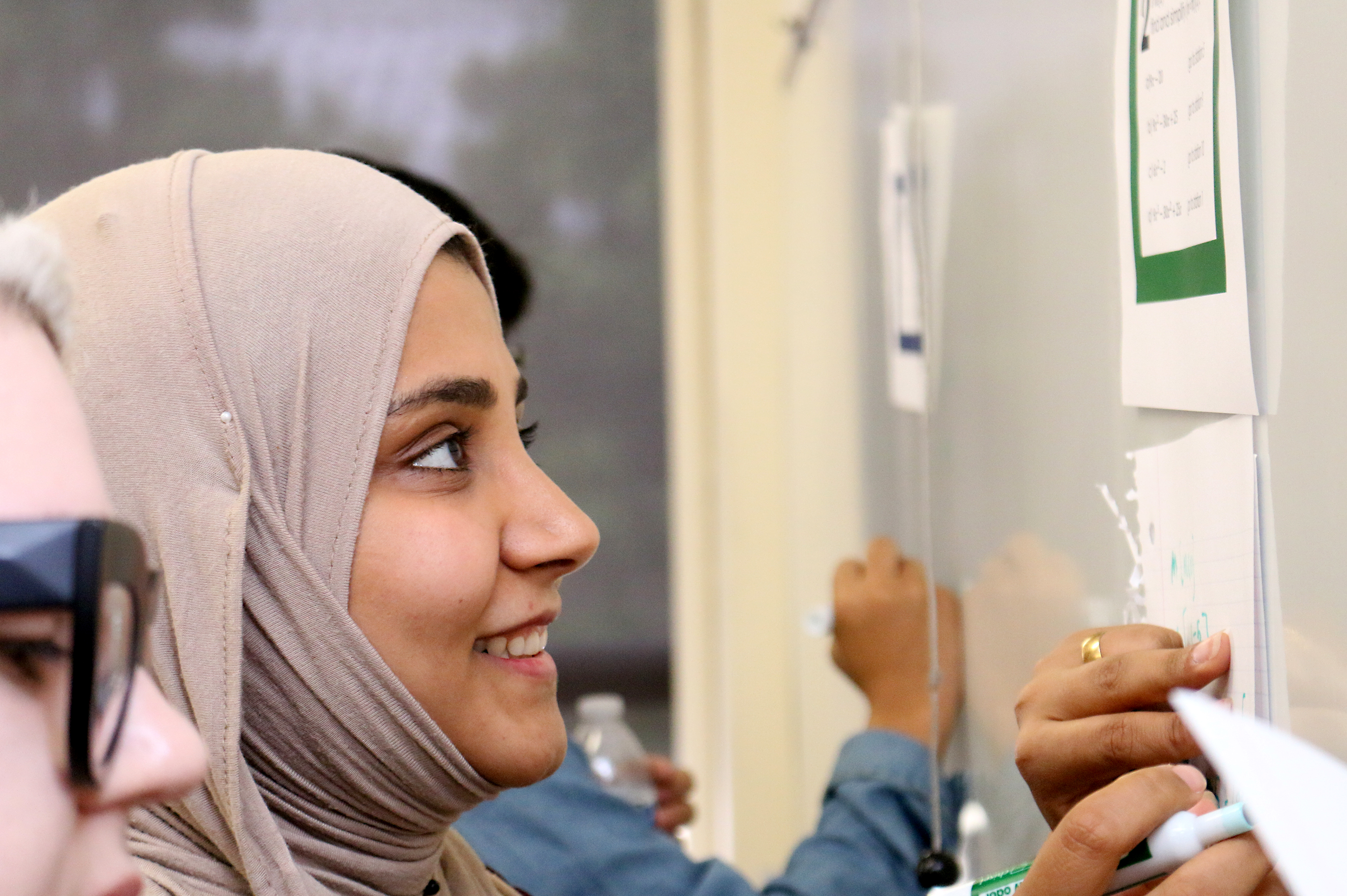 What is a Flipped Classroom?
At home, students watch lectures from short online videos, take quizzes and make notes at their leisure.
In the classroom, the instructor conducts activities and group breakouts that tackle the material so students can receive help and ask questions.
The model fits PCC's Yes to Equitable Student Success (YESS) Initiative, which is implementing guided pathways so students have constant academic and advising support throughout their collegiate journeys.
Then, students attend class not to listen to the instructor lecture for hours and hours, but tackle harder problems under their teacher's guidance. For the first hour of class the instructors organize fun activities designed to accelerate learning and provide opportunities for students to work out common misconceptions of the topics (think puzzles, math jeopardy, station mazes and Kahoot!). In the second hour, they engage in higher-level problem solving, or the "homework," individually. This way, as they're working on their own, they have the immediate support from their instructor and classmates.
"We took this model and put it on steroids," said Bernards, who teaches a hybrid model where students meet once a week. "We are seeing more students coming from a variety of different backgrounds and with varying responsibilities outside of school. I think this model levels the playing field."
In the end, the students have the ability to ask for help without having to schedule office hours with their instructor or wait for pauses in long lectures.
"Everyone brings value to the class and just because you're struggling doesn't mean you are the only one," said Bernards, who travels the country with Fresh to talk about their approach. "It's amazing how close the class gets. It creates an inclusive environment where everyone feels part of the team and they all can learn something from each other."
Fresh added, "It makes it so math isn't this scary thing anymore."
Both instructors have been attending national conferences the past six years learning about the "Flipped Classroom" model at other colleges and universities. They hope to advise more and more PCC instructors on possibly adapting the model to their classrooms.
But does it work? Both of these foundational math classes have some of the biggest fail and withdrawal rates at PCC. However, since 2017 when the "Flipped Classroom" was integrated at Rock Creek, the number of Math 111 students earning A's grew by 27 percent and pass rates improved by 10 percent. In Fresh's course, the number of A's increased by 47 percent while those passing the material grew by 24 percent.
"It was really hard to go back to school with a baby at home," said Beaverton's Nabaa Aldebi, a Math 111 graduate who took the course after returning to college after an extended break. "But it was amazing to have the videos available to watch. They helped me get through the course, which refreshed what I had forgotten since high school."
The success of the completion rates isn't hard to figure, Fresh said. With more engagement in class, students like Aldebi are able to learn efficiently and effectively.
"In the past it would just be us instructors up front with a monitor and we talk, talk and talk," Fresh said. "We would try to answer questions, but it was hard when you had so much material to get through. This model allows us to walk around, answer questions and provide support when they need it. 
"We know the classes' success wasn't a fluke," she added.