This content was published: September 23, 2019. Phone numbers, email addresses, and other information may have changed.
School is back in session and there's plenty to talk about for the 2019-20 year
Photos and Story by James Hill
Can you believe it's almost the year 2020?
There's been a lot of innovation happening in the world. From artificial intelligence to self-driving cars to voice-activated devices; technology, and how we use it, is changing by the second. In education, innovation is happening too and is centered on student support.
Why? Because at PCC nearly 14 percent of students are homeless and 40 percent experience housing insecurity, while nearly two-thirds are food insecure. This can make completing a degree in a timely manner where a students aren't wasting precious financial resources difficult.
But PCC President Mark Mitsui's strategic focus on opportunity and equitable student success has made how the college supports its students and guides them to completion a priority.
"This is what we do," said Mitsui, who was named by the Portland Business Journal as one of its 2018 Executives of the Year. "We help create this bridge between where folks are at, usually first-generation, low-income communities, and we create the bridge to the middle class."
The following stories are a taste of the innovation happening at PCC to help support Mitsui's mission: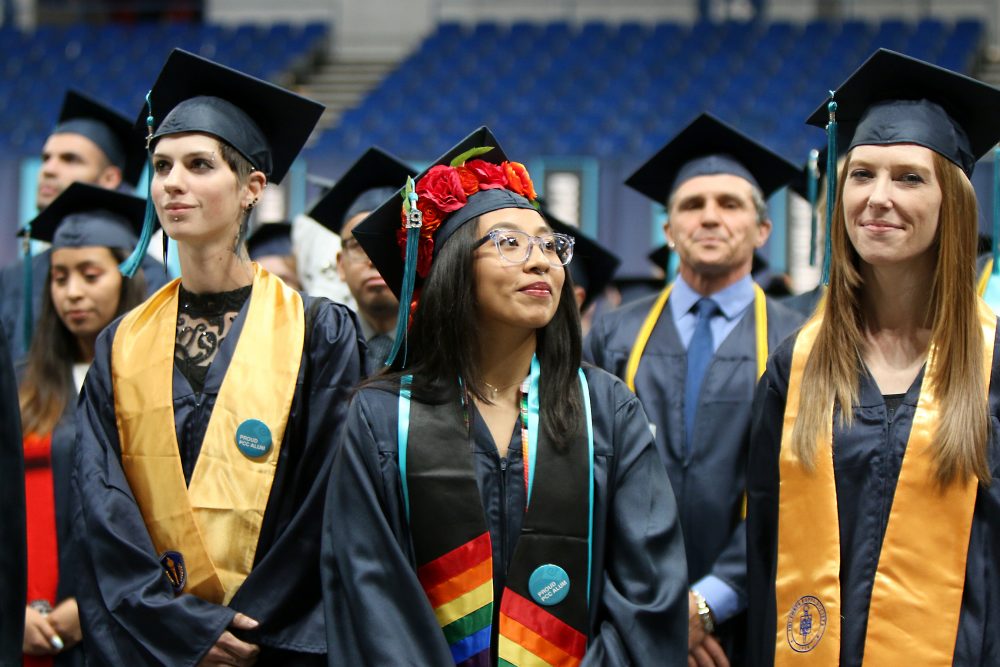 The Answer is YESS
The college's Yes to Equitable Student Success (YESS) is gaining momentum. The student support model is strengthening completion success by creating robust Guided Pathways as prescribed the national Achieving the Dream project. The idea is that students are more likely to complete a credential or transfer to a four-year institution if they have a clear roadmap of what courses they need to take, as well as receive support along the way to ensure they remain on track. 
There are more than 20 teams across the college engaged with the development of YESS. Hundreds of hours have been tallied, all focused on strategic planning for YESS. These have included presentations to the college community, and training and development for key stakeholders. PCC is beginning to implement Guided Pathways this year.
Read More: https://www.pcc.edu/news/2019/07/yess-redesign/
Geomatics is Soaring
The National Science Foundation (NSF) awarded PCC with a $563,123 grant to establish the Enhancing Geographic Information Science Technology Education Project (eGIST). This will expand GIS course offerings and create stackable credentials in geomatics, GIS, and Unmanned Aircraft Systems (UAS) through partnerships with NW Geotech Center and other community colleges developing industry-specific curriculum in these areas.
The eGIST Project will provide up-to-date equipment for the GIS labs, examine curricula for inclusionary approaches for under-represented students, and recruit and retain those students in STEM fields through curriculum, lab exercises and problem-solving activities. The idea is to boost the number of under-represented students taking GIS or geomatics and support them to completion.
Learn More: https://www.pcc.edu/news/2019/09/nsf-grant-geomatics/
Common Denominators
Two Rock Creek Campus math instructors — Jessica Bernards and Wendy Fresh — have developed a new formula for how their students learn that could set a new standard for how faculty run their classes. The dynamic duo have taken a national learning model called the "Flipped Classroom" to a whole new level. In their version, students go online outside of class to watch lecture videos and then work on problems and activities in class rather than listening to lectures.
The approach creates an inclusive environment where everyone feels part of the team and can learn from each other. And, it has results. The instructors report that since 2017 when the 'Flipped Classroom" was integrated at Rock Creek, the number of students earning A's and passing the classes has risen dramatically.
Check back to pcc.edu for the complete feature on their efforts in October or visit their website.
While you were away this summer:
Jade District International Market Night returned to the Southeast Campus for two consecutive Saturdays in August. More than 20,000 people visited for entertainment, vendors and activities.
Sara Boone

, PCC alumna, was sworn in as Portland's first African-American Fire Chief.

On Sept. 9, Portland Community College celebrated a full decade of being tobacco free

. 

PCC earned top sustainability scores among all United States two-year colleges in the latest Chronicle of Higher Education's Sustainability Index.