This content was published: May 30, 2019. Phone numbers, email addresses, and other information may have changed.
State Senator and PCC Diamond Alum Jackie Winters dies at age 82
Photos and Story by James Hill
Portland Community College has lost one of its brightest diamonds.
State Sen. Jackie Winters died this week after a prolonged battle with cancer. Her academic journey began right about the time PCC became a community college. Winters graduated from Portland Public Schools and enrolled in its adult vocational program that would later become PCC in 1961. Her experience at the fledgling community college led her to the Oregon University System's Continuing Education Program where she studied Intergovernmental Relations.
"I came to PCC because I was working during the day and had four kids," said Winters, who was named a 2016 PCC Diamond Alum by the PCC Foundation. "I needed a way to gain credits and they had night classes available. Learning is something that can carry through all aspects of life. Learning never stops."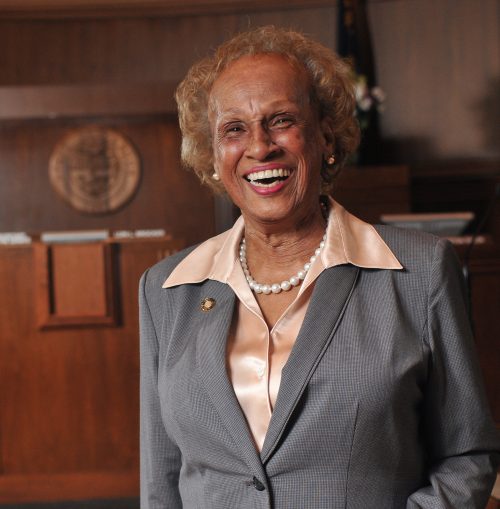 Winters was first elected to the Oregon House in 1998 and then to the Senate in 2002. She became Senate minority leader in 2017 but had to relinquish the position due to her health. She served on the Legislature's Ways and Means budget committee, was the first African-American Republican elected to office in the state and longest serving Republican woman senator in the history of Oregon.
"Being a State Senator is important because I impact the lives of everyone who lives in the state of Oregon," she said.
Winters started her citizen involvement in public policy as a young girl listening to her parents' discussions around the table growing up in Topeka, Kansas, and later in Portland where her family moved in 1943. She began her governmental service in 1959 at the University of Oregon Medical School in the medical records unit and later joined the staff of the Portland Model Cities Program. In 1969, Sen. Winters joined then-Gov. Tom McCall's administration as a supervisor in the Office of Economic Opportunity. In 1979, she was appointed Ombudsman by Gov. Victor Atiyeh.
Her community leadership included chairing Salem's first million dollar United Way campaign, starting Oregon's first food share program, and helping to establish the Oregon NW Black Pioneers Association that raises money for student scholarships. She also served on the Salem-Keizer Blue Ribbon Committee for Excellence in Education, and was a member of the Board of Directors of the Oregon College of Education Foundation, now the Western Oregon University Foundation.
In addition to being a state senator, Winters' family owned the restaurant chain Jackie's Ribs for more than 18 years.
"Most people around town know me either as a Senator, or as the rib lady!" she laughed.