This content was published: April 19, 2019. Phone numbers, email addresses, and other information may have changed.
Jessica Howard selected as ACUI's '2019 President of Year'
Photos and Story by Amy Bader
Portland Community College's Southeast Campus President Jessica Howard's commitment to students and campus community is no secret. Her accomplishments and leadership that are well-known at PCC have now earned Howard international acclaim by being named the Association of College Unions International's (ACUI) 2019 "President of the Year."
ACUI's prestigious award recognizes a senior campus leader for excellence in advancing campus community through engagement, support, and cultivating relationships beyond their administrative position. The nomination of Howard was led by a group of students, faculty, staff and community members in recognition of her dedication to students and building community.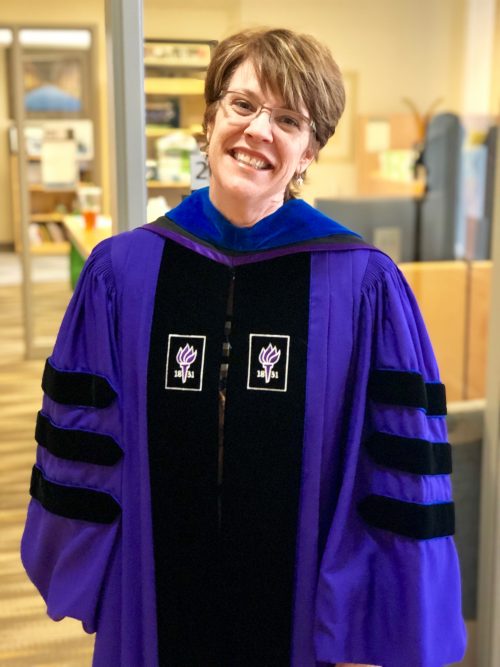 She joined PCC in 2012 where she helped transform the then Southeast Center into a comprehensive campus.
Howard said she knew right from the beginning the importance of establishing an inclusive and student-centered culture at the campus. She recognized that a sense of belonging at PCC can have a significant impact on academic achievement.
"Scholars like Paul Tough have identified that the feeling of belonging — or the consequences of not belonging — affect the ability of students to be successful," Howard said. "How we make people feel, how able we are to make all manner of students feel like they belong — this is the work of a campus, of a place."
One of her unique contributions to the Southeast Campus is the "Belonging Workgroup," which was conceived in 2015 to further develop a culture of care and a sense of belonging for all students, staff, and faculty. Representing voices from a wide spectrum of campus units and classifications, the group convenes regularly to come up with ways to positively influence the campus climate through three main areas of focus: building community, supporting wellness, and championing student success.
This work strongly supports the college's commitment to diversity, equity, and advocacy for an inclusive college climate. Former Dean of Student Development Miriam Friedman described Howard as a transformational leader whose devotion to advancing social justice and support of co-experiential learning and growth has been a model for administrators, faculty, staff, and students alike.
"Jessica demonstrates an unyielding commitment to community, belonging, and connection, embracing the rich diversity of individuals, cultures, values and ideas," Friedman said.
Other staff have said that by consistently infusing the values of inclusion and community in all of her interactions, Howard has helped them become ingrained in the campus culture. What stands out most to PCC students when they think about the campus president is that she includes them in decisions and breaks the barriers associated with power differentials.
According to PCC graduate and current Drexel University student Kien Truong, Southeast Campus decisions and actions have truly become student-centered under Howard's guidance.
"She always makes sure students are at the table to be part of the discussion, ensuring student's voices are heard for high-level decision making," said Truong, a former PCC Board of Directors student representative and campus leader.
Another former student leader, Sam Jasperson, shared how her authentic care for students and the community have benefited the campus culture at Southeast.
"Dr. Howard frequently reaches out to see the school from the eyes of the students — walking the halls, introducing herself to people, and taking time to listen," Jasperson said. "I have picked up trash with Dr. Howard at Harrison Park Elementary in the rain, seen her perform with her guitar during a student leadership function, watched her appeal to representatives at the capitol on our behalf, and peeked in as she was personally welcoming incoming high school students to the campus."
Connection and engagement do not stop at the campus level, Howard said. She said she has long believed that for the college to respond to the communities it serves, its representatives need to be engaged and authentically connect with their surrounding community.
"The campus is not just located in the community, it exists for and is part of the community," she said. "Nothing gives me more joy than to build relationships and pathways that create more opportunities for our community through the college."
Howard has forged and maintained strong partnerships with local community organizations to support efforts that have benefitted the Southeast Portland community and aligned with the college mission. She has been quick to get her hands dirty at community cleanups organized by Asian Pacific American Network of Oregon or serve as master of ceremonies at the Jade District International Night Market, an event that brings over 20,000 people from the community to campus to celebrate the diverse cultures of the neighborhood.
Howard was recently named the new president of Chemeketa Community College in Salem, where she will start in July. As she concludes her final term at PCC, she leaves behind a legacy of inclusive campus culture, community connection, and student advocacy that have left an indelible mark on the Southeast Campus and the college as a whole.
"The culture of PCC Southeast is special; it lives with no one person but is the result of a community committed to care, to students, and to each other," Howard said. "I am a better person because of this place and its people. And I can't wait to see how it will flourish into the future."