This content was published: March 3, 2017. Phone numbers, email addresses, and other information may have changed.
College remembers fateful Executive Order 9066 that started Japanese-American internment
Story by Katherine Miller. Photos by James Hill.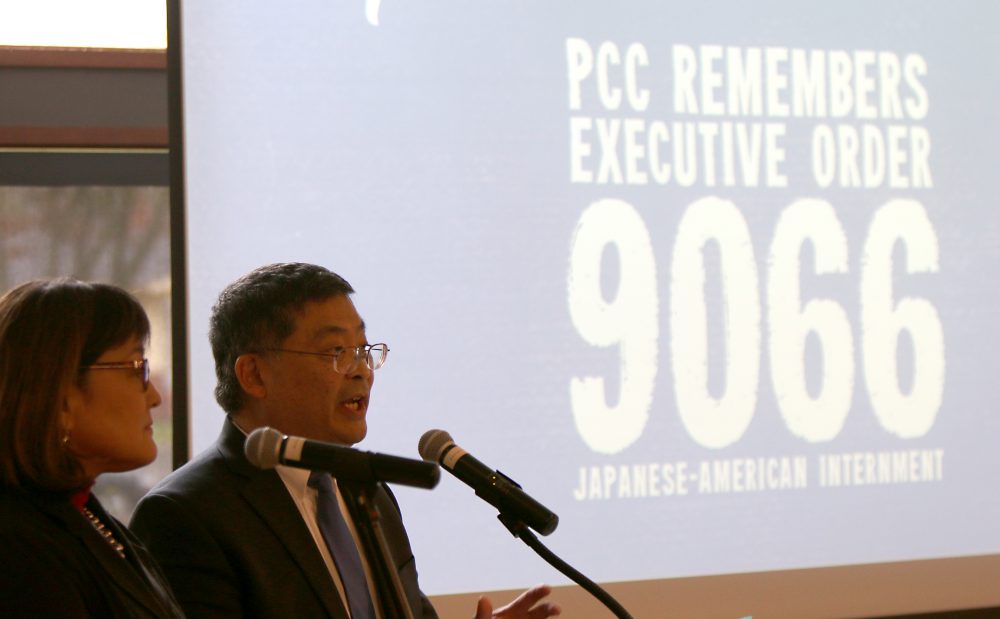 During World War II, many in the U.S. insisted that residents of Japanese heritage posed a threat as spies or saboteurs. Although this fear was unsubstantiated, on Feb. 19, 1942, President Franklin D. Roosevelt signed an executive order that forced more than 120,000 Japanese-Americans from their homes on the West Coast and incarcerated them in bleak camps for up to four years. Most were citizens or legal permanent residents, and half of them were children.
Roosevelt himself referred to the centers as "concentration camps." Although these never reached the level of brutality of the camps run by the Nazis or Japan's government, as one historian said, "they remain a dark mark on the nation's record of respecting civil liberties and cultural differences."
Internees were sent to 10 camps in remote areas of seven western states, most of them in arid and semi-arid places where life would have been harsh under even ideal conditions. In some cases families were separated and sent to different camps.
The camps were surrounded by barbed wire and armed guards round the clock. Housing was mainly tarpaper barracks, which were bitterly cold in the winter and sweltering in the summer. There was no running water, and no furnishings were provided except a coal-burning stove, canvas cots and a single bare lightbulb.
The internees had communal showers and toilets and ate army-style food in mess halls. Although the U.S. government hoped the internees could make the camps self-sufficient by farming, growing food in the arid soil proved difficult.
There were people who died due to inadequate medical care and stress, and studies show internees have suffered more than twice the incidence of heart disease and premature death than non-interned Japanese-Americans.
Meanwhile, some of the internees volunteered for military units that were mostly Nisei (Americans born to Japanese immigrants). One of those was the U.S. Army's 442nd Regimental Combat Team, which went on to become what today is still the country's most decorated unit.
When the war ended, internees were often unable to go back to their hometowns because hostility against Japanese-Americans remained high; several communities displayed signs demanding that the internees never return. As a result, many lost their land and livelihoods and were forced to start over elsewhere.
Today in several states, the signing of Executive Order 9066 is commemorated as the Day of Remembrance. For its 75th anniversary, PCC recently held an event at Southeast Campus, which sits in an area that once included many farmers of Japanese heritage and today has a high proportion of students who are refugees or immigrants.
PCC President Mark Mitsui welcomed an overflow crowd in the Community Hall Annex and recounted how his own family was among those interned during WWII. "It's really important for us to remember the past so we don't repeat its mistakes," he said.
"My mother made it very clear:  The Japanese-Americans hadn't done anything wrong. And history shows that there was no evidence of sabotage, no evidence of disloyal acts, no trial, no opportunity for legal defense, no opportunity for appeal. My family was very, very vocal about what happened, and it was sort of a family mission to educate people so this would never happen again."
Mari Watanabe, executive director of the nonprofit Partners in Diversity, read an excerpt of Senate Concurrent Resolution 14, which acknowledges the anniversary of the signing of EO 9066 and recognizes national Day of Remembrance. The resolution passed unanimously in the state senate in February and will be taken up by the house later in March.
Lynn Fuchigami Longfellow, executive director of the Oregon Nikkei Legacy Center, gave a presentation on the craft of senninbari, muslin belts that were traditionally embroidered by Japanese women with 1,000 stitches and given as talismans to men going off to war. Longfellow displayed a senninbari made in a camp for a Japanese-American soldier who served the U.S. in the 442nd regiment, and then invited guests to add a stitch to a new belt that will be part of a community project.
"We need to realize that we are in a struggle right now, and communities are being harmed and challenged," said Longfellow. "This symbolic gesture and community project will remind us that we must stand together during these uncertain times."
Following was the key event of the afternoon, a panel discussion with five civic and educational leaders. They shared what they consider to be the disturbing parallels between what Japanese-Americans endured during World War II and the racially motivated fear and hatred that many Muslims and refugees face today.
John Shaw, a PCC history instructor, said that despite Oregon being a liberal state, "we should acknowledge the West Coast's legacy of virulent anti-Asian racism from the 1880s through World War II and beyond." That racism, and not just Japan's military aggression, played an important part in the signing of EO 9066, he said.
Shaw emphasized that although Japanese-Americans were interned after the U.S. formally declared war on Japan under Article I, no such declaration has been made in the countries that President Trump has singled out in his proposed travel ban.
"As a nation then and now, we were faced with the inherent tension between government's emergency war powers and the individual constitutional rights of due process and equal protection under the law," said Shaw.  During WWII "politics and racism trumped law," he said. "Politics trumped individual rights. Politics trumped the Constitution and the Bill of Rights amidst a national security crisis."
Panelist Peggy Nagae, a Portland attorney, served on the National Committee for Redress of the Japanese-American Citizens League and was one of the key individuals in the movement that succeeded in 1988 in securing a formal apology and reparations from the U.S. government. Nagae recounted how EO 9066 was not implemented in Hawaii, where the attack on Pearl Harbor occurred and where 30 percent of the residents were of Japanese heritage. Instead, the order was implemented on the West Coast in a "racially targeted way" that denied Japanese-American citizens their rights and protections under the law.
"There was nothing in the executive order that said Japanese-Americans … They said 'persons of Japanese ancestry.' It was up to the military commanders to interpret that order." Nagae said they did so without any evidence that Japanese-Americans were guilty of sabotage or more loyal to the Emperor of Japan than to the U.S., as claimed by Gen. John DeWitt, a key figure in the evacuation.
That racism resonates today for members of Portland's Muslim community. Wajdi Said, president of Oregon's Muslim Educational Trust, talked of how Western history books ignore the many contributions of Islamic civilization, and that education is vital to fighting "Islamaphobia" and ensuring peaceful coexistence.
"By knowing each other, we will be able to excel. We will be able to be agents of that cultural diplomacy that we need to create." Said said that the Muslim Education Trust holds an open house every Saturday, with a dinner and a lecture, and that the gatherings are open to anyone, regardless of religious or political affiliation.
The number of Muslim immigrants in the Portland area has more than doubled since the early 2000s to about 25,000, many of them from countries that are embroiled in war, such as Somalia and Yemen. Said urged PCC to support its students from these countries, because if they lose their student status, they could face an uncertain future in their home countries.
Harry Anastasiou, Conflict Resolution Chair at Portland State University, was the final panelist. He addressed how social injustice and inequity lead to prejudice and marginalization, which in turn can help drive a country to engage in protracted wars and eventually lose vital democratic protections.
"If you look at the legislation that takes place during periods of protracted war, you see something very astonishing: All the laws that are enacted during wartime tend to be undemocratic laws, but we never identify them as such. We call them martial law or emergency measures, but we identify them as such because they are fundamentally undemocratic. What under peace conditions was illegal and unthinkable, under war conditions have to be pursued."
"Earlier we were called upon to join our voices in saying never again," concluded Anastasiou. "I want to remind us that those were the words uttered by Europeans at end of World War II, but the difference was their 'never' was never again war."
For links to resources about the internment of Japanese-Americans — including historic manuscripts, videos, websites, images and books — visit PCC's Research Guide, http://guides.pcc.edu/ExecutiveOrder9066