This content was published: December 28, 2016. Phone numbers, email addresses, and other information may have changed.
Rock Creek's new childcare center takes shape, completion set for late 2017
Photos and Story by Katherine Miller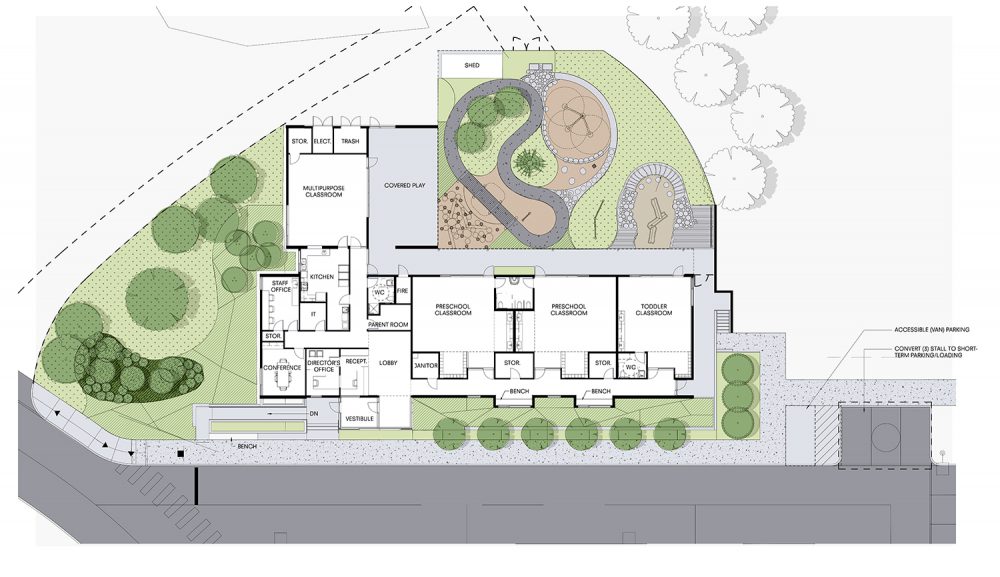 A design for the Rock Creek Campus' new childcare center is now complete. This moves the new facility one step closer to opening late next year, making it the fourth comprehensive PCC campus to provide on-site care for young children.
Rock Creek previously had an experimental child development center for 15 children, however the program was closed in 2014 after 10 months because the administration determined it was too expensive to sustain. Also, its location in Building 3 was not suited for childcare and noise from the outdoor play proved disruptive.
Meanwhile, Cascade and Southeast campuses both opened new on-site childcare facilities with funds from the 2008 voter-approved bond measure. At Rock Creek, however, parents were frustrated by the closure of the childcare center and met with officials to air their concerns. The parents ultimately persuaded PCC to allocate bond funds to build a 6,400-square-foot facility and 5,000-square-foot outdoor play area next to the Washington County Museum's research library on Springville Road. The center will serve 56 children in three classrooms, two for preschoolers and one for toddlers.
Bob Smith, project manager for Scott/Edwards Architecture, said a primary reason for selecting the site is because it is adjacent to Tualatin Hills Park and Recreation District's a 32-acre multipurpose recreational facility built from a partnership with the college.
"We felt that the ability to share both the existing parking lot and the park's resources offered a significant advantage over other locations on campus," he said. "Having these amenities nearby allowed the project to devote the funds that would have been otherwise spent on these items towards other project needs."
Scott/Edwards has designed more than 20 childcare facilities, including the location at the Southeast Campus.
"From a building perspective our goal was to develop a simplified form that harkens back to the iconic shape of a house," said Smith. "The quiet material pallet of wood, metal, stucco and glass connects the facility to the rest of campus, while also allowing the form to be playful and approachable."
Smith said a notable feature of the new center is the large indoor gross-motor-skills play space that has a direct connection to the secure outdoor play area. "The design will utilize a large overhead bi-folding door that will allow the two areas to flow from inside to outside. This will provide staff with a dry, safe space for kids to play that can be expanded or separated based on the program's needs," he said.
Smith added that the outdoor area was designed to emphasize the nature play aspect. "Rather than provide large plastic play structures (which can be accessed next door at Tualatin Hills Park), the space will use softer, more natural materials. Grassy knolls to roll down, a live willow tunnel to trike through and real wood logs for balancing are some of the more identifiable features," he said.
The new center will be built by Fortis Construction and is expected to open by fall term 2017.
It will be run and staffed by an accredited provider as yet to be chosen. This is the same model PCC is using for its Cascade and Southeast facilities. Cascade's is run by Albina Head Start, and Southeast's by YMCA of Columbia-Willamette. Sylvania Campus operates its center as part of its Early Education and Family Studies Program.