This content was published: November 30, 2015. Phone numbers, email addresses, and other information may have changed.
Physics faculty and NASA partner wants more PCC students to reach for the stars
Photos and Story by James Hill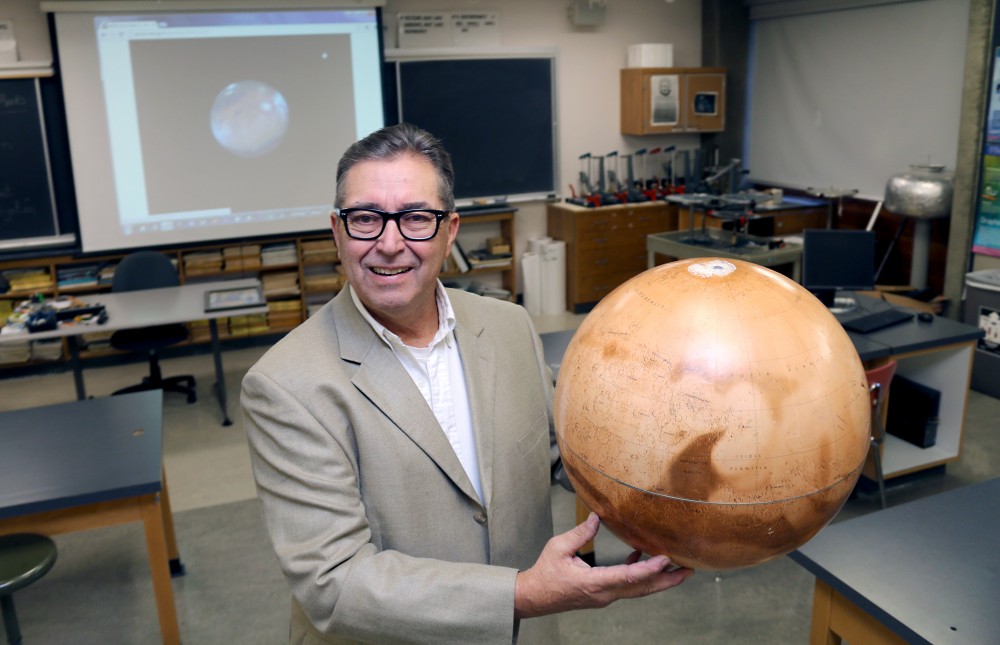 If you haven't been paying attention, Portland Community College has had more than 60 students win NASA scholarships, internships and space grants during the last few years.
And one man has been most instrumental in making that happen.
Toby Dittrich, a long time physics instructor at the college's Sylvania Campus and spaceship power plant inventor, is the associate director of the Oregon NASA Space Grant Consortium. He has been key in encouraging PCC students to apply for state space grants and national NASA internships and scholarships. Since 2009, PCC has had 56 state scholars and 10 national NASA interns or scholars. This year the college scored 27 OSGC scholars, the most of any institution in the state out of 20 affiliated schools.
"We have been steadily growing year by year," said the Vancouver, Wash. resident, who is in charge of the money and honors that go to the space grant awardees. "These programs from the Oregon NASA Space Grant make our magnet for students interested in STEM even stronger. I was able to spend considerable time promoting these scholarships and it was worth it. When I saw our scholars at the Oct. 26 Board meeting getting their certificates of achievement, I needed my hanky because of the pride and fulfillment I felt."
A Big Player in STEM Education
In a time when educators are trying to spur interest by high school students in the science, technology, engineering and math (STEM) fields, the faculty member has helped PCC become a destination for those interested in pursuing science. Many then transfer on to engineering programs and classes at Portland State, Oregon State and the University of Portland. Nearly half of the students at PSU take their science, particularly physics, and math classes at PCC, Dittrich said. He added that for aerospace engineering and space science, no lower level astronomy is taught at PSU, which makes PCC the lone source for astronomy and astrophysics education in Portland.
With an ever-growing pool of science and engineering students, PCC is always a player in NASA honors. In the past, students have worked beside famous scientists on real-world problems like climate change and critical earth resources projects. They also have worked on space-related tasks like analyzing data from space probes and mapping surfaces of asteroids and planets.
"This networking springboards them into a lifelong journey of scientific and engineering explorations and projects like no other program can do," he said. "These honors are a very effective tool to facilitate their future."
Abram Morphew, one of three PCC students named national 2015 NASA Community College Aerospace Scholars, took part in a Mars rover program in October at the Marshall Space Flight Center in Huntsville, Ala. Morphew credits Dittrich with opening doors to space science and NASA.
"Toby was encouraging," Morphew said. "He put things in such a way that makes you want to know more."
Accomplished Scientist is Always Learning
For Dittrich, he's always wanting to know and do more himself. He is an inventor, Fulbright Scholar and holds master's degrees in Physics from the University of Colorado-Boulder and Aeronautical Engineering from the University of Washington. He publishes often, including articles for the journal "The Physics Teacher."
At a recent NASA meeting in Tucson, Ariz., Dittrich learned about the new Osiris Rex mission that plans to sample rock from an asteroid and bring it back to Earth. While there he had coffee with seven-time astronaut Jeff Hoffman, who is the director of Aerospace Studies at MIT and the person who put the "glasses" on the Hubble Space Telescope that made it functional. Plus, he chatted with Mason Peck, former NASA chief technology officer and current associate professor of Space Science at Cornell University. They talked about Dittrich's invention related to improving space power production for systems needed to get humans to, and sustain them on, Mars. This effort could eventually lead to a version of warp drive made so popular by Star Trek.
In addition, he fits his NASA duties along side his work studying climate change with the Juneau Icefield Research Program in Alaska. He and climatologist Ben Santer are working with other scientists to assess the type and quantity of black carbon and minerals in the snow of the icefield to measure glacier mass loss due to the darkening of the snowpack. The study's results would then help to adjust global climate models to possibly explain the anomaly between the actual temperature increases in the arctic and the predicted increases from the models.
"This is a natural extension of my 40 years of studying rocks and dust on the surface of the glaciers there," Dittrich explained. "I started this as a graduate student at Colorado and then became a faculty member on the program around the time I came to PCC in 1989. Since then I have been on the icefield about 20 times."
Major Experiment on Horizon
Dittrich isn't all about work, though. He enjoys flying his Piper Cherokee 180 plane around Oregon and loves hiking with his partner Bridget and their two dogs when not in work mode. However, let's be real. What drives Dittrich is his passion for science and the 69 year old probably hasn't even reached his pinnacle yet.
The PCC instructor is heavily involved in the national planning for the eclipse that will first hit the continental U.S. in Oregon on Aug. 21, 2017. He plans to pull off a large-scale experiment as the eclipse happens. His team will repeat British astronomer Arthur Eddington's 1919 solar eclipse observations on the deflections of starlight.
"I have put together a team of astronomers across the country and around the world to hopefully recreate one of the most famous experiments of the 20th century," said Dittrich. "He was the first to verify Einstein's Theory of Relativity and the prediction that mass, and in particular the Sun, would deflect starlight that passed near it, proving that stars warp space.
"We hope to recreate that famous experiment at a level of accuracy that has never before been achieved at multiple sites with undergraduate students," he added. "This aligns with all of NASA's educational goals, and I work daily to pull this off."