Sylvania Language Lab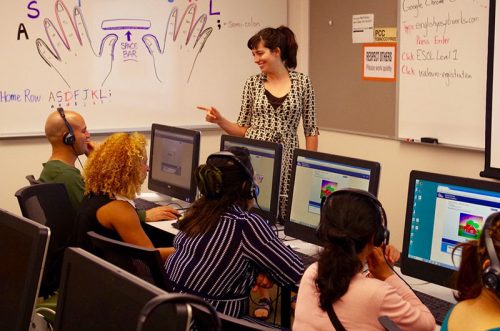 The Language Lab, located in CT 235, is open to students currently taking ESOL classes or other language classes. It's a great place to use computers, practice English, and do homework.
Contact Cherie Maas for more information.
Hours and information
The Sylvania Language Lab has language learning software, ESOL internet links, microphones for speaking practice and homework, and fonts for Asian languages. It is open to students currently taking classes in:
ASL / Sign Language Interpretation
English composition and literature
ESOL (English for Speakers of Other Languages)
World languages (French, German, Japanese, Russian, and Spanish)
Open lab hours
Monday – Thursday: 8am-8pm
Friday: closed
Please sign in on the computer by the door before you use the computers.
Sometimes teachers take their classes to the lab during open lab hours. Most teachers will let other students drop in if there is enough space. If you drop in while a class is using the lab, please sit in the back row and work quietly.
ESOL
The Language Lab is a great place for ESOL students to learn how to type and use computers, practice English, do homework, and check email. There is also a list of favorite web sites on every computer in the lab and a handout of useful ESOL websites.
The lab assistants can help students who have problems with computer equipment or who need help opening a program.
ESOL software
Oxford Picture Dictionary
American SpeechSounds
English in Action Books 1, 2 and 3