Hillsboro Center ESOL
We are here to help you take ESOL classes!
Hillsboro Center will be closed until Summer 2022. PCC campuses are open. We have in-person classes at PCC Rock Creek. We also have some remote classes. You must have a good Internet connection, a laptop, headphones, and a microphone to take a remote class from your home. We will help you take an ESOL placement test, register and get ready to take classes. Help with technology is also available. Please contact us!
Fill out the ESOL Student Form. An ESOL representative will contact you.
Do you need help?
If you are an international student (F1 Visa student), contact international@pcc.edu or 971-722-7150.
Steps to Get Started
Complete a PCC Non-Credit Admissions Application online
Call 971-722-6817 to make an appointment to do the ESOL placement test and orientation
After you have taken the test and attended an orientation you will be registered for classes
Current class schedule
Check the online PCC class schedule for dates and times of the ESOL classes offered at the Hillsboro Center. Books for classes at the Hillsboro Center can be purchased at the Rock Creek Bookstore or online at the Rock Creek Bookstore website.
Language Lab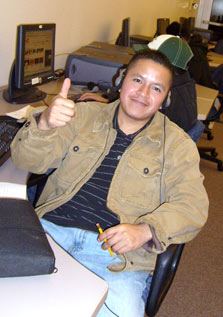 The Hillsboro Center (HC) Computer Lab is available for currently enrolled Hillsboro Center students. It is a great place for ESOL students to learn how to type and use computers, practice English pronunciation and grammar, do homework, check email, and work on projects. Students can borrow headsets in the ESOL Office.
The computer lab is available when there are no classes scheduled in the lab. Call the Hillsboro Center at 971-722-6800 to check availability.
Available software
Microsoft Office: Word, Excel, Access, PowerPoint
Typing: Keyboard Pro
Pronunciation: American Speech Sounds
Grammar: Grammar in Context