Hillsboro
Current class schedule
Check the online PCC class schedule for dates and times of the ESOL classes offered at Hillsboro Center. Books for classes at the Hillsboro Center can be purchased at the Rock Creek Bookstore or online at the Rock Creek Bookstore website.
Testing schedule and placement process
ESOL students cannot register online. Make an appointment for ESOL testing in Hillsboro to get started.
Tutoring – Language Lab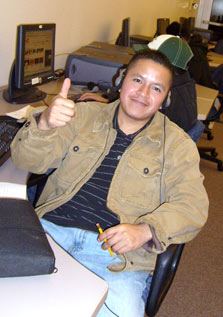 The Hillsboro Center (HC) Computer Lab is available for all currently enrolled PCC students, faculty, and staff. It is a great place for ESOL students to learn how to type and use computers, practice English pronunciation and grammar, do homework, check email, and work on projects. ESOL students can borrow headphones and microphones in the ESOL Office.
Contact Steven Swint for more information.
Open lab hours
PCC students can use the Lab whenever a class is not in progress. Usually the lab is not available during morning hours (9am-12 noon) and evening hours (6pm-9pm). Check the schedule next to the door.
Summer hours
PCC students can use the Lab during summer when class is not in session, Monday through Thursday, 8am-4pm.
Hillsboro Center follows the eight-week summer term schedule. The building and its facilities close after summer finals week and re-open the week before fall term begins.
Available software
Microsoft Office 2007: Word, Excel, PowerPoint
Typing: Keyboarding Pro
Beginning ESOL: Live Action English, Oxford Picture Dictionary
Advanced ESOL reading: Ultimate Speed Reader
Pronunciation: American SpeechSounds
Grammar: Grammar in Context