Southeast
We are here to help you take ESOL classes!
PCC campuses are open. We have in-person classes at PCC. We also have some remote classes. You must have a good Internet connection, a laptop, headphones, and a microphone to take a remote class from your home. We will help you take an ESOL placement test, register and get ready to take classes. Help with technology is also available. Please contact us!
Fill out the ESOL Student Form. An ESOL representative will contact you.
Do you need help?
If you are an international student (F1 Visa student), contact international@pcc.edu or 971-722-7150.
Current class schedule
Textbooks required for these classes are listed on the PCC Bookstore website.
Tutoring
Adult Basic Skills Computer Lab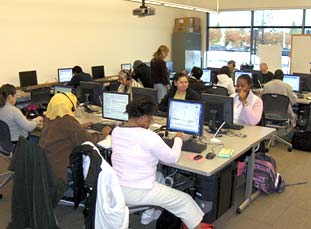 The Adult Basic Skills (ABS) Lab, located in Scott 101, is for currently enrolled English for Speakers of Other Languages, Volunteer Literacy Tutoring, and Adult Basic Education students. It is a great place for you to learn how to use computers, practice English pronunciation and grammar, learn to type, and work on projects. Our knowledgeable and hard-working staff is here to assist you during open lab hours.
Contact Wendy Settle for more information.
Open Lab Hours
Monday through Thursday 12-2pm, 4-6pm
Please note: Abbreviated hours can be expected during finals week.
Lab staff
The ABS Lab staff will help you use the computer to learn English and build skills. We have many software programs for Listening, Reading, Grammar, Pronunciation, Math, Keyboard/Typing, and the Internet. In addition to our software programs, we have a list of favorite web sites available on every computer in the lab.