Homepage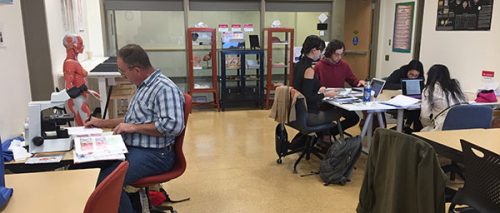 PCC Tutoring offers free support for students registered in classes during the current term.
We offer quick access to tutors in over 50 departments to help students clarify concepts and deepen their understanding of the material.
Our campus centers are closed between terms and eTutoring is offered year-round.
fa solid fa calendar
Fall term tutoring dates
October 2 – December 7, 2023
12/7 Last day of tutoring for campus centers (all subjects)
12/11-12/16 Exam week: centers closed (no cramming!), eTutoring continues
fa solid fa clock
Tutoring schedule
Feedback
Your experiences matter! Please help us continue to improve our services by completing a short feedback form.
How to use tutoring
Drop-in
In person: Visit any of our campus locations for study support during our open hours. Students are encouraged to study in our space and notify a tutor when they are ready to ask a question. Expect to work with a tutor for about 15-20 minutes to support one homework question or concept on a first come, first serve basis. Students may continue to work in the space and visit with a tutor for additional sessions as time and availability permit.
eTutoring: Students meet with tutors in a Zoom room with up to 3 other students on a first come, first serve basis. Sessions are designed to support each student with one concept or question. Students can return to the queue for support with additional questions. Access eTutoring.
Appointments
Students can book a 25 minute tutoring session (30 minutes for RWC) to clarify concepts or get additional support with a homework question or writing assignment. Choose to meet with a tutor on campus or remotely through Zoom. See below for information about campus locations.
Make a PCC Tutoring appointment »
New appointment policy: Students can book up to 3 appointments per week, per subject in any of our PCC centers.
Help making an appointment
Step by step directions
Go to trac.pcc.edu
Sign in with your PCC username and password
Click "Schedule a Tutoring Appointment" on the PCC TracCloud homepage.
Answer the questions on the 3 dropdown menus

Choose your class
Select Reason:

Choose "Reading & Writing" if you would like to meet with a Reading & Writing Tutor for reading or writing support in any subject area other than ESOL
Choose "Tutoring" for all other support, including for all types of ESOL support

Scheduling Screen: To schedule your appointment, choose the date and time.

To make an in-person appointment: Click "Confirm"
To make an online appointment: Check the "Online" box and the "Confirm"

You will get an email to your PCC email with the date, time, and location (campus center or Zoom link).
PCC TracCloud Login Guide – PDF with screenshots
Locations
Accommodations
PCC is an Affirmative Action, Equal Opportunity Institution. If you experience disability-related barriers or anticipate a need for accommodations when using tutoring, please email tutoring-services@pcc.edu or connect with Accessible Ed & Disability Resources.  Beginning Fall 2023, all students are able to book up to 3 appointments per subject, per week. Students may choose to book up to one back-to-back appointment session per week (which will use 2 of the 3 appointments). For any non-time related accommodation needs, please email tutoring-services@pcc.edu.
Join our team
Now hiring tutors for select subjects: Accounting, Chemistry, Calculus, CIS, EET (Electrical Engineering Technology), Physics (200 level), Statistics.
To apply, read the PCC tutor job description. Follow the application steps listed at the end of the document. We will contact you for an interview if your availability and subject expertise match our needs.
Now hiring front desk technicians at Cascade campus for opening shifts.
To apply, read the PCC Front Desk Technician job description and follow the application steps listed at the end of the document.