Sustainability Staff
Sustainability Coordinator – Elaine Cole (she/her)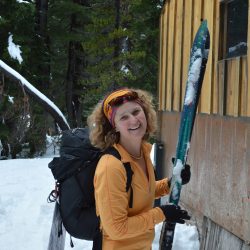 Elaine Cole, Ph.D. is the Sustainability Coordinator at Portland Community College's Rock Creek Campus and is responsible for the overall coordination of sustainability practices and programs. Some of these include energy conservation, campus-wide composting, and helping to integrate community-based learning into the campus Learning Garden. Elaine has taught environmental education from the shores of Jekyll Island, Georgia to Lake Tanganyika in Burundi. She has always had a deep commitment to population education and her 2017 TEDX talk was titled Creating Eco-Friendly Families.
Learning Garden Coordinator – Miriam Latzer (she/her)

Miriam brings over 12 years of experience running small, certified naturally grown farms in the Hudson Valley of New York. She earned a Master's Degree in Environmental Land Use Planning from Rutgers University in New Jersey. Before coming to PCC, she worked with public school communities in New York City to pilot school-based farm shares that will continue with a beginning farmer at the helm. She also worked as an assistant grower and educational coordinator for the Poughkeepsie Farm Project located on the Vassar college campus. Her ties to Portland stretch back to 1998 when she served as an AmeriCorps member and grew vegetables on the grounds of the Northeast Emergency Food Program. She's glad to return to the area and provide her expertise to our Learning Garden and sustainability efforts.
Strategic Energy Associate – Amelia Palmer Hansen (she/her)
Error: The image above does not have Alt Text
Amelia spent the majority of her career as a Packaging Engineer and Mechanical Engineer for Hewlett Packard company's inkjet printer division.  While at HP, she was a member of the green team that sought to reduce packaging waste and the paper path team that designed the first inkjet printer to contain a dryer.  She earned her Master's Degree in Mechanical Systems from the University of Texas at Austin while on a Resident Fellowship program sponsored by HP.  She is passionate about energy efficiency and learning about how buildings use energy.