Sustainable Practices for Academics and Resources Council
Contact: Heidi Sickert
To help guide PCC's sustainability and sustainability-focused technology curricular activities, the PCC Cabinet established a district-wide academic sustainability committee, SPARC (Sustainable Practices for Academics and Resources Council) in 2009. Members include staff, administrators, and instructors from across the disciplines. The committee regularly meets each term with a rotating chair position. The college's Climate Action Plan guides the committee, supports PCC's Core Outcome #2, while faculty members create new initiatives for the committee to develop and implement. SPARC works collaboratively with the college's curriculum office, as well as the grant's office and community education. SPARC is charged to:
Encourage the active sharing of information for all curriculum related initiatives
Coordinate potential grant efforts
Help design and develop curricula
Maintain a historical record of PCC's efforts in sustainability-focused technologies
Serve as an advisory board to faculty for sustainability-related academic curricular and program development.
SPARC Objectives
More information available in the Climate Action Plan.
2030 Objective
Increase sustainability throughout academic curricular and co-curricular programming at PCC.
2016 Academic Curricular and Co-curricular Programming Action Items:
Implement SPARC's "Seven Sustainability-Focused Outcomes" into current and newly developed courses at PCC.
In collaboration with the PCC Curriculum Office, design and implement a search capability through Courseleaf to easily identify courses with sustainability-focused content. To be developed through the curriculum office.
In collaboration with the PCC Curriculum Office, continue development of distinguishing "focused" courses and "related" courses parallel with AASHE's STARS reporting.
Provide continued support in curriculum development to insure creation of new or revised sustainability courses at PCC.
Award the Sustainability Focus Award to students who have a sustainability focus in their studies.
Support professional development and capacity building related to sustainability curriculum for faculty.
Build sustainability into student, faculty and staff orientations to support curriculum initiatives at the college.
Design a sustainability curriculum packet to include in materials for various faculty orientations.
Collaborate with the Learning Assessment Council in assessment strategies and examples through the adding of the "Seven sustainability-focused Outcomes" to CCOGs, with measurable outcomes.
Through PCC's Core Outcome #2 of "Community and Environmental Responsibility," create collaborations with the Internationalization Committee, the Diversity Council, the Service-Learning program, and community partners to address global environmental awareness, environmental justice, social equity, and food security in sustainability curriculum.
2030 Objective
Increase focused educational programs and options to meet sustainability-focused workforce needs.
2016 Focused Educational Programs and Options Action Items:
Explore the development of an academic Sustainable Agriculture Program
Explore offering LEED certification education and establish partners with businesses working in this field.
Explore new opportunities to create focused educational programs in coordination with the State of Oregon 40-40-20 Initiative and the U.S. Science, Technology, Engineering and Mathematic (STEM) movement.
SPARC's 7 Sustainability-Focused Learning Outcomes
(Approved by PCC Curriculum Office)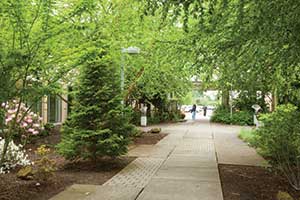 The SPARC Council has created 7 Sustainability-Focused Learning Outcomes for faculty to embed into their curriculum for sustainability focused and related courses. The outcomes represent an inter-disciplinary approach and faculty from all departments are encouraged to enhance their courses with sustainability by incorporating one or two of these outcomes. Faculty who are interested in infusing the sustainability-focused outcomes into their courses should contact SPARC chair, Heidi Sickert.
Critically examine the complex and interconnected relationship between human behavior and the environment through a lens of sustainability and "the triple bottom line" (people, planet, profit).
Critically evaluate the root causes of environmental problems, including historical, cultural, ethical, political, economic, social, structural, and/or infrastructural issues, in order to recommend, implement and/or engage in problem-solving to address the challenges and opportunities of promoting sustainable development.
Examine existing and alternative resource use and identify quantitative or qualitative processes to educate and provide services to prevent, reduce, or mitigate environmental degradation and increase resource and energy efficiency.
Express the significance of environmental sustainability in written, oral, artistic, physical, and/or mechanical forms.
Use an awareness of the impacts of ecological issues and policies on communities of diverse backgrounds, on the local, regional, national, and international level, in order to interact with sensitivity, respect, and a sense of responsibility to others and the future.
Apply sustainable practices in the workplace and communities, as citizens, and/or in the development of public policy.
Apply an understanding of basic ecological principles (the interconnectedness of organisms to each other and their environment) to environmental problems and sustainability issues.
2021 Virtual Faculty Workshop
PCC Faculty are invited to attend the 2021 Virtual Faculty Workshop sponsored by the SPARC Council: "Taking Sustainability Education to the Next Level: Guided by International Sustainability Goals, Hope & Resilience" May 7 & May 14, 2021 from 1 – 3pm.
With PCC as a signatory of We Are Still In and in alignment with PCC's updated Climate Action Plan and UNESCO's leading sustainable development goal #4, Education for 2030, PCC's SPARC Council has an even greater sense of urgency to support curriculum development that empowers us to address climate change. Simultaneously, we recognize the need for hope and resilience to address these challenges with our students and within our faculty community by seeking connection with indigenous traditions, diverse human efforts and our natural environments.
The four-hour workshop is held over Two Sessions on two consecutive Friday afternoons: May 7 and May 14, 2021 from 1 – 3pm. If you register, you agree to attend both sessions:
The workshop program includes guest presenters, small group activities and a small group book discussion.

Each registrant will choose one book to read beforehand and the book is shipped directly to each attendee.

Additional pre-work information and a workshop program will be emailed after registration.
Register by April 16, 2021:
Due to generous funding from PCC POD, up to 33 Part-time faculty can receive a $150 stipend for attending the entire workshop. Registration is first-come, first-served with a waitlist provided, as needed.
Register by filling out the form via the following link: Spring 2021 SPARC Faculty Workshop
Are you a PCC Faculty member? Then also register using the NEW MyCareer@PCC portal, so you can track this training in your PCC employment profile: MyCareer SPARC Faculty Workshop
Have questions?
Please contact SPARC Chair Heidi Sickert.